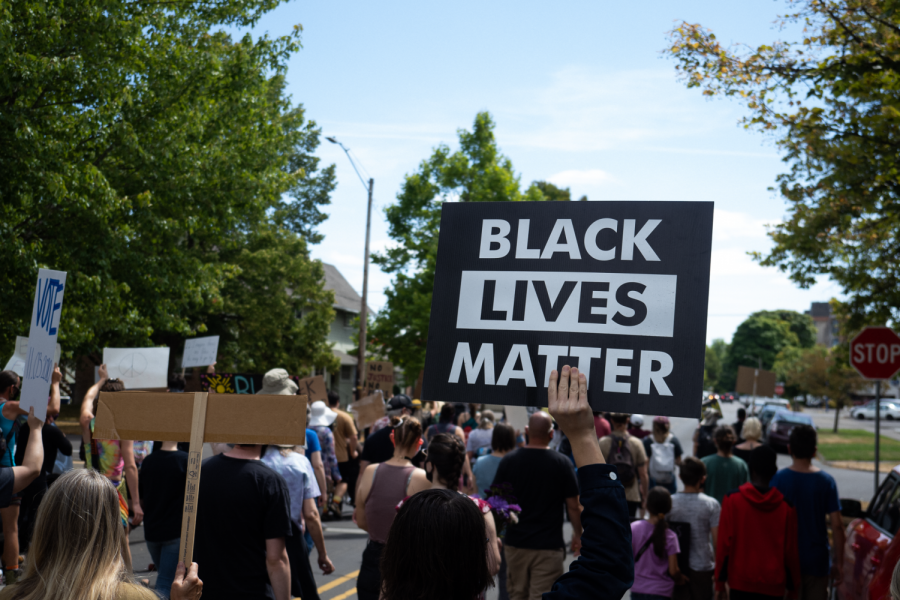 By Owen Preece, OMN Photographer
It is said that music is a cultural universal. Like other forms of art, music is a time capsule that consolidates the conflicts and conditions of the time into a communicable human sensation: sound. 
During the Civil Rights Movement of the 1960s, artists like Nina Simone and Ben E. King produced works of art that acted as the anthem and spirit of the movement. 
With the death of George Floyd and many other innocents in the modern era, we are reminded as a society that abuse and discrimination are alive and well. However, music has not lost its place in fighting this era's injustice. 
Here are 10 songs reflecting on the resurgence of the Black Lives Matter movement and the struggles we face now.
Lil Baby –  "The Bigger Picture" – Hip Hop/Rap – Released July 12
Lil Baby's "The Bigger Picture" was released in the wake of George Floyd's death. He conveys the complexity of modern racial injustice through his commentary on police brutality, systematic racism and how it affects the daily lives of African Americans.
Peter Oren – "Thin Blue Line" – Folk – Released July 3
Through this song, Peter Oren communicates the festering dysfunction of systematic racism and how society has allowed it to take root, despite so many sacrifices to end it. He displays the societal condition of ignorance through his lines "Something's broke, Or else it's working fine, Say you know, Say you know."
Leon Bridges – "Sweeter ft. Terrace Martin" – R&B/Soul – Released June 16
Using the mellow rhythm of R&B, Leon Bridges communicates a simple and humble dream that any human can relate to: the wish to be happy and at peace in a world free of malicious prejudice. However, this song also brings to the surface, an age-old question: How have we not learned from history?
H.E.R – "I Can't Breathe" – R&B/Soul – Released July 18
The title of H.E.R's song "I Can't Breathe" is a direct reference to the police brutality and deaths of George Floyd and Eric Garner. Furthermore, it acts as a powerful metaphor that symbolizes the predatory nature of systematic racism and how it has methodically suffocated African Americans out of their future.
In the first half of her song, she uses the styles of R&B and soul to bring her lyrics to life. But in the second half, she becomes more straightforward with her message through pure poetry.
J Cole – "Snow On Tha Bluff" – Hip Hop/Rap – Released June 16
Amid the BLM protests, J Cole was accused of not doing enough for the movement as a wealthy and famous African American, despite his dedicated involvement. The song became a response to these critiques while providing commentary on the more complex and psychological effects of racism in the United States.
The Killers – "Land of the Free 2020" – Alternative/Indie
A rework of the 2019 version of "Land of the Free," the 2020 version was designed to focus on George Floyd's death, while still retaining its contrasting themes of atrocity in a "free" country.
Da Baby – "Rockstar ft. Roddy Ricch BLM Remix" – Hip Hop/Rap
In light of George Floyd's death, Da Baby added a new BLM intro to his wildly popular song "Rockstar." In this new rendition, he calls out police brutality and directly references the many mortalities that have occurred because of faulty and abusive policing.
Gramps Morgan – "People Like You" – Reggae – Released June 5
Written originally by Johnny Reid, Gramps Morgan recorded and released his version in late June. It carries a crucial message of coming together and helping each other during demanding times.
Machine Gun Kelly cover of  Rage Against the Machine – "Killing in The Name" – Rock
Following the death of George Floyd, Machine Gun Kelly and drummer Travis Barker collaborated to cover "Killing in the Name" by Rage Against the Machine. With 28 years between the original release, the song still carries the same condemnation against police brutality and systems of abuse.
Adia Victoria – "South Gotta Change" – Alternative/Indie – Released August 28
Released in mid-August, Adia Victoria shows both the historic beauty and inequity of the deep South through her rich vocals and lyrics. She calls on the South to shed its dark history and allow the young generation to rise up and become leaders of change.