The delivery robots without a name
OSU food delivery robots remain nameless despite student suggestions
Flora Li, Beaver's Digest Contributor
October 30, 2021
Will R2-D2 be delivering food to you?
Oregon State University has 45 robots that deliver food around campus every day, but not a single one has a name.
Starship, the partner for OSU's self-delivering robots, helps with transporting food to busy students that may be ensconced in their dorms, not wanting to walk across campus in the middle of studying.
These robots are beneficial in contactless delivery, especially during the COVID-19 pandemic.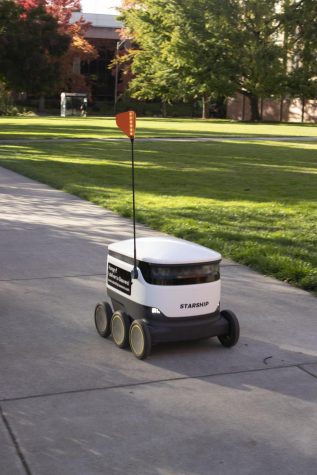 Some students think that the cube-like robots are almost like campus pets, prompting their interest in naming each one.
When students were asked about name suggestions, some stated that they should follow a theme, representing Star Wars, Marvel and even Pokemon as a way to connect themselves with the robots.
"I think that naming the robots will give us a more personal connection to them and unify us," said Julianna Forkner, who is a freshman at OSU.
According to Kerry Paterson, the director of residential dining and catering, proposals have been presented to rename the robots before but nothing has been approved.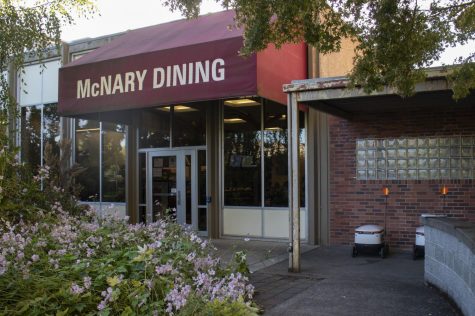 "As for the naming of the robots, this has come up a number of times over the past 12 months," Paterson said. "Both from students this year and students last year."
Even though the suggestion has been brought up multiple times, the plans fall through because of Starship's regulations.
"Currently, Starship does not allow any official naming of the robots," Paterson said. "We continue to ask but at the moment, this is not something they are willing to do given their brand guidelines."
Naming the robots could differentiate OSU from other college towns that may also use robot delivery. Although Starship's regulations hinder the process of naming each robot, some students think that should change.
"The humanization of these robots will truly add to the small town aesthetic of Corvallis, Ore.," Ben Lieberthal said, a freshman at OSU.
Giving the robots names could entice more students to use them. Having a themed robot deliver food may create that direct relationship between student and robot, compelling them to order off the Starship app again.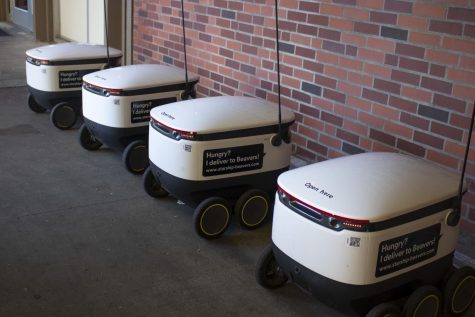 Evan Stone, who is a freshman at OSU studying environmental science, agreed with naming the robots.
"I think the personification of these robots will encourage students to use them even more," Stone said. "#AISuperiority."
Even though naming the robots is not allowed at the moment, students can continue dreaming about when OSU's version of R2-D2 can transport food to them.
Was this article helpful?