Welcome to the Jungle: a look into Greenhouse Coffee and Plants
The toilet was in the middle of the room.
It was one of the first things Bryon Neal Daniels, 33, and Grace Burt, 35, noticed when they were checking out the space for lease at 308 SW Monroe Ave. It wasn't the prettiest space. What had formerly been a salon was then a hollow shell, begging to be brimming with life again. The windows had been painted over, and in the bathroom, the toilet was oddly placed in the center.
"It wasn't up against a wall, it was directly in the middle of the room," Daniels said. "Just some weird stuff where we were like, it's got character."
Daniels and Burt recognized the potential those walls held and decided to turn the space into Greenhouse Coffee and Plants. The new coffee and plant shop opened in downtown Corvallis on Sept. 21. They offer everything from lattes to horchata, and host a selection of plants that can accommodate either the beginner plant parent or the veteran who is looking for a unique and rare find. All of this is encased in an interior where 'it wasn't the prettiest space' is the furthest thing from their customers' minds.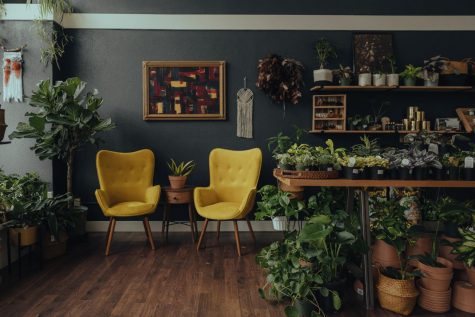 While working as wedding photographers in Salem, Ore., Daniels and Burt met through social media. They initially hit it off because of their shared love for photography, then they found a new hobby together—shopping for and taking care of houseplants. That hobby eventually morphed into a passion that led them to open Greenhouse Coffee and Plants.
"Her and I really got into house plants four or five years ago, then of course for everyone it amped up during quarantine because everyone was looking for stuff to do," Daniels said. "Salem got a ton of plant shops within the past year, I mean six plant shops within a two-mile radius. We had been talking about it for forever, then everyone just kept opening shops while we were just talking about it."
When quarantine hit, Daniels had moved on from wedding photography and started working as a social media manager at Good Notion in Salem, Ore. Shortly after the onset of lockdown, Daniels was let go from his job at Good Notion. It wasn't all bad news though, it allowed him to pursue other ventures.
"It kind of takes the wind out of your sails to be invested in a business, but they are just trying to make it and have to pay their bills, so they have to find space to make money but I'm also trying to pay my bills," Daniels said. "It sucked, but it was also a really good push in a different direction to realize I wanted to find something else to do and jump on a new opportunity."
The first opportunity he jumped on was opening The Gray Lab, a rentable photo studio, in Corvallis, Ore. After securing a location for the studio, the space next door also became available. He immediately wanted a tour and sent photos to Burt, thinking it was the perfect place for their plant shop.
"It was mostly just joking, we were just being sarcastic back and forth," Daniels said. "It got to the point where she said, 'you know what? I'll do it if you do it.' Then I was like oh shit, ok we might actually do that."
And they did it. By Feb. 2021, they had secured the lease and began working on refurbishing the interior by April 2021. Structure Bar Logistics, a company that excels in everything from menu creation to renovation for coffee shops and bars, helped with the refacing of the shop and bringing Daniels' and Burt's vision to life.
"It adapted over time, we initially knew we wanted it to be very modern and aesthetic," Daniels said. "One of the initial ideas was to use the frame of an interior room to create an indoor pergola for the coffee bar."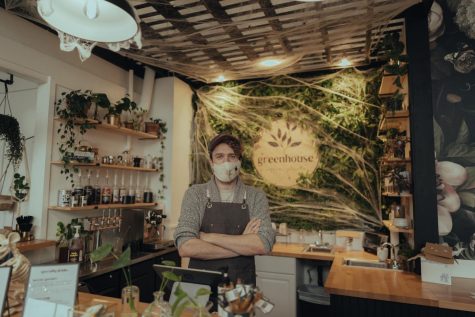 That all-black indoor pergola that houses their coffee bar is one of the many things that gives the shop its signature outdoor patio and garden feel, while still being inside and safe from the rainy Corvallis, Ore. weather. That, and all the plant life sprouting and spreading across the walls, tables and shelves.
Almost every square inch of the place is covered in plant life. Everything is alive, from the living wall behind the coffee bar to the plant-themed wallpaper, to the masses of plants that live in the storefront windows that fog up on the cold autumn mornings. It is as if it is a rainforest's humid understory and it gives the shop a feeling of calm serenity.
Coffee may come first in the name, but it wasn't in the initial plans for the business. Daniels and Burt set out to create a plant shop, not a coffee shop. While working on their plans and going through their daily rituals, the idea struck them.
"Mine and Grace's general routine is every Sunday we would hang out, go plant shopping, get coffee and so it was just part of what we would always do and then thinking about the business, it was like why wouldn't we also sell coffee," Daniels said. "It seemed like a no-brainer, people come in for coffee, they get a plant, people come in for a plant, they get a coffee."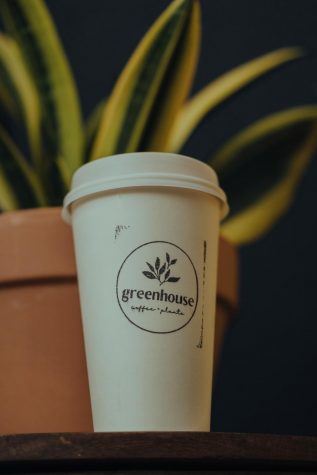 The coffee they serve is all tapped from kegs, rather than a traditional drip-coffee system. The nitro cold brew, espresso and the house latte all come out cold and they have to steam the drinks to warm them up. The one and only employee at Greenhouse Coffee and Plants, Colin Mosgrove, 23, has over five years of experience behind coffee bars and highlighted the golden milk that they serve.
"I love the turmeric spicy taste, if I just want a quick jolt of something, I'll get that," Mosgrove said. "Its ingredients include sugar, ginger, turmeric, black pepper and cinnamon so it is very spicy. Customers get to pick a milk of their choice and I steam the milk and mix it in."
Daniels also highlighted some of the plants that they have for sale. Some of the most popular varieties are the monsteras and pothos. The monstera and its varieties are also known as Swiss cheese plants. It grows upward and has broad leaves that have holes in them, which is how it got its nickname.
"As it gets older and older it gets more and more slits through the leaves, kinda like how you can tell how old a tree is by reading the rings, you can tell how old the monstera is by how many slits it has in the leaves," Daniels said.
The pothos, also known as devil's ivy, is a viney plant with mid-sized leaves that bookend each vine as it grows endlessly downward. This is the bread and butter of any new plant parent looking to bring some green into their home. It is very easy to take care of and is best placed in high areas to allow it room to grow.
Including these easy-going types of plants in their inventory is important to Daniels because of all the customers who are new to taking care of plants. Helping those customers find the plant that is right for their space is one of Daniels' favorite things about the job.
"It's probably one of my favorite things when a person comes in and they want to get a plant but they aren't sure what they can have, they aren't experienced with it or they don't have a ton of light," Daniels said. "I ask questions to figure out what people's light set up is, where their windows are, how much light it gets, what kind of space they are trying to fill and then find a plant that fits that perfectly."
Daniels isn't the only one benefitting from finding that perfect plant either. Studies have shown that being around plant life and incorporating it into your home can have beneficial effects on mental and emotional health. Gail Langellotto, professor of horticulture at Oregon State University and the statewide coordinator of the Extension Master Gardener Program, commented on these effects.
"Human beings were meant to be around plants and nature," Langellotto said. "As the world becomes more urbanized, it becomes more difficult to access natural areas. Home and community gardens, tending plants in an office, having plants at home, all of these are approximations of the human-nature experience that have been shown to have positive and significant impacts on human health."
Not only do they benefit your health, but just simply tending houseplants can bring about great joy. Witnessing a flower blossom right before you on your desk, or watching a tiny seed sprout into a huge thriving plant is nothing less than seeing the miracle of life. Sure, a few plants might die, but don't get discouraged. Remember, it is all a learning experience and it is really about what works for you and what makes you happy.
Oh, and that strange bathroom with the toilet in the middle of the room that was mentioned, Daniels and Burt redesigned it into a jungle-themed selfie taker's dream that is now one of the hidden gems of the shop. Complete with matching black porcelain toilet and sink, dark green paint, a mirror encircled with plant life, a green neon sign that reads "welcome to the jungle," and a stereo that plays "Tarzan Boy" by Baltimora on repeat.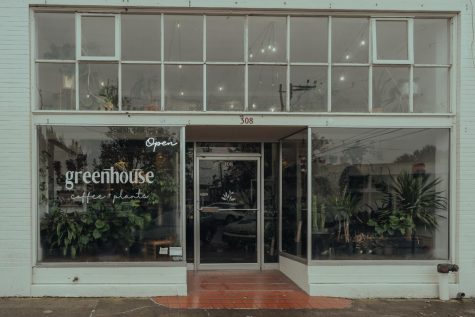 You can find Greenhouse Coffee and Plants downtown in Corvallis, Ore. on Monroe Ave. They are open from 9 a.m to 5 p.m. Tuesday through Sunday. Find them on Instagram @greenhousecorvallis and on Facebook.