5 restaurants to take your partner on date night
Editor's Note: Natalie Harris is a member of Orange Media Network. This article was written and published for Beaver's Digest's fall 2021 nightlife issue "After Hours"


Are you looking for the perfect date-night location in Corvallis, Ore? We have created a list of local restaurants, bars and pubs for a date-night full of good vibes, fun memories and excellent food and drinks.
Castor has a laid back atmosphere filled with houseplants, low lights, a thoughtfully-curated playlist and friendly service, according to Evan Deffenbacher, general manager of Castor.
One of Castor's most popular drinks is the "Love for Sale"—a sparkling grapefruit martini, made with local vodka, grapefruit liqueur, grapefruit wine, fresh squeezed grapefruit juice and zest, and sparkling wine.
Castor also offers old fashioned drinks and other classics, offered at recess for $7 from Wednesday to Saturday, 4 to 5:30 p.m., and all night on Tuesdays. Castor is located at 458 SW Madison Ave., Corvallis, OR 97330.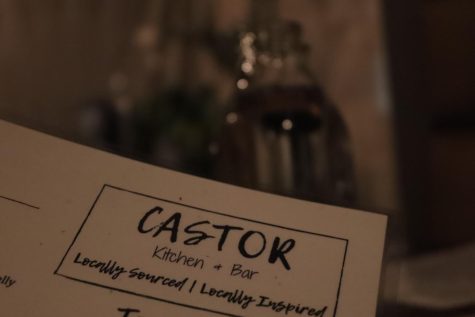 "We have an extensive selection of wine and spirits at Castor and are very particular about using the best ingredients in all of our food and drinks," Deffenbacher said via email. "Our menus change with the seasons and feature quality products and seasonal produce from local farms."
Castor is open Tuesday through Saturday from 4 to 9 p.m., and has take-out available Tuesday through Saturday from 4 to 8 p.m. Same-day order and pickup is available.
"The majority of our food menu is designed to be shared," Deffenbacher said. "Our Castor Board in particular is a great option for date night. It's a meat and cheese board to be shared with all the accoutrements."
You can also access Castor's full menu on its website.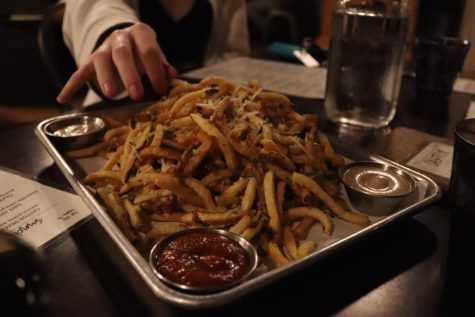 2. Bellhop
Nathan Schomer, second-year master's student in robotics, said he recommends Bellhop.
"Their food is delicious and the environment is casual enough for even a first date," Schomer said via email. "It may be a bit [pricey] for students but their serving sizes are big, so it's easy to split [an] appetizer and an entrée."
Bellhop offers dinner Tuesday through Saturday from 5 to 9 p.m. and brunch Saturday through Sunday from 9 a.m to 2 p.m. Bellhop is located at 150 SW Madison Ave., Corvallis, OR 97330.
"From Bellhop, I highly recommend the peach caprese if they still have it (it's seasonal), along with the roasted pepper mac and cheese," Schomer said via email. "The peach caprese is delicious and the mac and cheese is big enough to share."
You can also access Bellhop's full menu on its website.
Kingfish Lounge offers cocktails, beer, wine, house-made pizza and cinnamon rolls.
Schomer said he and his friend are on a quest to drink at every bar and restaurant in Corvallis.
"We downloaded the list of liquor licenses in Corvallis and are working our way through the list," Schomer said via email. "I can say without a doubt that Kingfish Lounge has the best cocktails of the places we've visited so far. The bartender is very good and the environment is great, especially on a Thursday night when it's not very busy."
Kingfish Lounge is open Thursday through Saturday from 4:30 to 10 p.m. and is located at NW 1st St, Corvallis, OR 97330.
4. Baguette Vietnamese Sandwiches
Baguette Vietnamese Sandwiches is a Vietnamese cafe with vegan options, salad rolls and a banh mi menu. Banh mi is a Vietnamese sandwich with a crisp crust filled with savory ingredients.
In an email, Schomer said he recommends Baguette Vietnamese Sandwiches if you are looking for an affordable place for a date. He said the sandwiches are delicious and they wrap them up so they're very easy to take to-go, ideal for a date in the park.
"From Baguette, you have to get the beef lemongrass sandwich," Schomer said via email. "I initially ordered it after asking the owner what her favorite sandwich was."
Baguette Vietnamese Sandwiches is open Monday through Friday from 11 a.m. to 7:30 p.m. and it is located at 121 SW 3rd St., Corvallis, OR 97330.
The Bière Library is a craft beer bar and restaurant in an atmosphere reminiscent of a comfortable library. Their food and beers are inspired by Belgian cuisine.
Natalie Harris, fourth-year graphic design and creative writing student, said The Bière Library is hers and her boyfriend's favorite restaurant for date nights in downtown Corvallis.
"We like to go here for more celebratory occasions because we always want to get a drink, an appetizer, a main entree and a dessert," Harris said via email. "Everything is so tasty and well made! We've never been disappointed with our food and drink suggestions, and if you follow their Instagram you'll see what new menu items they add."
The Bière Library's new menu items can be seen at their instagram page or on their website.
"The staff is also very kind and welcoming, and while you eat you get to be surrounded by books," Harris said via email. "Even the tables are covered in pages! It's not a place where you would need to dress up to fit in with the crowd, but if you wanted a classier evening, you could wear something nice and it wouldn't look out of place."
The Bière Library is open Sunday from noon to 8:00 p.m., Monday and Wednesday through Saturday from noon to 10 p.m. The Bière Library is located at 151 NW Monroe Ave., Suite 102, Corvallis, Oregon 97330.
Was this article helpful?