'Wildest and most remote classrooms in the Pacific Northwest'
Adventure Leadership Institute offers an adventure experience, 'life-long memories and insights,' outdoor skills and more
Jessica Li, Beaver's Digest Contributor
March 8, 2022
Imagine that you wake up to the jolly spirit of Christmas morning. You rush to the Christmas tree in anticipation of opening presents with your loved ones, and as you unwrap gifts, you notice a surprise present tucked away and hidden in the depths of evergreen. That's an analogy a student made about the Physical Activity Course called the Challenge Course Experience; it's like "the Christmas present under the tree they didn't know was there."
According to Mark Belson, the experiential education coordinator and Adventure Leadership Institute instructor at Oregon State University, the ALI was founded in 1947, and as the authority in adventure leadership education, it provides "awe-inspiring, transformative experiences to more than 9,500 students each year." This includes informal and customized experiences through the ALI Challenge Course, the Climbing Centers, Bike and Ski Shop and the Adventure Club.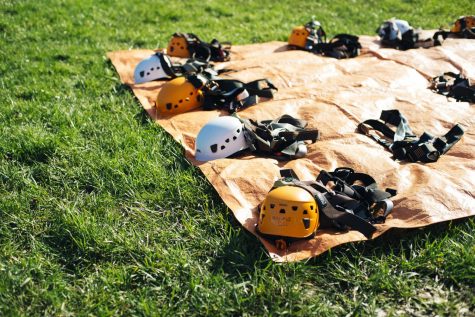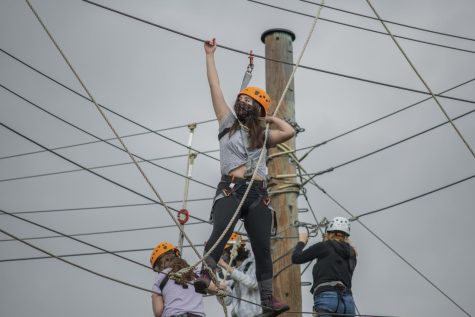 Moreover, ALI serves as the regional hub for Stonehearth Open Learning Opportunities Wilderness Medicine, the leading teacher of wilderness medicine worldwide, the Professional Climbing Instructors Association and the American Canoe Association Raft Guide and Whitewater Rescue curriculum. Belson himself teaches PAC classes such as Wilderness First Aid, Bush Craft and the Challenge Course Experience.
"These students learn in the wildest and most remote classrooms in the Pacific Northwest—from the forest, to the high desert, to rugged cascade peaks and glaciers," Belson said. "Graduates are active leaders with lifelong leadership-oriented and environmental ethics and outdoor skills."
In addition, Belson provides oversight and leadership of the OSU Challenge Course Program, a facility-based adventure experience available to both on and off-campus groups. To build trust among participants, the program opens with a group energizer and community-building activities followed by group problem solving initiatives that require them to work together using problem solving, communication and leadership skills. Once the task is successfully completed, the team convenes for a reflective discussion highlighting learning outcomes and insights and how those can be applied to other aspects of their life and personal growth. All of these activities are designed with the goal of promoting a fun and engaging learning environment for everyone involved.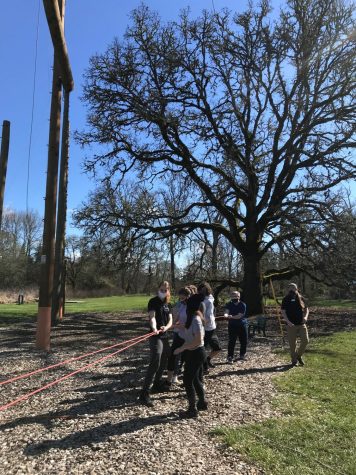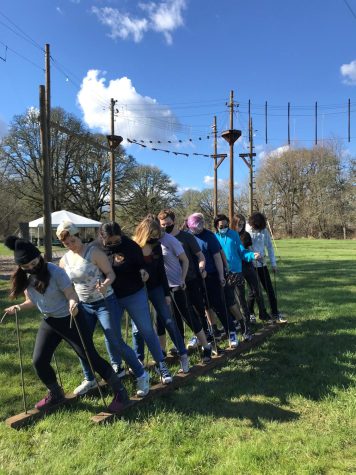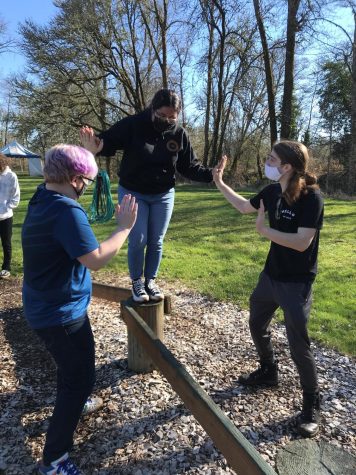 After the initial icebreaker with the ground and low-course activities, participants put on climbing harnesses and transition into the high challenge course elements for a more physical challenge that brings them almost 40 feet up off the ground. It truly gives them the opportunity to step outside of their comfort zone while being cheered on by their peers.
"We often hear from Challenge Course participants how much they enjoyed the active and experiential learning aspects of the program while experiencing an adventure that provides lifelong memories and insights," Belson said.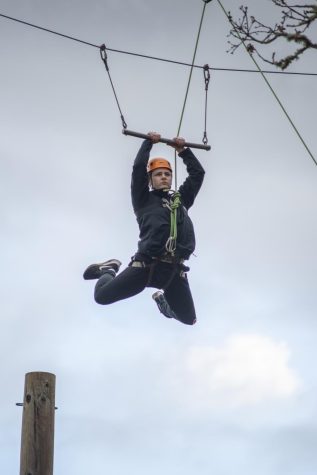 Jourdan Dimoff, a first-year student in the University Exploratory Studies Program who took Belson's PAC 301: Challenge Course Experience class in the fall of 2021, is an example of one participant who provides such agreeable feedback. They were interested in taking the class to find out what the "Challenge Course Experience" meant, and the course stood out to them as an opportunity to try something new since it wasn't a traditional sport like basketball or soccer. Their favorite part of the class was the outing and spending the day's worth on the high-ropes course; it was a measure of how far Dimoff had come mustering the courage to take on the challenge, using their belay certification skills and learning to believe in themself as compared to earlier in the term when they had initially felt nervous and uncertain.
Another component that Dimoff enjoyed about the course was the team-bonding activities. Through PAC 301, they are grateful for having developed friendships with their peers whom they first started out with as strangers, which was meaningful to Dimoff as a first-year student who was still new to the college environment. Fortunately, Dimoff was able to break out of their shell and become more comfortable working in a group setting while building trust with their peers. 
"A big part of our time in class was doing problem-solving activities and icebreakers, [and] those little moments of our small group coming together were also super special," Dimoff said. "It may be a bit of an eye roll to do icebreakers or get-to-know you games, yet there is this element of fun and play that is involved with getting to know the peers around you."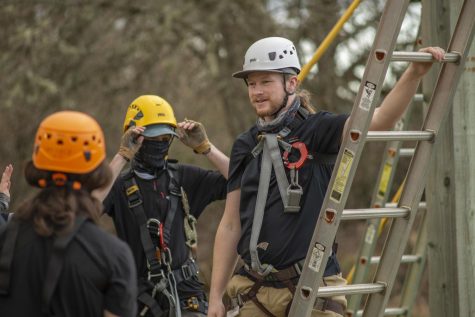 Similarly, Ethan Fleming, a first-year student studying environmental science who took PAC 301 with Jourdan, also enjoyed the outing the most. 
"The day [of the outing] had us harnessed in and suspended high up in the air while we challenged ourselves with aerial balance beams, Indiana Jones style bridges and a gravity-defying zip-line," Fleming said. "I personally loved this activity because even though I have a fear of heights, after you spend enough time up there, the fears float away and you can really challenge yourself in any way you can imagine (safely, that is)."
Fleming also saw PAC 301 as a parallel to when he had worked in Scouts BSA, but the only difference was that, in PAC 301, he was able to experience the Challenge Course from the perspective of a student rather than a teacher. Being on the student side, he even noticed that some of the activities from the course replicated those from his work which he used to teach.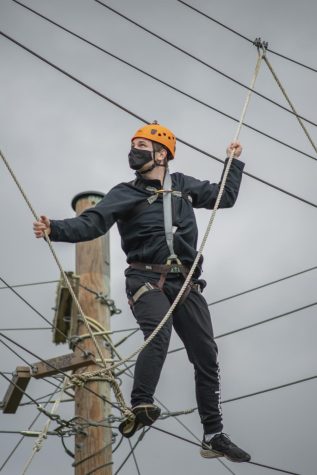 Like Dimoff, Fleming, too, felt a sense of personal improvement in addition to learning skills applicable in his everyday life from taking PAC 301. Overall, they'd both recommend trying out the class; Fleming says he would take it again in the future, and Dimoff is currently taking another PAC class offered through ALI called Bush Craft.
From the side of the instructor, Belson finds his role gratifying witnessing the personal development of participants as they overcome their doubts and contribute to a collective effort towards the shared adventure experience. 
"I have had the opportunity to support the learning and development of both participants and our OSU student staff, who will not likely go on to be career adventure educators, but nonetheless, they depart our ALI program with a greater understanding of themselves and their ever-growing capacity to learn and grow both personally and professionally in whatever role they assume in their career and life," Belson said.
According to Belson, the program ensures the safety of participants by having all Challenge Course student staff complete a rigorous low and high challenge course training that includes group facilitation methods in addition to technical operation and rescue procedures. Also, many Challenge Course student staff are engaged in the ALI Leadership Certificate model, which provides them with a foundational understanding of adventure education and leadership theories and concepts, coupled with hands-on experiences in technical classes and group dynamics.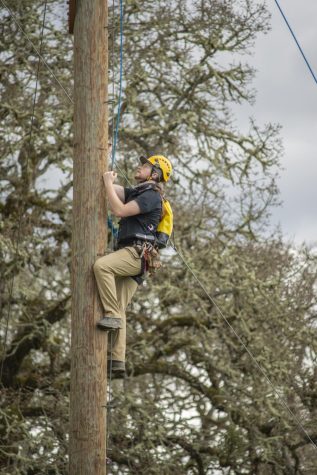 To learn more about program options and pricing, you can visit the ALI Challenge Course webpage. The Challenge Course is open year-round on both weekdays and weekends depending on student staff availability, and it can accommodate groups ranging from eight participants to several hundred depending on the program type. It is recommended that group organizers begin the scheduling process at least four to six weeks in advance. 
Other options for OSU students to try out the Challenge Course include signing up for PAC 301 which will be offered in spring 2022, looking out for a Challenge Course event through the ALI Adventure Club or bringing family and friends along to a Challenge Course event during spring or fall family weekend. 
ALI Challenge Course is currently looking to hire students for the Challenge Course Specialist position. For questions about the OSU Challenge Course, scheduling a program or potential employment opportunities, you can email [email protected] or find open positions on Benny Hire.
Was this article helpful?