'Persistent to keep this club thriving'
OSU Women's Lacrosse looks to recruit and raise awareness of the team after two years off the field and a decrease in membership
Working to keep the club in action, Oregon State University's Women's Lacrosse continues to recruit new players and work hard to get the team ready to play after almost two years off the field. 
On Jan. 22, OSU's Women's Lacrosse team played their first game together in almost two years—with COVID-19 to blame. 
"I think it's a unique opportunity to bring the skills of each player and start from scratch as a team by enhancing each skill to fit into a cohesive dynamic, instead of new players onto an existing team dynamic," said Head Coach Destiny Moore. "The 2021-2022 season is still inhibited due to a decrease in membership but these players are strong and persistent to keep this club thriving and represent this sport at OSU."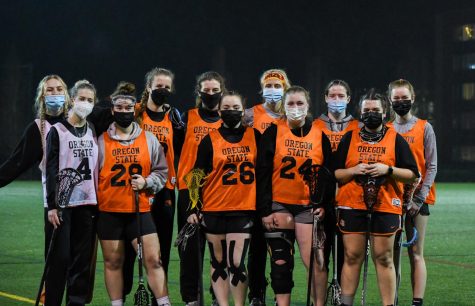 It's not an easy task to be on a women's sports team, especially at a collegiate level. Although they haven't had a game in many months, the team has confidence that they will make nationals. 
"We have a definite shot at nationals this year," said defensive player Marie Lee. 
However, even if OSU Women's LAX won nationals, it is hard to become well-loved and supported as a women's team, according to Captain and Midfielder Emma Becker.
"I think that male athletes are viewed as cool, for lack of a better word, simply by being an athlete—while female athletes have to work a lot harder for that kind of label," Becker said. "It's naive not to realize that women's teams and sports in general, only gain popularity when they're having success. This is a big idea but it impacts our team in major ways, the most significant being recruitment." 
Although it is an intimidating sport, especially at a high level, the team welcomes anyone who is interested in the sport and participating on the team, regardless of their background with lacrosse. Pushing through these obstacles is what makes the lady beaver's lacrosse team so strong.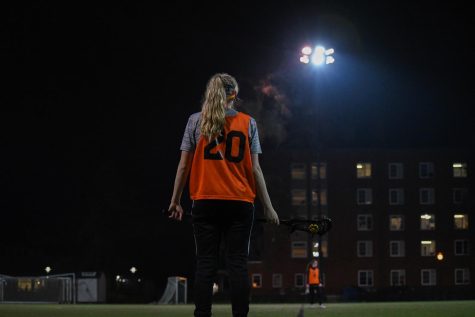 Lacrosse, a sport made up of three other sports. Originating in Canada in the 17th century, it is one of the oldest sports in North America. 
"Lacrosse is a mix of soccer and hockey, with some basketball thrown in…the opposing net is at the opposite end of the field and there are three offensive players, three midfielders, three defenders and one goalie. There are three offside zones like hockey, except the offensive and defensive players have to stay in their respective zones at all times," Lee said. 
It is also one of the few sports in which the women's and men's teams have different rules, regulations and uniforms. Men's lacrosse is more known for being a high-contact sport, where in women's lacrosse, there is a strict no-contact rule. Similar to golf, they too wear skirts as part of their uniform, and unlike men, wear goggle cages to protect their eyes instead of helmets and have no padding. They also have a shallower net, making the concept of cradling—"equivalent to dribbling or running with the ball in the net of your stick,"  Lee said—harder to thrive at and master.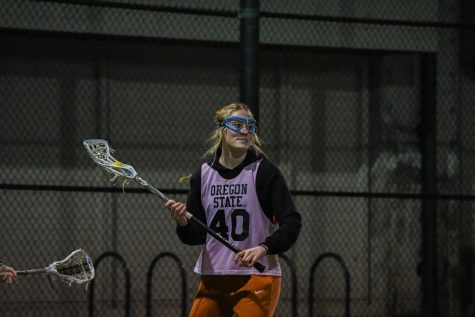 Although winning isn't always everything, it's definitely something. In their game against Western Washington, the team was nervous. 
"We were all very nervous…that was probably the best game any team I had ever been on has played. We started strong, we ended strong and we beat them soundly…when you have put in the work at practice and see it pay off on the field, those wins are always the best," Becker said. 
If you are looking to get outside and cheer, check out their Instagram, @osuwomenslacrosse, to see this season's schedule and drop by the intramural fields to show your support this season.
If you are interested in joining the team, check out their instagram page for updated information and to fill out a new player recruitment survey.