India Night returns to in person
Indian Students Association spend months planning event, set to feature three hand-prepared dishes and 16 performances
India Night, hosted by the Indian Students Association, is a celebration of Indian culture, heritage, performances and food. It is this Saturday from 5 to 8 p.m. at the LaSells Stewart Center auditorium.
Student admission costs $9 and general admission costs $10.50. This year is the first time the event will take place in person since 2019—India Night 2020 was canceled two weeks before opening night because of the nationwide lockdown due to COVID-19.
The event will showcase a total of 16 acts, which include solo and group performances of Indian dance routines, singing, piano and much more. Towards the end of the event, carryout boxes of hand-prepared food will be offered. Doors open at 4:35 p.m. and there is a maximum capacity of 800 attendees. Tickets are available online or at the door.
"It has been a lot of work—we started planning about four months ago," said Yesha Jhala, ISA co-president and key organizer for the event. "We had ideas going into it obviously, and things like our food plans were already prepared from 2020. It was a lot of deciding what we liked from the 2020 plans, then taking it and making it either better or different."
One act to look out for is being performed by the ISA's Bhangra Team, which consists of around 20 members. Bhangra is commonly a choreographed group dance that originated in Northern India. It is fast-paced, difficult and can cause the dancers to work up a sweat pretty quickly. Rohan Bukka, a sophomore at Oregon State University and an ISA undergrad associate, is in his first year on the team.
"There's a lot of rhythm and facial expressions—every part of your body moves," Bukka said. "We have worked on our choreography for six months and it's a good six to seven-minute act. I have never done anything in front of more than 200 people, so it should be interesting."
Another act to look out for is being put on by your very own ISA committee of 15 members. They are performing a dance routine that was choreographed by Jhala and a vice president at ISA.
"Not everyone on the committee signed up to be in a dance, but I was like 'nope' everyone is doing it," Jhala said. "In the beginning, not everyone was in the same style or pace but it has actually come along nicely. We just had rehearsals yesterday and everyone was looking amazing."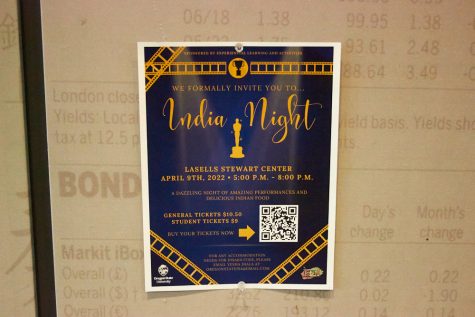 After all the acts have ended, it's time to eat. Three dishes are being prepared, an entree, a side and a dessert, along with something to drink.
Pav Bhaji is the main dish and consists of bread and mashed vegetables. It is one of the staple meals across India and at the India Night event alike. The vegetable mash uses potatoes as a base but also includes carrots, peas, onions and seasonings.
On the side is bhel puri, a classic Indian street food. It is a mixture of puffed rice, thinly sliced and fried potatoes and different chutneys. The ISA has prepared a tamarind chutney especially for this dish.
"It is like a mix between spicy, savory, a little sweet," Bukka said. "The tamarind chutney is where that sweetness comes from."
A sweet and doughy pastry is what's for dessert. It is called gulab jamun, and is going to be topped with a subtle rose-flavored glaze with saffron. It is very close to a glazed donut hole, according to Bukka. They can either be served hot or cold, but they will be served cold at India Night.
To wash it down there will be mango lassi drinks offered, which are a mixture of mangoes, obviously, with milk and yogurt. It is thicker than a smoothie, but not as thick as a milkshake. It lies somewhere in the middle there, according to Jhala.
"Unfortunately, this time we don't get to do the buffet serving style, we'll actually do carryout boxes at the end, but in a way, it will be helpful because a lot of people will have to return to a different town afterward," Jhala said. "Not everyone is from Corvallis so, in that sense, it's a little bit easier."
India Night is an entire family event, with families and friends traveling to attend from all over. Past India Nights have sold out at 1,100 attendees, so this is no party to miss out on.
Again, the event is Saturday, April 9, from 5 to 8 p.m. at the LaSells Stewart Center auditorium.
Was this article helpful?