The Corvallis Museum reconnects with the community, showcasing new exhibits
"We really just really would like to see the community engage with us more"
As soon as you enter through the Corvallis Museum doors, you are greeted by Bruce the moose.
The "iconic" taxidermy moose is just the greeter of the various historical Benton County artifacts the Benton County Historical Society, which operates the Corvallis Museum, holds. While Bruce is a Canadian native from the province of Saskatchewan, he's had a long history at Oregon State University, being part of the former Horner Museum that used to be located under Gill Coliseum, according to Kaitlin Kuan in the Visitor Services Department.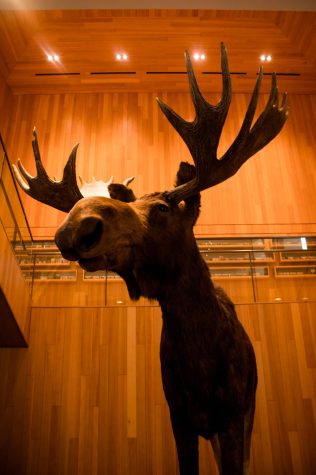 "People used to rub his shoulder for good luck," Kuan said, adding that she considers Bruce "the mascot" of the Corvallis Museum.
"The idea that John Horner had was to bring the world to Corvallis," Kuan said. "So there's a lot of things in the Horner collection from all over the place, all over the world, and he's part of that."
In fact, Bruce is not the only artifact transferred from the Horner museum. According to Mark Tolonen, the curator of exhibitions with the Benton County Historical Society, "With over 100,000 artifacts to choose from, it was apparent that we needed more exhibition space, hence the construction of the Corvallis Museum."
Many artifacts are housed in the Benton County Museum located in Philomath, Ore. alongside the Corvallis Museum.
"There are four galleries at the Corvallis Museum," said Tolonen. "Right now, the themes at the Corvallis Museum are Julie Green's "Last Supper" painted plates, "Hats & Chairs", OSU-related artifacts and Benton County history."
According to Kuan, the "Last Supper"' exhibit, by Julie Green, a renowned artist and former art professor at OSU, is drawing in a lot of people. The exhibit features ceramic plates painted by Green that document the last meals of death row prisoners.
As for the "Hats and Chairs" exhibit, on displays are various hats and chairs from different historical time periods, paired together. Kuan noted it's an interesting exhibit stating, "I've never seen anything like it in another museum."
According to Tolonen, the exhibit features Oregon Governor Douglas McKay's—OSU class of 1917—Stetson hat over his horse riding saddle. Additionally, the exhibit has a WWI helmet that was donated to the museum by General U.G. McAlexander which is paired with a portable stool similar to what he would have used in the field.
Tolonen added, "We have a large collection of chairs and nearly 1,000 hats in the artifact collection!"
The Benton County exhibit showcases many artifacts from familiar locations. Photographs, paintings and postcards can be found throughout the museum, which showcase Benton County history as well. As for the OSU exhibit, it features various OSU historical artifacts, including a taxidermy beaver.
"We try to kind of have a good variety of subject matters, topics and artists that we work with," said Jessica Hougen, the executive director of the Benton County Historical Society.
She added that, "We try to have things that will appeal to different parts of our community on a regular basis, to draw in different audiences."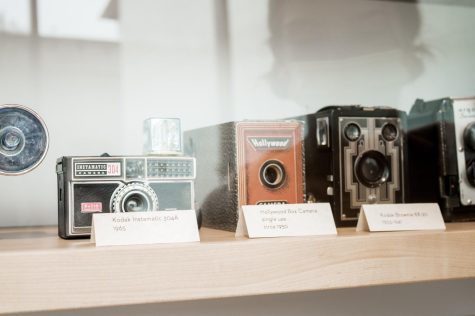 Hougen said the main focus is on looking at community history, but sometimes this allows the museum to draw on broader topics if there is still prevalence of local history.
"Everything we do has to have a local component to it," said Hougen. "It needs to be connected to the history of our community in some way shape or form."
According to Kuan, the museum business has "been steady." Kuan said, "I think generally people are talking about it and people are coming in so that's good to see."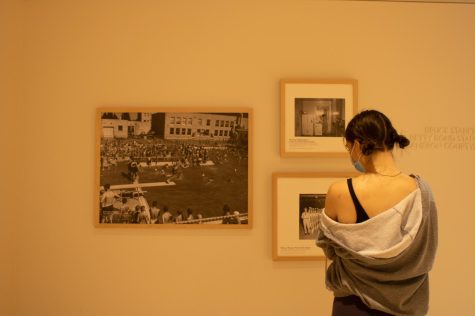 However, Hougen acknowledged that the museum's delayed opening due to the COVID-19 pandemic has made it difficult to advertise that it's currently up and running.
"A lot of people still think of it as something that will open in the future," Hougen saide. "They don't realize that it's open."
Hougen referred to the museum information, saying that the establishment is open Wednesday through Saturday from 10:00 a.m. to 4:30 p.m., and Sundays from 12:00 p.m. to 4:30 p.m. Adult admission is five dollars, and admission for children and OSU students is free. More information can be found at BentonCountyMuseum.org and the Benton County Museum Facebook page.
"We really would like to see the community engage with us more," said Hougen.
Hougen said they are offering guided tours for groups by advance reservation and special activities for younger kids during spring break.
"We're starting to add back in some of the things we would be normally doing if there wasn't a pandemic happening," she said.
Kuan said it's a " really good gathering place for the community, it's a good place to bring friends and socialize and talk about history."
Hougen added, "We would love to see more people come in and enjoy the museum."