Made @ OSU Market showcases student micro-businesses
On April 30th, the Austin Hall outdoor plaza was piled full of students, teachers, community members and, of course, mothers and fathers in town for Family Weekend. They were there to admire the hard work of Oregon State University College of Business first-year students at this year's Made @ OSU Market.
The Made @ OSU Market hosted over 100 students who were placed into groups and tasked to create micro-businesses centered around selling a product. The market served as a culmination of almost an entire school year's worth of work and was a chance to showcase what they had done and hopefully sell the last of their inventory to turn a profit.
Dam Hydrated is a water bottle engraving business and was created by Kasey Gacayan, Krystal Butler and Isabella Jacobsen.
"We do bottles that we bought and engraved with OSU designs, but if you already own a metal water bottle, we are able to take that and engrave it with custom designs that you can find in our design catalog or on our website," Gacayan said.
Any Hydro Flask type water bottle you have, they can engrave it using the laser engraver available to them at the DAMlab makerspace. The makerspace is in Buxton Hall and hosts an army of specialized tools like 3-D printers, embroidery machines, industrial printers for vinyl stickers and posters and all the software students need to implement their designs.
The team also does custom designs for their engravings but need to stay away from copyrighted designs for legal reasons. So, no, they won't engrave the Supreme logo onto your five-year-old, dented water bottle, sorry.
Dam Hydrated prices their engravings at $8 for small designs and $12 for large designs, and the bottles with OSU designs pre-engraved on them go for $25. They were well on their way to making a profit and reaching their minimum goal of $300.
A micro-business with a similar approach to the project was Dam Mugs, who sell, you guessed it, mugs. They mostly offer mugs with their own personal designs, like one sporting a campus map from 1970s Corvallis, Ore. Ashely Woody, Xavier Rogers and Carson Grover founded the company.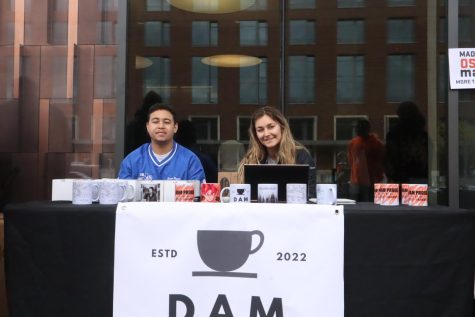 "[Mugs] were in our top 10 list of items we wanted to sell," Woody said. "We felt like it was a pretty easy item for college students to want to purchase. I mean, who doesn't make hot cocoa or cider in the dorms?"
The mugs are made by a process called sublimation. It is when a digital design is transferred onto sublimation paper, then applied to the product under extreme heat so the design is totally integrated onto the product, ensuring that it will not fade away. The Dam Mugs team does this at the DAMlab makerspace.
"We can also do photos, any other personal photos or quotes or anything you think is funny to put on a mug," Woody said. "Anything you want to give to your mother for Mother's Day, we can do it."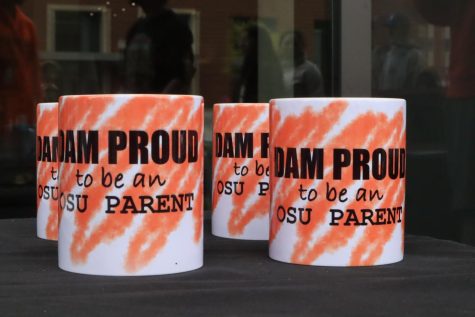 Taking a left turn, the micro-business called Hodges Garages, led by Julia Ollestad, Parker Morse, Jack Bennison and Colton Firth, did not create a product at all, but rather, bought an entire pallet of miscellaneous items from a wholesaler. This undertaking is collectively known as 'the mystery pallet challenge' because when a team agrees to it, they have no idea what the pallet might have in store for them.
"We are the first College of Business team to take on the mystery pallet challenge," Ollestad said. "We had to find a pallet on our own that we paid about $1000 for. It would have gone to a landfill, so we are a zero-waste company and we are re-selling everything at a discount. We broke even today and everything is sustainable because it's second-hand."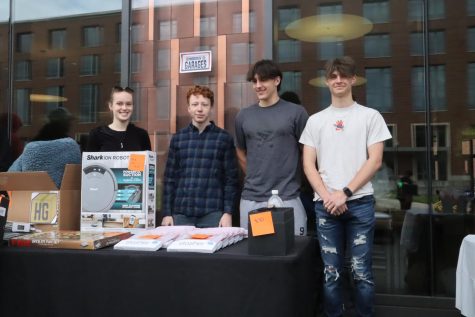 The pallet they purchased was from an obscure website called BULQ and after a long journey all the way from Texas, it was dropped off at an OSU warehouse and had to be forklifted over to Austin Hall.
"It was a lot of home goods," Ollestad said. "We got 95 stasher bags, a lot of bedding, a lot of Brookstone thermal blankets, pots and pans and a lot of kitchen items. It was a mix of Bed Bath & Beyond and Macy's."
Impressively, the Hodges Garages team has sold almost everything that the mystery pallet included, apart from a Roomba-type automated vacuum cleaner, a goose down comforter and a couple of those stasher bags.
Ella Castaneda and Dilara Unal started Elusify, a micro-business that makes LED signs whose quality speaks for themselves and resonate with the old-school neon signs of post-war America.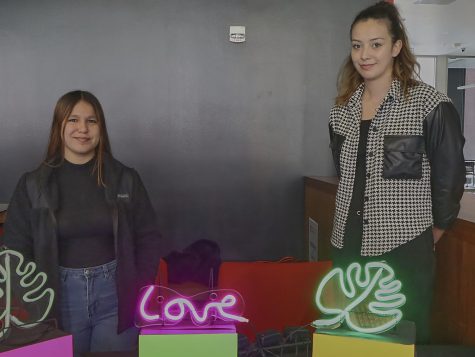 "To be able to make it, we get acrylic and cut them in the laser cutter to make our designs," Castaneda said. "We even do custom-made if anyone wants. We do multiple colors and you can do either big signs or small signs. The big signs are going for $60 or more depending on how much it takes to make and the small signs are going for $30."
When asked if they had actually considered doing classic neon signs, Castaneda replied, "neon is too expensive and too risky to make. It's easier to have an LED in your room instead of having the glass one and risking any issues, and plus it's safer."
The pair of future entrepreneurs hadn't met their profit goal yet, but they received a lot of attention at the Made @ OSU Market. Now, they expect to easily reach their goal after receiving multiple custom-made orders from enthusiastic customers.
Another creative business idea was thought up by Ruby Park, Bre Daniels and Adam Gross who founded Tuft and Fluff.
"We make hand-tufted products ourselves, we make them and design everything," Park said. "We make a bunch of different funky designs and everything we make is customizable. We do coasters, rugs and mirrors, and we like to help people reflect their personal style and add color to their lives."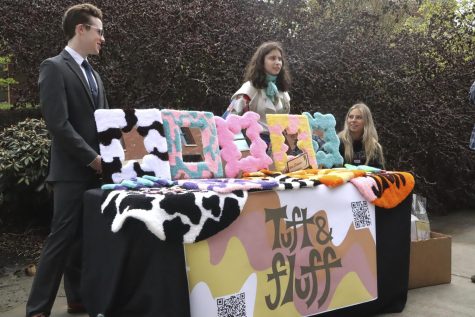 'Hand tufted' refers to the style and process behind their products. Tufting is how most rugs and carpets are made. It's like sewing, but instead of using a sewing machine, you would use a tufting gun. The tufting gun can handle multiple threads of yarn and is used to weave threads into a base layer, like the commonly used monk cloth.
Tufting is an easy process to learn but it takes time and hard work to get an end product like the Tuft and Fluff team offer. Park says that it takes her three hours to finish one mirror tuft and five hours or more to complete one rug.
They are selling their coasters two for $16 or four for $24, mirrors for $49 and rug prices vary depending on size and time spent making them.
"Our fixed costs are really high from buying the tufting gun and everything, but we are on track to break even with all the custom orders we have coming in, and once we sell everything we should turn a profit," Park said.
"I think we'll make it, I'm not worried about it," Daniels added.
"Bre is our optimist," Park quipped.
Even in this friendly business environment, where students mostly work together, competition stirs. Dalton Weidman, Shiloh Day and Emmanuel Sarr created Mugs and Kisses, the direct competitor of Dam Mugs. The two micro-businesses were wrestling over the local mug market all day.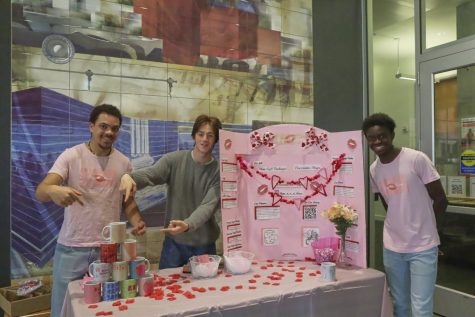 "We do mugs," Weidman said. "They are totally dishwasher and microwave safe. We can do any design you want and we are the cheapest mug company at OSU, far and away. Far and away the cheapest micro-business selling mugs."
Mugs and Kisses started as a mostly love-themed mug company, going by their name. Now, they are branching out and are confident they can place anything the customer imagines onto a mug, similar to Dam Mugs.
"That will be a $3 upcharge, from $9 to $12, still cheaper than the predesigned mugs over at Dam Mugs," Weidman said. "For $12 we can get ya a mug with anything you have ever seen on it. If you can print it on paper we can put it on a mug."
These mug moguls also have an interesting strategy behind how they keep their mug prices so low. When asked how they do it, Weidman replied, "we stray away from feelings of greed and longing for money."
Weidman went on to elaborate that they and Dam Mugs purchased their mugs from the same vendor, for the same price. The team was just willing to risk lower profit margins and decided to sell their mugs for less. And, it appears that the risk paid off.
"We have hit both our minimum and our stretch profit goals, so now we are kinda just doing it for pride and for the love of the mug," Weidman said.
"And for the love that the mug brings," Day added.
At the end of the day, it was still unknown how much money all the micro-business teams had made combined. They still have a few weeks to break even or to stretch out their profits as much as possible. When it is all tallied up, all the proceeds will be reinvested into the OSU College of Business through scholarships and funding.