2021-22 Books Written by Black Authors
We all should remember to make an effort to support Black creators and creators of color as a whole. It can be hard to narrow down the huge variety of media available, so here's a list of books published within the past year by Black authors who can inspire you to keep exploring! These amazing books are in order from most to least recently published.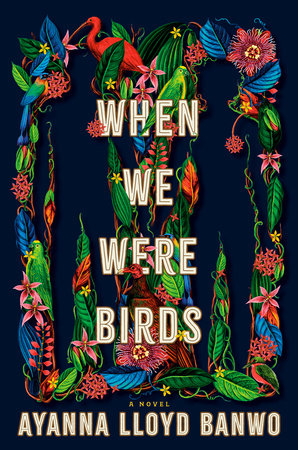 "When We Were Birds" by Ayanna Lloyd Banwo
March 2022 | Genre: Fantasy
Penguin Random House book description:
"In the old house on a hill, where the city meets the rainforest, Yejide's mother is dying. She is leaving behind a legacy that now passes to Yejide: one St Bernard woman in every generation has the power to shepherd the city's souls into the afterlife. But after years of suffering her mother's neglect and bitterness, Yejide is looking for a way out.
Raised in the countryside by a devout Rastafarian mother, Darwin has always abided by the religious commandment not to interact with death. He has never been to a funeral, much less seen a dead body. But when the only job he can find is grave digging, he must betray the life his mother built for him in order to provide for them both. Newly shorn of his dreadlocks and his past, and determined to prove himself, Darwin finds himself adrift in a city electric with possibility and danger.
Yejide and Darwin will meet inside the gates of Fidelis, an ancient and sprawling cemetery, where the dead lie uneasy in their graves and a reckoning with fate beckons them both."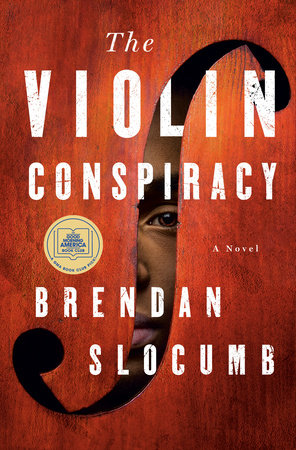 "The Violin Conspiracy" by Brendan Slocumb
February 2022 | Genre: Mystery, Thriller
Penguin Random House book description:
"Growing up Black in rural North Carolina, Ray McMillian's life is already mapped out. If he's lucky, he'll get a job at the hospital cafeteria. If he's extra lucky, he'll earn more than minimum wage. But Ray has a gift and a dream—he's determined to become a world-class professional violinist, and nothing will stand in his way. Not his mother, who wants him to stop making such a racket; not the fact that he can't afford a violin suitable to his talents; not even the racism inherent in the world of classical music. 
When he discovers that his great-great-grandfather's beat-up old fiddle is actually a priceless Stradivarius, all his dreams suddenly seem within reach. Together, Ray and his violin take the world by storm. But on the eve of the renowned and cutthroat Tchaikovsky Competition—the Olympics of classical music—the violin is stolen, a ransom note for five million dollars left in its place. Ray will have to piece together the clues to recover his treasured Strad … before it's too late.
With the descendants of the man who once enslaved Ray's great-great-grandfather asserting that the instrument is rightfully theirs, and with his family staking their own claim, Ray doesn't know who he can trust—or whether he will ever see his beloved violin again."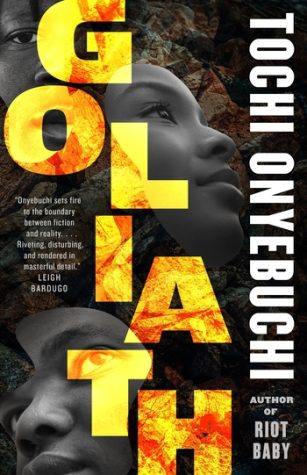 January 2022 | Genre: Sci-Fi
"In the 2050s, Earth has begun to empty. Those with the means and the privilege have departed the great cities of the United States for the more comfortable confines of space colonies. Those left behind salvage what they can from the collapsing infrastructure. As they eke out an existence, their neighborhoods are being cannibalized. Brick by brick, their houses are sent to the colonies, what was once a home now a quaint reminder for the colonists of the world that they wrecked.
A primal biblical epic flung into the future, Goliath weaves together disparate narratives—a space-dweller looking at New Haven, Connecticut as a chance to reconnect with his spiraling lover; a group of laborers attempting to renew the promises of Earth's crumbling cities; a journalist attempting to capture the violence of the streets; a marshal trying to solve a kidnapping—into a richly urgent mosaic about race, class, gentrification, and who is allowed to be the hero of any history."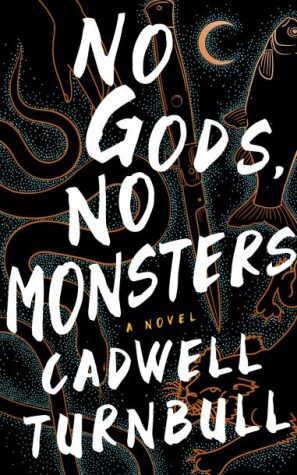 "No Gods, No Monsters" by Cadwell Turnbull
September 2021 | Genre: Fantasy
BlackStone Publishing book description:
"One October morning, Laina gets the news that her brother has been shot and killed by Boston cops. But what looks like a case of police brutality soon reveals something much stranger. Monsters are real. And they want everyone to know it.
As creatures from myth and legend come out of the shadows, seeking safety through visibility, their emergence sets off a chain of seemingly unrelated events. Members of a local werewolf pack are threatened into silence. A professor follows a missing friend's trail of bread crumbs to a mysterious secret society. And a young boy with unique abilities seeks refuge in a pro-monster organization with secrets of its own. Meanwhile, more people start disappearing, suicides and hate crimes increase, and protests erupt globally, both for and against the monsters.
At the center is a mystery no one thinks to ask: Why now? What has frightened the monsters out of the dark?
The world will soon find out."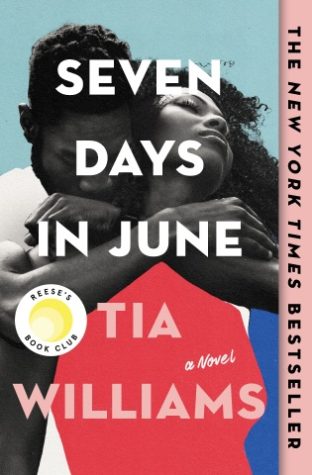 "Seven Days in June" by Tia Williams
June 2021 | Genre: Romance
Grand Central Publishing book description:
"Brooklynite Eva Mercy is a single mom and bestselling erotica writer, who is feeling pressed from all sides. Shane Hall is a reclusive, enigmatic, award-winning literary author who, to everyone's surprise, shows up in New York.
When Shane and Eva meet unexpectedly at a literary event, sparks fly, raising not only their past buried traumas, but the eyebrows of New York's Black literati. What no one knows is that twenty years earlier, teenage Eva and Shane spent one crazy, torrid week madly in love. They may be pretending that everything is fine now, but they can't deny their chemistry—or the fact that they've been secretly writing to each other in their books ever since.
Over the next seven days in the middle of a steamy Brooklyn summer, Eva and Shane reconnect, but Eva's not sure how she can trust the man who broke her heart, and she needs to get him out of New York so that her life can return to normal. But before Shane disappears again, there are a few questions she needs answered . . .
With its keen observations of Black life and the condition of modern motherhood, as well as the consequences of motherless-ness, Seven Days in June is by turns humorous, warm and deeply sensual."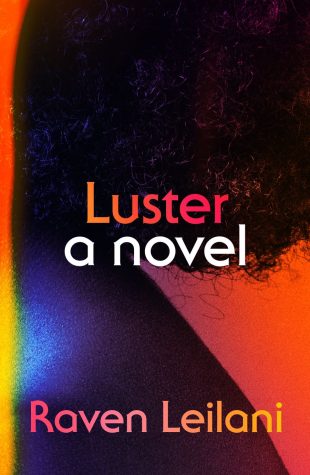 June 2021 | Genre: Dark Comedy, Women's Fiction
"No one wants what no one wants.
And how do we even know what we want? How do we know we're ready to take it?
Edie is stumbling her way through her twenties—sharing a subpar apartment in Bushwick, clocking in and out of her admin job, making a series of inappropriate sexual choices. She is also haltingly, fitfully giving heat and air to the art that simmers inside her. And then she meets Eric, a digital archivist with a family in New Jersey, including an autopsist wife who has agreed to an open marriage—with rules.
As if navigating the constantly shifting landscapes of contemporary sexual manners and racial politics weren't hard enough, Edie finds herself unemployed and invited into Eric's home—though not by Eric. She becomes a hesitant ally to his wife and a de facto role model to his adopted daughter. Edie may be the only Black woman young Akila knows.
Irresistibly unruly and strikingly beautiful, razor-sharp and slyly comic, sexually charged and utterly absorbing, Raven Leilani's Luster is a portrait of a young woman trying to make sense of her life—her hunger, her anger—in a tumultuous era. It is also a haunting, aching description of how hard it is to believe in your own talent, and the unexpected influences that bring us into ourselves along the way."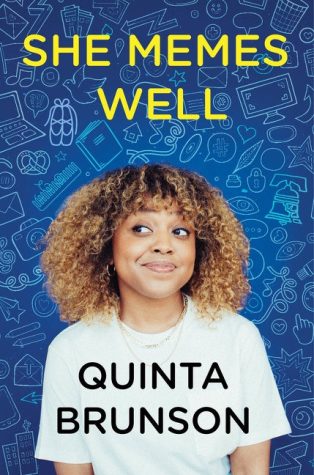 "She Memes Well" by Quinta Brunson
June 2021 | Genre: Comedy
HarperCollins Publishers book description:
"From comedian Quinta Brunson comes a deeply personal and funny collection of essays about trying to make it when you're struggling, the importance of staying true to your roots, and how she's redefined humor online. 
Quinta Brunson is a master at breaking the internet. Before having any traditional background in media, her humorous videos were the first to go viral on Instagram's platform. From there, Brunson's wryly observant POV helped cement her status in the comedy world at large, with roles on HBO, Netflix, ABC, Adult Swim, BuzzFeed, the CW, and Comedy Central. Now, Brunson is bringing her comedic chops to the page in She Memes Well, an earnest, laugh-out-loud collection about this unusual road to notoriety. 
In her debut essay collection, Quinta applies her trademark humor and heart to discuss what it was like to go from a girl who loved the World Wide Web to a girl whose face launched a thousand memes. With anecdotes that range from the ridiculous—like the time she decided to go clubbing wearing an outfit she describes as 'Gary Coleman meets metrosexual pirate'—to more heartfelt material about her struggles with depression, Quinta's voice is entirely authentic and eminently readable. With its intimate tone and hilarious moments, She Memes Well will make you feel as if you're sitting down with your chillest, funniest friend."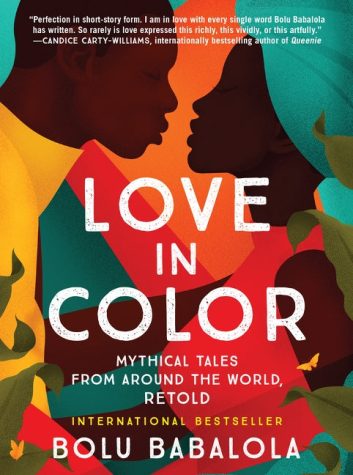 "Love in Color" by Bolu Babalola
April 2021 | Genre: Mythology, Romance
HarperCollins Publishers book description:
"A high-born Nigerian goddess, who has been beaten down and unappreciated by her gregarious lover, longs to be truly seen.
A young businesswoman attempts a great leap in her company, and an even greater one in her love life.
A powerful Ghanaian spokeswoman is forced to decide whether she should uphold her family's politics or be true to her heart.
In her debut collection, internationally acclaimed writer Bolu Babalola retells the most beautiful love stories from history and mythology with incredible new detail and vivacity. Focusing on the magical folktales of West Africa, Babalola also reimagines Greek myths, ancient legends from the Middle East, and stories from long-erased places.
With an eye towards decolonizing tropes inherent in our favorite tales of love, Babalola has created captivating stories that traverse across perspectives, continents, and genres.
Love in Color is a celebration of romance in all its many splendid forms."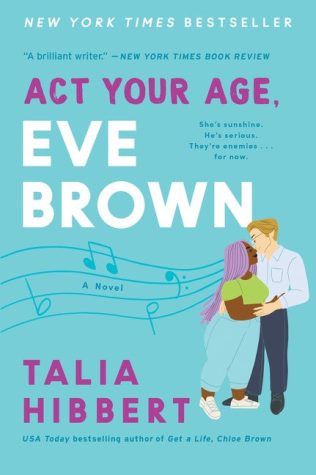 "Act Your Age, Eve Brown" by Talia Hibbert
March 2021 | Genre: Romance
HarperCollins Publishers book description:
"Eve Brown is a certified hot mess. No matter how hard she strives to do right, her life always goes horribly wrong. So she's given up trying. But when her personal brand of chaos ruins an expensive wedding (someone had to liberate those poor doves), her parents draw the line. It's time for Eve to grow up and prove herself—even though she's not entirely sure how…
Jacob Wayne is in control. Always. The bed and breakfast owner's on a mission to dominate the hospitality industry and he expects nothing less than perfection. So when a purple-haired tornado of a woman turns up out of the blue to interview for his open chef position, he tells her the brutal truth: not a chance in hell. Then she hits him with her car—supposedly by accident. Yeah, right.
Now his arm is broken, his B&B is understaffed, and the dangerously unpredictable Eve is fluttering around, trying to help. Before long, she's infiltrated his work, his kitchen—and his spare bedroom. Jacob hates everything about it. Or rather, he should. Sunny, chaotic Eve is his natural-born nemesis, but the longer these two enemies spend in close quarters, the more their animosity turns into something else. Like Eve, the heat between them is impossible to ignore… and it's melting Jacob's frosty exterior."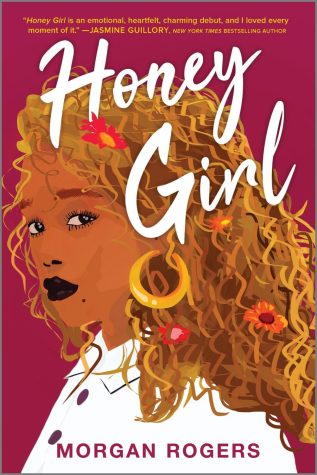 February 2021 | Genre: LGBTQ+
HarperCollins Publishers book description:
"With her newly completed PhD in astronomy in hand, twenty-eight-year-old Grace Porter goes on a girls' trip to Vegas to celebrate. She's a straight A, work-through-the-summer certified high achiever. She is not the kind of person who goes to Vegas and gets drunkenly married to a woman whose name she doesn't know…until she does exactly that.
This one moment of departure from her stern ex-military father's plans for her life has Grace wondering why she doesn't feel more fulfilled from completing her degree. Staggering under the weight of her parent's expectations, a struggling job market and feelings of burnout, Grace flees her home in Portland for a summer in New York with the wife she barely knows.
In New York, she's able to ignore all the constant questions about her future plans and falls hard for her creative and beautiful wife, Yuki Yamamoto. But when reality comes crashing in, Grace must face what she's been running from all along—the fears that make us human, the family scars that need to heal and the longing for connection, especially when navigating the messiness of adulthood."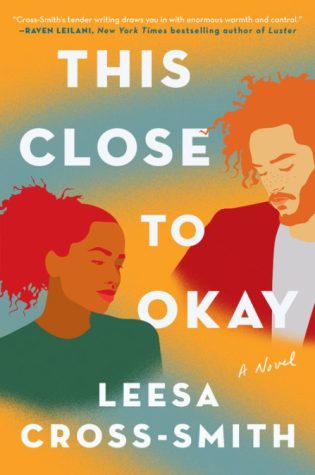 "This Close to Okay" by Leesa Cross-Smith
February 2021 | Genre: Literature
Grand Central Publishing book description:
"On a rainy October night in Kentucky, recently divorced therapist Tallie Clark is on her way home from work when she spots a man precariously standing at the edge of a bridge. Without a second thought, Tallie pulls over and jumps out of the car into the pouring rain. She convinces the man to join her for a cup of coffee, and he eventually agrees to come back to her house, where he finally shares his name: Emmett. 
Over the course of the emotionally charged weekend that follows, Tallie makes it her mission to provide a safe space for Emmett, though she hesitates to confess that this is also her day job. What she doesn't realize is that Emmett isn't the only one who needs healing—and they both are harboring secrets.
Alternating between Tallie and Emmett's perspectives as they inch closer to the truth of what brought Emmett to the bridge's edge—as well as the hard truths Tallie has been grappling with since her marriage ended—This Close to Okay is an uplifting, cathartic story about chance encounters, hope found in unlikely moments, and the subtle magic of human connection."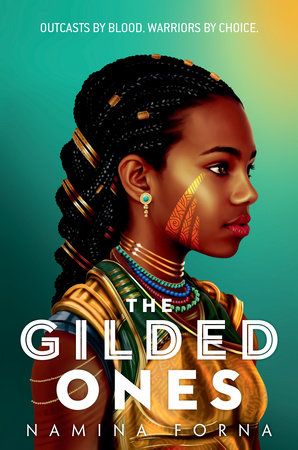 "The Gilded Ones" by Namina Forna
January 2021 | Genre: Fantasy
Penguin Random House book description:
"Sixteen-year-old Deka lives in fear and anticipation of the blood ceremony that will determine whether she will become a member of her village. Already different from everyone else because of her unnatural intuition, Deka prays for red blood so she can finally feel like she belongs.
But on the day of the ceremony, her blood runs gold, the color of impurity–and Deka knows she will face a consequence worse than death.
Then a mysterious woman comes to her with a choice: stay in the village and submit to her fate, or leave to fight for the emperor in an army of girls just like her. They are called alaki–near-immortals with rare gifts. And they are the only ones who can stop the empire's greatest threat.
Knowing the dangers that lie ahead yet yearning for acceptance, Deka decides to leave the only life she's ever known. But as she journeys to the capital to train for the biggest battle of her life, she will discover that the great walled city holds many surprises. Nothing and no one are quite what they seem to be–not even Deka herself."
Was this article helpful?