Understanding OSU's spring-flowering flora and fauna
Jessica Li, Beaver's Digest Contributor
June 21, 2022
Spring and summer of 2022 are the first that campus has been fully populated by students since the onset of COVID-19 and subsequent remote learning. One of the most striking features on campus is the blossoming flowers that make these seasons special at Oregon State University. 
Students, faculty and visitors alike have been enchanted by this beauty—and there are many opportunities on campus to interact with plants and learn more about the origins of OSU's natural beauty.

Patrick Breen, a retired professor in the department of horticulture, graduated from St. Thomas University with a bachelor of science in biology and earned his master's and doctorate in plant physiology from the University of Minnesota before coming to OSU. 
Breen has investigated the history of a few older or significant trees on campus, and said most of them are about 100 years old, with the exception of the Dawn Redwood, since it was not discovered until the 1940s.
Late in his career, Breen said he was asked to teach a three-term undergraduate course on landscape plants in the late 1990s. He even created a website to help students in his classes identify select plants and learn their characteristics, which was made possible by the help of a technician in the department who taught Breen computer programming, HTML. 
The site contains images and information on over 1,800 landscape plants, mostly woody. Individual plants can be accessed via their Latin names, like Acer, or their common names, like Maple. Information on each plant species includes botanical description, general care, winter hardiness, native range and an explanation of the Latin epithet.
Consequently, it was through taking and teaching the landscape plant courses that Breen learned more about the plants at OSU. 
"As a child I was always interested in 'nature,'" Breen said. "In college, I gravitated toward botany. I joke that this path was taken because animals were preserved in formaldehyde (a strong-smelling substance, now considered a cancer risk), whereas plants were preserved in alcohol." 
Similarly, Grayson Lindsey, a third-year student studying botany and the president of Botany Club, developed an interest in botany from a young age.
"I was always so fascinated with the natural world, how it worked and how humans made our place in it," Lindsey said. "I pursued this interest in high school as I took two years of environmental science. While looking at the larger picture was definitely intriguing, I found myself more and more gravitating toward plant life! Maybe it's because plants are so different from animals, but I just find their mystery to be so intriguing."
According to Lindsey, the purpose of Botany Club is to gather students interested in learning about plants, and it is open to anyone from botany majors to plant hobbyists. Students have the opportunity to learn about plants stored inside the club's greenhouse space, ranging in diversity from succulents native to South Africa to plants native to the Willamette Valley. 
By having access to the greenhouse on campus, Lindsey said they have been able to learn about plants on an evolutionary level, such as how different plant morphologies stem from different adaptations for survival.
In addition, Maggie Winning, a fourth-year student studying biohealth sciences with double minors in horticulture and chemistry, said she always had a love for plants, but found herself truly committing to this passion after building and maintaining her own xeriscape during the pandemic. A xeriscape is a type of landscape design that needs little to no irrigation or maintenance, used commonly in dry regions.
Below is a chart contributed by Winning that documents some plants that are flowering right now on campus.
| | | | | | | |
| --- | --- | --- | --- | --- | --- | --- |
| Species Name | Common Name | Family Name | Blooming Season | ID features | Where to find on campus | Fun Fact |
| Laburnum x watereri  | Goldenchain tree | Fabaceae (Pea) | Late spring to early summer | Deciduous tree Bright yellow fragrant 10-inch long pendulous racemes. Leaves have alternate and trifoliate arrangement | North end of lot behind Cordley Hall, near loading dock | All parts of this plant are toxic if ingested. Named after Waterer Nursery in England. |
| Deutzia gracilis 'Nikko' | Slender Nikko Deutzia  | Saxifragaceae (Saxifrage) | Late spring to mid or late summer | Low mounding ground cover. Produces abundant of star shape pure white flowers in upright racemes. | In front of the Beaver Store and East side of Nash Hall  | Received the Pennsylvania Horticultural Society Gold Medal Award, 1989 |
| Weigela florida  | Weigela  | Caprifoliaceae (honeysuckle)  | Spring and summer | Deciduous shrub with showy pink, red or white bell-to-funnel shape flowers.  | South of Learning Innovation Center, in between Austin Hall and Asian & Pacific Cultural Center | Attracts lots of hummingbirds. Native to Japan. |
| Syringa patula 'Miss Kim'  | Miss Kim Korean lilac  | Oleaceae (Olive) | Late spring to early summer  | Large deciduous shrub with erect, fragrant panicles of pale lilac-blue flowers  | East of Cordley Hall, in-between Bates and Hallie E. Ford Center | Great pollinator plant to hummingbirds and butterflies. Original 'Miss Kim' plants were introduced in 1954 and many are still living today. |
The horticulture department has been beneficial to her success, according to Winning, providing her with hands-on experience and exposure to the ways various plants can be grown and propagated. 
For example, in HORT 311, a plant propagation class, Winning grew and maintained a variety of vegetables, herbs, conifers, houseplants and broadleaf trees. Moreover, not only did their class sow seeds to grow lettuce, chives, basil and tomatoes, but they also propagated Sedum, Begonia, Jade, Knobcone pine, Red oak and Kentucky coffee tree, all of which they would record weekly data on and bring home at the end of the term.
From her experience learning horticulture and tending to her xeriscape, Winning offers general gardening advice.
"Gardening can be challenging, which is why choosing the right plant for the right place is the most important aspect to consider when building a landscape or garden," Winning said. "Knowing how different plant species react to the different microclimates in a garden is crucial for the success and health of a garden. For example, if a garden bed receives more than nine hours of sun a day, a plant in that location should be a full sun plant and be able to tolerate the heat for an extended period of time. General rule to keep the landscape plants happy is to provide them with moist, slightly acidic and well-drained soil."
As for identifying plants, Winning recommends the easiest and most basic method,  based on leaf arrangement. The three ways a leaf can be arranged on a stem are alternate, opposite and whorled, meaning that they have one leaf per node, two leaves per node and three or more leaves per node, respectively. 
Following leaf arrangement, the easiest way to identify a plant is based on its leaf division. A leaf without a division is known as a simple leaf, but a leaf with visible division is called a compound leaf. 
Furthermore, the margin, edge and base of the leaf can give clues to its identity as well. For instance, Winning explains that leaves with sawlike margins are known as serrate while leaves with smooth margins are known as entire. 
On the other hand, Breen suggests an alternative way to identify plants by using computer programs, made possible by the advancements in technology. According to Breen, these programs have the capability to identify a species just by examining a picture of a single leaf, and there are others that use a systematic approach accompanied by many pictures.
Specifically, Lindsey recommends using the app iNaturalist, which is used for some botany courses at OSU and has been extremely helpful to Lindsey in their studies.  
"Plants are truly amazing," Winning said. "They keep our world in balance and are one of the most vital necessities we have on earth. Studying horticulture has connected me to the world in a different way than I could have imagined. It has brought me lifelong friends and opened my eyes to the diversity and beauty this earth has to offer."
Favorite plants and fun facts:
"A definite favorite of mine is Camas, specifically Camassia quamash! It's a bulb flower native to the Pacific Northwest. Indigenous peoples here fostered whole fields of communities of camas in order to harvest their bulbs. These bulbs were baked and have a taste similar to a baked sweet potato or baked pear. Though, I don't recommend seeking out camas bulbs on your own to eat as there are definitely plenty of harmful lookalikes (such as death camas)!" – Lindsey
"The spring flowering azaleas and rhododendrons brighten up the campus, in marked contrast to bare trees and shrubs of winter. Reportedly, over 15,000 rhododendrons cultivars have been developed, but only 2,000 or so are readily available. Many landscape plants experience a rise and fall in popularity over time; in other words, they experience the ups and downs of fashion." – Breen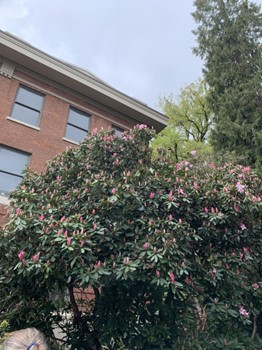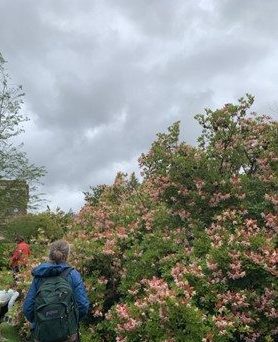 Was this article helpful?