Kalama: Farewell, Orange Media Network
Dear reader,
Beaver's Digest, Orange Media Network, our community—your readership and support—have changed my life. I have been working for OMN since the winter of 2018 and have found a family on campus. 

I started off as a reporter for The Daily Barometer and made my way up to copy editor, news editor and then editor-in-chief. Now, when I tell you that the Baro solidified my love and commitment to journalism, I wholeheartedly mean it. From leading a newspaper through the COVID-19 pandemic, to the coverage of the F. King Alexander scandal and his subsequent resignation—all the ups and the downs—the Baro truly changed my life for the better. 
Now, in my fourth year at OSU, I joined BD and found my calling. This job and this team helped me realize that lifestyle journalism is where I want my career to take me. My favorite part of journalism is telling people's stories, uplifting voices, inspiring others and making content relatable to everyday life, and Beaver's Digest has allowed me to do just that. 
I have learned so much from my time with OMN—I am so grateful for the opportunities I have had to make a difference in my community, and I have so many people to thank. First and foremost I want to thank Jennifer Moody, Steven Sandberg, Velyn Scarborough and Markie Belcher for being the most supportive advisors and mentors I could ask for. 
Jen Moody, being my journalism advisor, has and will forever inspire me. That woman has been there for me through breakdowns, celebrations, emergencies, snack breaks, learning moments, and every life lesson in between. If there is one person I had to credit for all of my successes in student media, from the very beginning, it's her. Thank you for quite literally everything, Jen.
Speaking of beginnings, I want to thank Marcus Trinidad and Delaney Shea for being the first student leaders and mentors to encourage me to reach higher. I get emotional every time I think of the way Delaney, my Baro predecessor, has impacted my life and who I am. She helped me realize my own self-worth, to have confidence in myself and my abilities, to stand my ground, fight for what I believe in, and taught me what it means to be a great journalist and leader. I am forever grateful for Delaney's guidance and friendship. 
Thank you Alex Luther, my BD predecessor and former fellow student leader, for believing in me and trusting me with your beloved magazine—your love for this publication inspired me to strive for the best for Beaver's Digest. I couldn't imagine getting through the 2020-21 academic year without your support and love. I have found a bestie forever—you're the other pea to my pod. 
I also want to thank Luke Reynolds, Jeremiah Estrada, Haley Daarstad, Patience Womack and Adriana Gutierrez for being the most incredible editors and friends an EIC could ask for. I never once doubted your capabilities, your journalistic instincts, your creative ideas and your passion for this work because ya'll are truly talented. Thank you for not only your hard work, but also for your support, welcoming ears, and all the laughs we shared. I am forever in awe of all of you. 
Thank you Alan Nguyen for your passion and drive to make this the best publication it's ever been. The beauty and creativity of every single one of this year's BD issues are all due to Mr. Nguyen's graphic design talents—I mean, literally… I can't take much credit for the magazine designs because it was almost all Alan's doing. Thank you for your dedication to this magazine and for all of your support this year. 
My Beaver's Digest family, thank you for sticking with me and this medium and turning out some pretty incredible content this year. The creativity and passion of this team is palpable. It was all of you who made every single day as the BD editor-in-chief joyous, collaborative, inspiring and formative. I will always remember the incredible things we created and accomplished together. Y'all are the heart and soul of Beaver's Digest—never forget that. 
If you have worked with me in some capacity these last four years—thank you—you have truly helped shape my love for this work. 
Finally, thank you Sukhjot Sal for your dedication to leading BD next year. I have known and worked with you for several years now, and I have always been blown away by you… your writing and work, how quickly you learn and adapt, your kindness, your strength and your eagerness to lead this magazine. I have nothing but the utmost respect and confidence in you. I know I am leaving Beaver's Digest in strong, passionate, capable hands. I believe in you. 
And to you, Beaver's Digest, I love you. Farewell.
Yours with great admiration,
Jaycee Kalama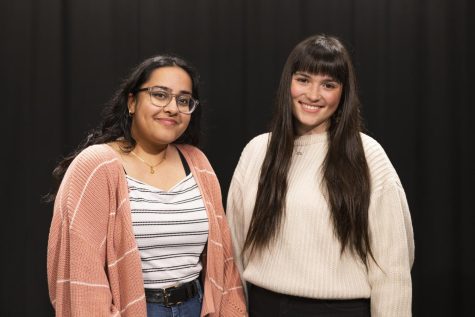 Was this article helpful?