Cooking with cannabis
Tips and recipes for making your own edibles
EDITOR'S NOTE: Beaver's Digest does not encourage illicit cannabis consumption— in most areas of Oregon, you must be 21 or older to legally possess and consume cannabis. Please conduct your own research and exercise caution when calculating cannabis dosage in recipes.
Cooking with cannabis can be a tasty way to consume the substance in some of your favorite recipes, but it's important to measure your dosage before you start.
According to an article from The Canna School, a cannabis education website, you can make any food into an edible simply by adding a dollop of an infused fat like cannabis butter or oil. According to its website, The Canna School was founded in 2019 with the goal of providing unbiased and informative information for everyone, from beginners to experts.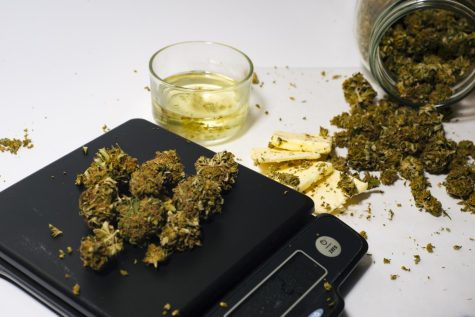 HOW TO MAKE CANNABIS BUTTER
The Canna School describes methods to make cannabis butter in a crock pot or slow cooker, but the most straightforward way is in a saucepan. If you want to try this at home, here are more comprehensive process instructions.
Instructions:
Put a cup of water and a cup of butter in a saucepan and simmer until the butter melts.
Mix in decarboxylated cannabis and simmer at around 160-180°F (70-80°C) for 2-3 hours. Keep a careful eye to make sure the mixture doesn't boil, and after two to three hours, take it off the heat. After the mixture has cooled, just pour it through cheesecloth or a paper towel into a container of your choosing, and voila – you have cannabis butter!
EDIBLE RICE KRISPIES
Here is a five-star rated recipe for Rice Krispy treat edibles with 295 reviews from The Cannigma. The Cannigma publishes articles that take an evidence-based approach to every issue surrounding cannabis, with every story reviewed by cannabis or medical experts. Visit the link here for further information on the recipe.
Ingredients:
Three to 14 grams of ground, decarboxylated cannabis
Two sticks of butter (one cup)
Cheesecloth
Storage container
Instructions:
In a large saucepan, melt the butter on low heat.
Stir in the marshmallows and keep on heat, stirring until the mixture is melted.
Remove from heat and add in the Rice Krispies cereal, stirring well until it's coated with the marshmallow mixture.
Press the mixture into a 13 x 9 x 2 inch pan coated with cooking spray. Cut into two-inch squares and try not to eat all of them right away!
GARLIC BREAD EDIBLES
Here is a garlic bread edible recipe from The Canna School. Visit the link here for more details.
Ingredients:
1/2 cup cannabis butter softened
1/4 cup parmesan cheese grated
2 cloves garlic minced
1/4 tsp marjoram dried
1/4 tsp basil dried
1/4 tsp fines herbs
1/4 tsp oregano dried
1/4 tsp parsley dried
1 loaf Italian bread unsliced
ground black pepper to taste
Instructions
Preheat oven to 350 degrees F (175 degrees C).
In a bowl, mix together the cannabis butter, Parmesan cheese, garlic, marjoram, basil, fine herbs mix, oregano, black pepper and parsley until thoroughly combined.
Split the Italian bread loaf in half lengthwise, and spread each half generously with the butter mixture.
Bake the garlic bread on the top rack of the preheated oven until the cannabutter mixture melts and bubbles 10 to 15 minutes; turn on the broiler, and broil until the bread is your desired shade of golden brown, one to two more minutes.
A NOTE ABOUT CANNABIS DOSING AND EDIBLES
According to The Canna School, the potency of a cannabis edible depends on a variety of factors, including the amount of cannabis, its THC content, your personal tolerance and how large a dose you took.
For the recipes, dosing is dependent on the strength of the cannabis butter used. The Canna School recommends using an online cannabis edibles dosing calculator to decide how much to put in that you can find here—however, please exercise caution and do not measure your dosage based on this calculator alone.
Was this article helpful?
Leave a Comment