New wine bar brings burst of flavor to downtown Corvallis with grand opening
Nick Cheatham first dreamed of opening Corazón while pruning grape vines in the dreary mid-winter three years ago. Now Corazón's grand opening is here, officially open as of Jan. 31, with a wine-tasting event set for Feb. 1. 
"I wanted to bring the Corvallis wine community together and create a cool and fun space where people could go to just relax and explore different wines," said Cheatham. 
Aside from their selection of wines from around the world, Corazón will offer events like Wine Wednesdays, where customers can meet local featured winemakers and test out their wines.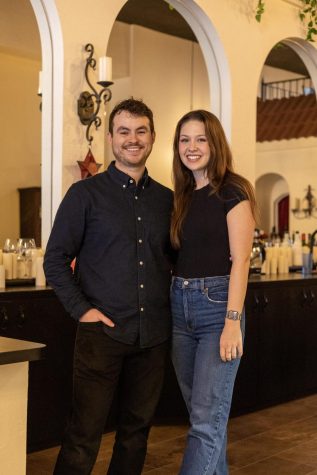 "I have several really awesome winemakers already lined up and ready to pour," Cheatham said. "I'm also planning pop-up events with other local shops. This year, I'm focused on building up our community and getting people excited about wine and Corazón."
Cheatham said he also hopes to find more ways to connect winemakers to wine lovers, and wants to implement some sort of wine club in the future. 
And, for those less familiar with the intricacies of wine, Cheatham the staff is able to provide recommendations for their wide range of options including reds, whites, bubbles and rosés. 
"I think the biggest piece of advice is that exploration is the key," Cheatham said. "Wine is storytelling through a beverage. Nobody should feel intimidated by the experience. Our glass pour list is curated for both new and experienced audiences… It's all about having fun."
Cheatham said he has a current three-way tie for his favorite wine. 
"We have a fantastic rosé on our glass pour list from Spain: A blend of three different native grape varieties that the winemaker is in the process of rehabilitating from near extinction," Cheatham said. "Super fascinating. We have an awesome sparkling wine from South Africa— I'm blown away, it's incredibly cool. And the last one is our Mexican wine from Valle de Guadalupe in Baja. I don't think Mexico gets enough recognition for what they're doing— Especially for being the first place wine was made in the Americas. It's fantastic and it's a good example of what Mexican wine can be."
As for the name itself, Cheatham said he wanted to "pay homage to the valley" and, since Corvallis' Latin translation means "heart of the valley," Corazón felt like a natural fit. 
"It was a no-brainer at that point and it conceptually made sense with my desired theme. When I wrote [Corazón] down it was the 'aha' moment I had been waiting for," Cheatham explained.
The process of opening took a bit longer than hoped, thanks to the initial location not working out way back in May 2022, which caused a two-month delay alone. Cheatham said licensing, lawyers and construction were all new aspects of business for him as well. 
"Although it was a long process to me," Cheatham said, "I feel very fortunate to have had the help with the startup that I did. We didn't have any major setbacks other than finding the right location. I'm so grateful."
Corazón can be found at 208 SW Second Street Corvallis, Ore., with details on wine and upcoming events on their website and Instagram. 
Was this article helpful?
Leave a Comment