Death by Donutz: The Perfect 'Hole in the Wall'
Though the foreboding skull logo and red slasher font might not seem too friendly, the unique treats and wonderful staff inside Beaver Nation's favorite donut shop are set on making customers feel more than welcome.
Found on the corner of 14th Street and Monroe Avenue, Death By Donutz caters to students
and locals alike, inviting all to try favorites, like their scratch-made breakfast sandwiches,
handcrafted espresso drinks and most notably, their freshly fried donuts.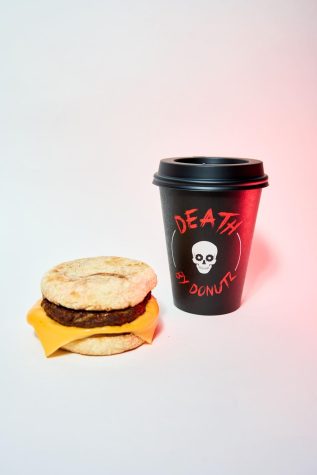 Since being purchased by current owner Gannon Parkin, a 2018 Oregon State University graduate in business and former member of fraternity Delta Chi, Death By Donutz as it is today comes from a past filled with change and redesigns.
Originally named Roxy Dogs, and later Deaf By Donutz as a nod towards the former owner's experience working with the deaf community, the shop evolved into a similar theme of what it is today, adding skulls to the brand in an attempt to take on a Día de los Muertos style.
Though, Parkin had a different vision when he bought the store, explaining how he pictured Death By Donutz as having "a more of a wholesome goth theme." Since 2019, this iconic rebranding has stuck around and continues to surprise new customers, some who didn't recognize the store as a donut shop at all.
Yet, this very reaction makes discovering the store feel, according to Parkin, like a peaceful hideout of sorts, like finding "a little hole in the wall."
"It's kinda funny that I ended up in the donut business," Parkin mentioned, telling of how his family used to be "donut dollies" – a catchy nickname used to describe how his family sold donuts out of catering trucks to people who worked in the Portland shipyards.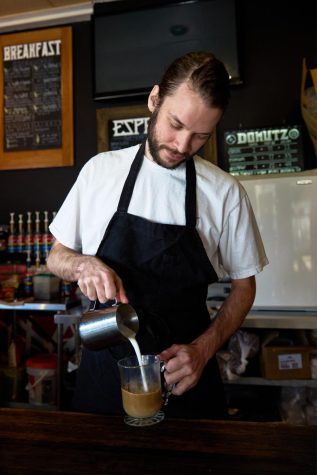 " Food has always been such a love language of mine," Parkin expressed. "It's very satisfying work. I can spread love through the community this way, by giving out sweets and making fun coffees."
Like those of many other small businesses, acts of service were put on hold during quarantine due to the COVID-19 pandemic.
Death By Donutz took heavy damage to all aspects of their business after lockdown began in early 2020.
"We lost all of our revenue, our employees, everything," Parkin said. "I told myself and my partner, 'It's time to hold fast.'"
Without the typical flow of students during schooling months, Death By Donutz managed to keep its head above water thanks to altered consumer demands and support from the surrounding community.
"Donuts became the new birthday cake during the pandemic and that was what kept us just profitable enough to pay rent," Parkin explained. "[The community] really chose to keep me alive."
Fortunately, Parkin and Sierra Leverett, Death By Donutz co-owner, were finally able to hire a new team for the shop this past fall, now being able to afford a full staff again. They expanded their hours from the limited COVID-19 schedule opening at 7 a.m. Monday, Tuesday and Wednesday, and closing at 5 p.m., with extended hours on Thursday, Friday and Saturday until 8 p.m. The store has limited hours on Sunday, from 8 a.m. to 5 p.m.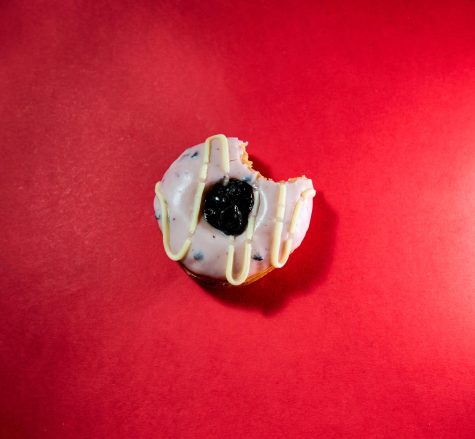 Parkin expressed his joy with being able to cater to students with different class schedules and preferred hours. One of these students, Frances Jensen, who began working at the start of the 2022-23 school year, enjoys the schedule flexibility and casual work environment offered at Death By Donutz.
"They have so much trust in their employees – it's great," Jensen explained. Positive interactions with customers tend to be a common favorite part of the work experience for both owners and employees.
"I have one lady that comes in and dances when she orders; she's so excited, it's so sweet," Leverett said.
Another endearing interaction, Jensen recalled, was with a young child who ordered all by himself, saying: "He was so polite – he was like a little man when he handed me his money."
The most interesting sort of interaction from customers often comes from meeting Mr. Bone
Jangles – a plastic, former anatomy class model skeleton, who originally belonged to a teacher friend of the owners and now a permanent customer at Death By Donutz, eternally drinking an endless cup of coffee.
Though he might be frightening to younger customers, according to Jensen, he's a source
of entertainment and fun conversations as staff members get to switch up his outfit through
the seasons.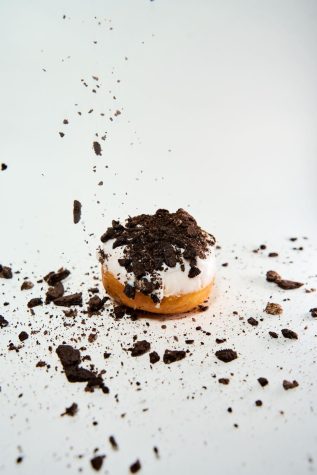 Leaving a lasting impression isn't a challenge for Death By Donutz with its quirky atmosphere
and friendly nature. Connection with the Corvallis community seems to come naturally for this Beaver Nation favorite and manifests itself in many different ways.
In Jensen's experience, greeting surrounding business owners with the occasional box of leftover donuts at the end of the work day emits a sense of community.
For Leverett, the impact is felt when new customers arrive, sharing how they heard about the shop through friends and family.
"It's just a trickle effect," Leverett said. "If you offer a really nice service and product, that's better than advertising to a million people and having an okay time, you know?"
Influence on the community is felt, for Parkin, when the shop receives recognition for its sustainability efforts, like offering discounts for guests who bring in their own cups and providing alternative milk options, to save water, with no extra charge. Additionally, no plastic utensils or straws are offered either as an attempt to contribute to preserving the environment for the next generation.
"There's certain hills that are important to die on," Parkin adds. "It'll hopefully all add up."
Tucked away beneath the cerulean blue awnings of Monroe Avenue, Death By Donutz
stands as an embodiment of the aesthetic diversity that makes up Beaver Nation and
continues to welcome everyone with their iconic, homemade treats – each one made
with care.
"Most people don't even find out we're here until their sophomore year," Parkin said. "So
if you're a freshman and reading this, come in and get the donut experience one year earlier
than you should."
Leave a Comment