'Being willing to grapple with complexity' essential for racial justice, says New Yorker writer, leader Jelani Cobb
Takeaways from this year's Dr. Martin Luther King, Jr.'s Keynote Address
Understanding America's complexity in its attitudes toward racial justice is a challenging but necessary task in carrying on the work of Dr. Martin Luther King Jr., said Jelani Cobb, who spoke on the evening of Feb. 1 at the LaSells Stewart Center at Oregon State University. 
Cobb is a higher education leader, historian and author, who presently writes for The New Yorker and is Columbia University's Ira A. Lipman Professor of Journalism and Dean of Columbia Journalism School. 
He also celebrated the release of a new book which he co-edited, "The Matter of Black Lives," which was written by David Remnick and is a collection of writing from The New Yorker centered around Black history and culture in America over the centuries.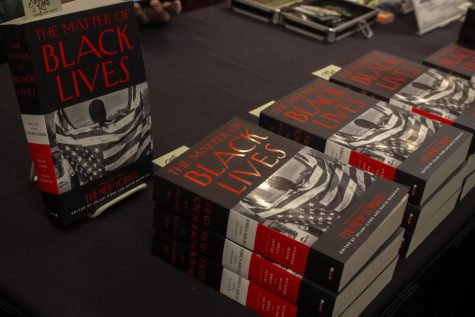 "Being willing to grapple with complexity is precisely what is missing from our vantage point in American history right now," said Cobb, who chose Oliver Otis Howard as a powerful example for the complicated nature of racial considerations. "This failure to embrace complexity leads us down the road of enabling demagoguery and disaster."
Having attended Howard University in Washington D.C., a Historically Black University, Cobb chose to use its namesake as an example of the complicated nature of people with regards to their understanding of race.  
Cobb spoke of how Howard was a Union general who oversaw African soldiers in the civil war and later provided funding for the university. He was, Cobb said, also responsible for a vicious campaign in the Pacific Northwest to seize land from the Nez Perce Tribe in the late 1800s.
This led into Cobb talking about the new revised AP African American Studies curriculum, which has been rejected in the state of Florida under the "Stop WOKE Act," and excludes a handful of well-known Black authors including Kimberlé Crenshaw and Ta-Nehisi Coates.
"At Howard University, we took learning the history of the nation from the vantage point of the people who had been left out of it very seriously," Cobb said.
The death of 29-year-old Tyre Nichols on Jan. 7 was a somber backdrop to Cobb's address on Feb. 2. He said he almost didn't come to OSU, and that instead he might have gone to Nichols' funeral in Memphis, which was held the same day.
In a similar light, last year, OSU invited LaTosha Brown to speak for the same occasion, who could not attend because she was summoned to Congress to testify about the voting rights bill. Cobb chose to point out this pattern of speakers being called away from the annual event.
"It is the truest indicator, the truest barometer, of the extent to which the work of Dr. King remains to be completed," Cobb said. "That when we take a moment to celebrate his birth, we are being pulled away by the causes that he fought so hard for over the course of his life."
Both the pattern of violence against Black Americans and the rejection of the Advanced Placement African American Studies and critical race theory by legislators are underscored by an American theme: that the country started out as good and has only improved.
"If you were to plot it out on an X and Y axis, the reality is that if we are honest, if we actually look at our past and the lineage of this nation, that chart actually looks like an EKG with peaks and valleys," Cobb said. "Every gesture that we have made towards some modicum of progress has been pushed back in the opposite direction."
Cobb elaborated by saying that the ending of slavery engendered anger among Americans, and that this anger and its effects have persisted alongside efforts toward racial justice.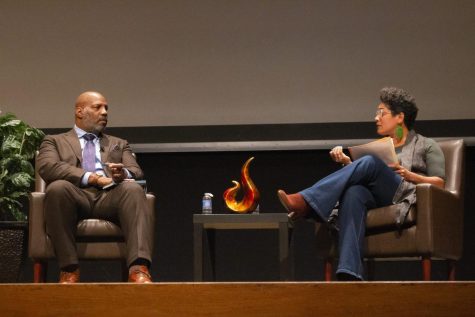 After his speech, Cobb sat down for a question-and-answer session with Nana Osei-Kofi, the director of OSU's Difference, Power and Discrimination Program and a professor of women, gender and sexuality studies.
Osei-Kofi provided curated questions to Cobb about changes in the field of journalism and how people can create meaningful change in their lives.
"The last thing that you need is someone from a different generation telling you how to do what it is that is confronting you," Cobb said. "We are here to offer insight and a few pointers once you've decided what you are going to do. The most important part of this development is coming to understand that for yourself."
Cobb emphasized the importance of engaging with professors, peers and mentors in finding ways to create change, and that people know their own environments and skill sets. 
The session ended with Cobb explaining his optimism for the future, particularly with the success of the Black Lives Matter movement in recent years.
"We are in the arena," Cobb said. "I think that once you are actually fighting and actually clear about the stakes, that's when you have the most social potential. That's when you have the most chance of converting potential energy into kinetic energy. And that's where we are right now."
Was this article helpful?
Leave a Comment