Best boba in town is only a street away
Of all the choices where Beavers can go to get their daily bubble tea fix, Bobahead is the most popular choice among boba drinkers and for more than one reason.
"I like Bobahead because it is nearby, it's really accessible," said Beatrix Pike, a bioengineering student at Oregon State University.
Bobahead's location on Monroe Avenue, which is the north-most shared street between on and off campus, makes the business a quick stop for students.
But the location is not the only aspect that makes Bobahead a convenient stop. It's the only bubble tea surviving location in Corvallis open every day with the same 11 a.m. to 8 p.m. hours that visitors have come to expect.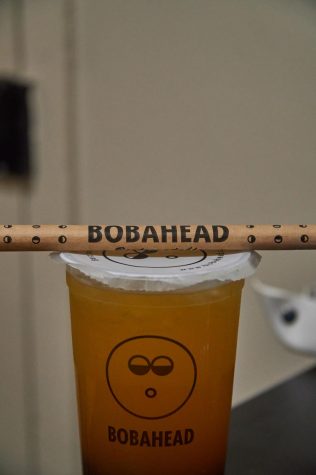 According to OSU zoology student Tiffany Ono, aside from the convenience, Bobahead is the preferred place to get bubble tea because of their service, prices and numerous drink options.
Bobahead's menu lists more than 30 flavors and types of drink which provide even more room for variation when guests create their own combinations, as well as nine different toppings.
"I think out of a lot of different bobas I've tried, theirs is pretty good and it's always consistent," Ono said on her go-to topping choice, tapioca boba.
While it is obvious that Bobahead is the fan favorite location, what boba someone gets and what it says about them is up for debate.
"I think it can determine if someone sticks to what they like or is kinda adventurous," Ono said. "I have friends that order all the odd drinks you wouldn't get and I have friendsthat don't even try anything new and they only get the same order for years. So I guess it depends on your personality – if you are outgoing and you want to try things or if you like to stick to [one thing]."
While many students think your boba order is a measure of how adventurous you are, some students such as marketing major Kawaiala Husen have other ideas on the matter.
"If they order popping boba, they are a child – metaphorically," said Husen. "If they order slushies/smoothies – especially Oreo smoothies – with popping boba, they are a child – literally. If they order any of the classics – black milk tea, jasmine milk tea, Thai, etc. – they're a minimalist and very chill."
Whether it be the vibe, the drinks themselves or the location, Beavers are a fan of Bobahead and keep coming back.
Leave a Comment