Restaurant by day, venue by night
Corvallis's favorite local event venue creates space for artists in the community
Bombs Away Cafe is located on the far end of the Monroe strip off of NW 26th Street, nestled in between the Superette and the American Dream. Bombs Away doubles as a great restaurant by day and a concert venue and bar by night. 
With events running Monday through Sunday every week, there is a wide array of nights that are bound to draw you in — whether it be the comedy, free range, band or poetry open mic nights, the twice-monthly Monday trivia nights, the weekly-Tuesday night DJ spotlight, the Jazz Jams, or the local artists on Fridays and Saturdays. Bombs Away closes at midnight, and minors are not allowed after 9:30 p.m.
 "I appreciate how they throw events that cater to all kinds of different people," said Ray Wolf, an Oregon State University student and frequent supporter of Bombs Away events. 
Steve Hunter has been working for Bombs Away for 13 years and has been the lead organizer of the events since 2015. For weekend performers, Hunter tries to book bands two months in advance and prioritizes bands he knows people want to see. 
"They give a platform to local bands that otherwise wouldn't have it," said Wolf. 
At the start of every month, they release a set list on their front door and on their Instagram, @bombs_away_cafe, of what to expect each night. No two months are quite the same. The monthly weekday recurring events are always guaranteed spots, explained Hunter, but Fridays and Saturdays are reserved for local bands and usually have a $5- $10 cover fee. 
"Bands get 100% of the door money, so the people that show up get to directly pay for the entertainment," said Hunter.
Recently the most popular event has been the Jazz Jam that happens from 8 p.m. to 11 p.m. the first and third Wednesdays of every month. 
This is a recent increase from once a month as of this past January. 
"The increased attendance is showing that the community wants this Jam," said Justin Schepige, the organizer of the Jam. 
Schepige was inspired to start the Jam with a group of friends around six years ago to create a platform for new musicians to test their playing, get connected professionally and figure out if they want to pursue a music career. After the disappearance of the jazz improv class that OSU used to offer, Schepige wanted to give back to the community the same opportunity this class gave him.  
He works to keep the jam inclusive: "We let all ages, instruments and skill levels in and try to be as community based as possible," said Schepige.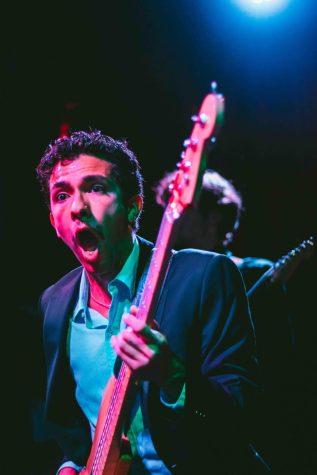 Each week he works to maintain the balance of making the music the best it can be, without sacrificing people's opportunities to play. 
People interested in the Jam can sign up the night of. Then Schepige creates the groups based on who he knows will work well together. Everyone gets to play at least two songs on stage, and Schepiege noted that they are currently looking for more bass players. This past Wednesday they had a record of around 20 jammers show up to play.
Schepiege's favorite part of the Jam is watching people come back every week and seeing their musical literacy improve to where they start "doing the tunes justice." 
Jey Blodgett, a doctoral student at OSU, is a big supporter of Bombs Away. They explained how everything from the murals in the bathroom and on the walls to the diverse range of performers, Bombs Away "is stuffed with events that bring in a genuinely active community and create space for local artists." 
Blodgett said that their favorite event is "obviously the drag show."
When Hunter first started working there, he said, "It was a place I wanted to hang out because it was safe for diverse people to share their love." He hopes it can continue to be a safe and inviting space for all people.
Before the pandemic they were picking up a lot of speed in the event turnout and the band scene, but COVID-19 shut down all the momentum. Hunter had to find a whole new roster over this last year to revamp the scene. 
With life finally returning back to normal, Hunter explained that, "Things have never been better — this January has been off the charts!" 
He said that the music scene especially is getting some of the most consistent turnout he has seen in a long time. 
"When the show goes well then the organizing was worth it," Hunter said.
Was this article helpful?
Leave a Comment