World in Chaos: Ten upcoming books I'm putting on my TBR list (and why you should do the same)
June 6, 2023
1. "Yellowface" by R.F. Kuang
What better way to honor AAPI month than by reading the brilliant Chinese-American author's new contemporary novel about twin sisters, June and Athena, who are both writers and attended Yale. After Athena's death, June decides to steal her manuscript and publish it as her own work. Kuang's upcoming novel explores themes of racial discrimination, cultural appropriation and diversity in the literary field. Kuang is an up-and-coming author who has previously written fantasy novels featuring magical realism, the potential corruption within the realm of academia and identity which she also incorporates in her new novel. Kuang, who has two degrees in Chinese studies from Cambridge and Oxford University, is currently working on her doctorate in Asian literature and language at Yale.
Publication Date: May 16, 2023
Details: Contemporary, fiction, mystery-thriller, 350 pages
2. "Pageboy: A Memoir" by Elliot Page
The actor and badass activist, Elliot Page, has written a memoir and opens up about his acting career, his iconic role in the movie "Juno", understanding and coming to terms with his sexuality as well as his decision to come out as transgender. Page writes an emotionally complex book that might be just what we need especially in a time where trans youth are in grave danger in our country. 
Publication Date: June 6, 2023
Details: Autobiography, LGBTQ stories, non-fiction, 288 pages
3. "Family Lore", by Elizabeth Acevedo 
Magical realism? Generational trauma? Sign me up, please! The Dominican-American author of "The Poet X" and "Clap When You Land", explores family trauma in her new adult fiction. Flor, who has the power to predict the day someone dies, is hosting a living wake which sends her siblings, Pastora, Matilda and Camila to question whether Flor has predicted her own death. Expanding over multiple generations of Dominican-American women, Acevedo examines identity and complex family relationships. 
Publication Date: August 1, 2023
Details: Contemporary fiction, adult novel, 384 pages
4. "Fruiting Bodies" by Kathryn Harlan 
This book is a collection of short stories (and debut) featuring mostly queer and/or female characters struggling with the changes and the ups and downs that life cruelly throws at them. A creative mixture of fantasy and gothic stories filled with "desire, wisdom and magic blooming amidst decay." 
Publication Date: June 7, 2023
Details: Short stories, contemporary fiction, queer stories, 256 pages 
5. "Happy Place" by Emily Henry
If you, like me, are obsessed with Henry's rom-com novels "The People We meet on Vacation," "Book Lovers" and "Beach Read," boy have I got some news for you. Henry has written a new contemporary romance novel about a couple who has recently broken up and decides to hide their breakup for the annual summer vacay with their friends. College sweethearts Harriet and Wyn break up for mysterious reasons and now have to pretend they are still together, share a room and fake enjoying their getaway which forces them to confront their problems and maybe even overcome them? There is nothing like an Emily Henry book to get me in the mood for summer and romance! 
Publication Date: April 25, 2023
Details: Contemporary romance, rom-com, 400 pages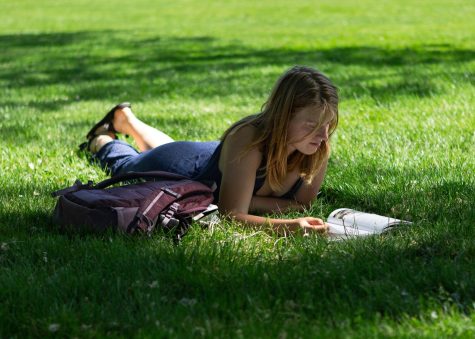 6. "Threads That Bind" by Kika Hatzopolou
Hold on to your hats, folks, because here we have a YA fantasy novel inspired by Greek mythology about a young private investigator, whose ancestors are the Fates (aka the Moirai), who has to "solve a series of murders to save her sisters, her soulmate and her city." This would be a great addition to your summer read list if you, like me, had a Percy Jackson obsession in middle school. 
Publish Day: May 30, 2023
Details: Young-adult, fantasy-fiction, Greek mythology, 352 pages
7. "Love, Theoretically" by Ali Hazelwood
Can you tell I like romance novels? Remember when Booktok was losing its sh*t over an Adam Driver, Kylo Ren X Rey inspired rom-com set in academia? Well, that same author (who has a specialty in writing great female characters working in STEM) has written another book, this time about a theoretical physicist, Elsie, and Jack, an experimental physicist who despite their differences fall head over heels for each other. Hazelwood is always humorous, relatable and writes heartwarming and *spicy* romance books that always put me in a good mood. 
Publish Day: June 13, 2023
Details: Contemporary romance, rom-com, 400 pages
8. "Atalanta" by Jennifer Saint
Saint is the bestselling author of "Elektra" (which I've read and really enjoyed) and "Ariadne," and is now releasing another retelling of a classical mythology. Atalanta is born into royalty but is left on the mountains to die because her parents wanted a son instead of a daughter. Raised by a mother bear and cared for by Artemis, the virgin goddess of hunting, chastity and the moon, Atalanta is a fierce and wild young woman who wants to prove her worth in a world ruled by power-hungry men. With retellings of Greek myths gaining the attention of readers (e.g., "The Song of Achilles," "Stone Blind", etc.) I'm very excited to read another brilliant book with a powerful and complex woman at the center of it. 
Publish Day: May 9, 2023
Details: Greek mythology retelling, fantasy, 288 pages
9. "The Water Outlaws" by S.L. Huang
This historical fiction novel tells the story of our heroine, Lin Chong, an expert arms instructor employed by the Emperor. Following a chain of events, Lin loses everything and is banished from society and forced to join a band of misfits and outlaws who challenge her worldview and sense of justice. Together, they will fight demons and explore the wilderness and maybe even bring down the empire. 
Publish Day: August 22, 2023
Details: Historical fiction, retelling, LGBTQ+, science fiction, fantasy, 496 pages
10. "Happiness Falls" by Angie Kim
Fans of mystery thrillers, fear not, I haven't forgotten about you. In this book, a Korean-American family from Virginia is forced to question everything they know about each other when the father goes missing and the only witness who saw what happened is the brother, Eugene, who can't speak due to Angelman syndrome. Twenty-one-year-old Mia has to dig deep into her family's secrets to find the truth of what really happened. 
Publish Day: September 5, 2023
Details: Mystery, thriller, literary fiction, 400 pages
Was this article helpful?