The first thing I heard when I opened the door was the clatter of metal pans and the sound of voices saying "behind" and "corner" and "where's this" and "where's that" soon followed. 
Behind it all was the constant, dull humming of the massive walk-in fridge and the steady drumming of the range hoods. 
The student chefs and volunteers in the Global Community Kitchen at the Memorial Union were pushing to get everything done on time for the Global Community and Culinary Heritage Celebration Thursday night, a 200-person dinner in the MU ballroom and one of the flagship events for this year's International Student Week. 
"This is our first year we've ever done it," Senior Instructor in Food, Culture and Social Justice, Sarah Cunningham said. "They (the other event coordinators of previous years) had hoped to do something like this just last year, and they put in for the same grants that we put in for this year. They didn't get it, because I think they (grants management) wanted something more than just a food event here on campus, so they had to go back to the drawing board."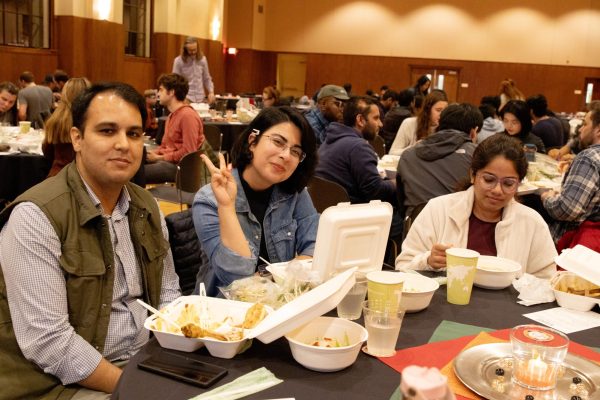 Cunningham said they would love to make this an annual event. 
The menu for this first event featured five diverse items from around the world. 
One was a staple Colombian breakfast item, arepas.
Arepas are small, flattened patties made from corn flour. According to the zine that was prepared by the student chefs for the event, "arepas have been made by indigenous women for thousands of years, and corn was considered by many native groups to be a gift from the Gods."
Food Studies major and Bogota, Colombia native, Maria Neira, said there are lots of types of arepas. Neira said that they're all made with four main ingredients – water, salt, cream and cheese – and of course, corn flour.  
"I ran into a little trouble," Neira said. "Because the ingredients here aren't all the same as what we have in Colombia. The whipping cream there has a different texture than it does here; it's much thicker."
Neira said that she learned to make the dish from watching her grandmother cook. 
"I didn't even know the measurements to make arepas until right before moving to Corvallis, I always just threw things together," Neira said. "But I learned to make them well when I came here." 
Originating from the kitchens of royalty but now a staple of festivals and weddings, double ka meetha is a bread dessert hailing from Southern India that has come to symbolize community. 
"It comes from Hyderabad," said student chef Mani Prathi about her cultural dish, double ka meetha. "It's a part of me. Where I'm from, it's very metropolitan. There are a lot of religions and sects there. Double ka meetha is something that everyone agrees is good, and that's why it's offered at both Muslim and Hindu festivals."
The dish gets its name from the type of bread traditionally used called double roti. Meetha, in Hindi, translates to sweet.
According to Prathi, the sweet bread pudding dessert is made by frying slices of bread in ghee – a form of clarified butter – then soaking them in hot milk mixed with sugar and spices such as cardamom and saffron. It is commonly topped with raisins, almonds, and cashews, though the dish is prone to variation.
"Every region in India has their own adaptation," Prathi said. "The ingredients and the cooking techniques vary a lot. It's all about personal taste."
Hailing from Vietnam but with Mongolian, Chinese and French influences, pho is a noodle soup featuring fresh ingredients and rich broth made with bones (traditionally beef, but not always), vegetables, and aromatic spices such as anise.
According to the infographic provided by the student chefs, "pho is the embodiment of Vietnamese culture and an essential comfort food. Its consumption and preparation reinforce in its consumers a sense of identity that connects them with their traditions and roots."
While the original pho recipe called for beef, many variations exist. For this event, a chicken pho made with chicken thighs, bean sprouts, onions and jalapenos was served.
From Iran comes the next dish, zereshk polo, a saffron rice dish topped with barberries, carrots, almonds, and pistachios and served with chicken that was cooked in a tomato sauce with bell peppers.  
According to the infographic on Iranian cuisine, "this meal is a staple at weddings and other celebrations." 
The team that put together the Iranian dish ran into the same problem many of the others did: the availability of traditional ingredients used in the cuisine. 
"It has been difficult to stay true to recipes because many ingredients can not be found here," the Iranian team also wrote. "Fresh herbs are prominent in Iranian cuisine and often have to be replaced by dried ones. Restaurants and markets that have authentic food are scarce."
 Last but not least, chiles rellenos from Mexico were featured. 
Chiles rellenos are a fried treat made from grilled poblano peppers that are stuffed with cheese, then battered with starch and egg and shallow fried. Salsa roja was also provided for the chiles rellenos for this event. 
According to the infographic for the Mexican cuisine team, the recipe for this traditional Puebloan dish was provided by Mexico City Native Diana Crespo, who learned the dish from her grandmother. This dish and other vegetable-forward, starch-heavy dishes like it are important in Diana's family and culture due to meat being expensive. 
The five dishes were decided by the international students themselves. Cunningham said that the Office of International Students sent out an email inviting them to suggest recipes.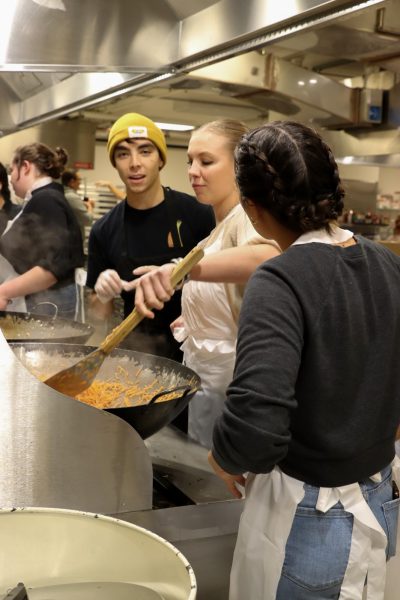 Cunningham said they got lucky with attendance.
"For the first time, it was a nice, perfectly sized group," Cunningham said. "If we had had more, the plan was to have all of the teams prepare their dishes on our trial-run day in October, and then we would have had a panel of judges that would select the five that they thought would work best for the large-scale event. But of course, we got lucky, and we could include everyone."
Looming tall above the students, GCK Manager David Ryusaki observed the progress of each team, giving advice and checking food temperatures to make sure standards of food quality and sanitation are met.
"We didn't know if we would get enough students for this," Ryusaki said about the demand for volunteers for the event. "Usually, our program has eight-to-twelve weeks of training. After that, the students are ready. But these students only had about two weeks to prepare for a dry run. Then, of course, I had to increase each recipe to 200 portions for the event."
"We basically do this every week," Ryusaki continued. "We're always doing some event and we don't cater. When I was working at another school, we used contracted company cooks for everything. But we don't do that here; the students are cooking everything. As far as I know, ours is the only student program like this in the country."
As the teams finished up their cooking – and Ryusaki had given them the green light – the hotel pans holding the dishes were loaded into special containers to keep them warm which were then put on trolleys and were sent out to the ballroom. The event was ready to start. 
As I took my seat in the ballroom at a table near the front, I watched as families and friends of the student chefs as well as other hungry diners from all sorts of cultural backgrounds and walks of life trickled in and took their seats. It looked like the event was sold out.
Cunningham was the first to take the stage and speak at the podium. Behind her, a montage of photos of the teams prepping their dishes was displayed. 
She welcomed everyone to the event and called for event co-planner Nan Xie to come up. After a brief speech by Xie about the time and difficulties it took to put the event together, she implored us all to "eat slowly", to savor each of the dishes.
After Xie finished, Cunningham returned to the podium and welcomed the student chefs, who were all also students in her class FCSJ406 – Food Projects, to the stage. 
The students, Louisa Ramirez, Isabel Lam, Amanda Puitiza, Crespo, Neira, Prathi and Khadijeh Khederlou, each shared a bit about themselves. 
Then, after some quick thank you's for those who made the event possible, it was time to eat. 
On the stage, a last picture of the student chefs and volunteers looked down at us as we ate, smiling, proud to see their hard work being appreciated. 
To learn more about the cuisines featured at this event, follow this link to find infographics about each dish and cuisine as well as recipes for the dishes that were served. 
For those student chefs that may wish to participate in this event next year, Cunningham suggests taking her class FCSJ406 – Food Projects, which is open to everyone, but does require permission from Cunningham herself. 
For international students, look out for emails from OIS, asking for ideas for dishes for next year.
Was this article helpful?