CARDV Celebrates 40 years serving the Corvallis community
The Center Against Rape and Domestic Violence celebrated 40 years of services this year.
The mission of CARDV has been to provide service and support for those affected by sexual and domestic violence. In addition to informing the community on what societal conditions encourage such actions.
Kate Caldwell, executive director at CARDV, explains why 40 years of service is important.
"It means we have been serving our community continually 24/7 with unduplicated services and resources," Caldwell said. "We have never closed our doors, but we have found ways to help keep survivors safe and help navigate them through the agencies and services that help them change their life."
CARDV began in the 1960's as a grassroots movement. It was not until 1972 that the first rape and crisis hotline in the United States opened. 1977 was the first time Corvallis opened up one of Oregon's first sexual assault hotlines.
"We have grown from a grassroots volunteer effort to a strong agency able to provide education, support, safety and shelter to thousands of community members in the most up to date ways," Caldwell said.
Mary Zelinka, facilities manager at CARDV, has been on the staff for 31 years. She also served as a volunteer during the beginning stages of the organization.
"Being part of CARDV in her infancy is probably one of the things I am most proud of," Zelinka said. "Those days absolutely changed my life. I had left my violent husband not long before and being part of CARDV gave me a confidence and sense of purpose I'm not sure I would ever have gotten otherwise."
Zelinka has also written a book about CARDV history. It is titled, "The Center Against Rape and Domestic Violence: A Local History of a National Movement."
"In the old days CARDV was the 'lone voice in the wilderness' speaking out against sexual and domestic violence,"  Zelinka said. "Now, it is just as likely to be anyone, whether they are associated with CARDV or not."
Mamta Chowdhury, director of CARDV board of directors, supports the mission of the organization.
"Having been in a verbally and mentally abusive relationship myself, I know how prevalent abuse is, how tricky it can be to identify it and how difficult it is to get out of that situation," Chowdhury said.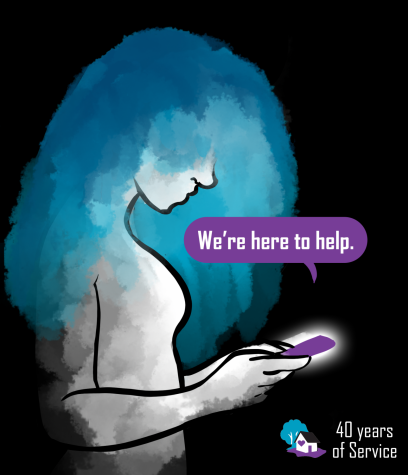 CARDV is currently focusing on new goals that grow the awareness of their services to community members.
"It is important that everyone knows we are here to serve them," Caldwell said. "Everyone. Outreach and education throughout our community, especially on the OSU campus is really important."
CARDV has saved lives and provided a safe place for trauma survivors. They continue to focus on educational programs to spread their message.
"That is why our education programs for youth are so critical," Caldwell said
Over the last 40 years, little to nothing has changed in regards to this type of violence.
"In 1981, just saying the words 'rape' and 'domestic violence' was bold and shocking," Zelinka said. In those days newspapers reported rapes as 'assaults' and domestic violence incidents usually as "lovers' quarrels."
CARDV was established as a feminist organization fighting for the rights of women during a time where they were dismissed.
"Expanding opportunities for women – not telling them what to do or making decisions for them – is feminism's bottom line," Zelinka said. "And it is the heart of survivor-centered advocacy."
One of CARDV's goals is changing societal norms. They want to teach middle and high school students alternative ways to living a less violent life.
"We have to change the societal conditions that cultivate domestic and sexual violence," Caldwell said.
Currently both of CARDV's shelters are located in Corvallis, but they are hoping to expand.
"We are looking forward to opening a shelter in Linn County," Zelinka said. We are also expanding our housing and educational programs."
Just in the last year, CARDV has received 4,600 hotline calls so far. The COVID-19 pandemic has put increased strain on CARDV's services.
"Especially for survivors who often could not reach out to us because they were now with their abusers 24/7," Zelinka said. "Meeting clients in person was more challenging and we tried to do more advocacy through our hotline or chat line."
However, during the COVID-19 pandemic, CARDV still offers shelter to survivors and on-scene hospital response.
Chowdhury commends the work done at CARDV.
"I see how the CARDV staff goes above and beyond in helping every person who reaches out," Chowdhury said. "This is more than just a service—it is a lifeline for so many."
CARDV encourages those who are seeking help to contact their 24/7 crisis support line at (541) 745-0110 or (800) 927-0197. Or join a talk with a representative on their website in a live chat from Monday to Friday 10 a.m. to 4 p.m.
"We are here for you 24/7!" Zelinka said. We are available for speaking to classes and most importantly, we are available to students and faculty and staff who are survivors or are supporting survivors."
Here are some additional resources provided by CARDV:
CARDV Resources Page https://cardv.org/get-info/resources-links/
Email: [email protected]
The national suicide hotline is (800) 273-8255.