The big adjustment: Returning to a 'lively' campus
OSU community members find the transition to be both challenging and exciting
A year ago, when walking through the Student Experience Center plaza, the Memorial Union quad or by the intramural fields, one may have been met with silence, tumbleweeds and not a person in sight. Now that classes are back in person, campus is buzzing again. There is energy in the air and people in every corner of campus. 
For students and professors here at Oregon State University, the last time they were physically in a classroom was in March of 2020. Many students grew accustomed to rolling out of bed, turning on their laptops and tuning into class from the comfort of their own homes. Lets face it, Zoom was easy. Having the camera on was not always required—someone's attention could be elsewhere and no one would ever know. There was no real form of accountability on Zoom.

Second-year OSU student Nyleen Krieske has only known Zoom and a quiet campus for her whole college career. Almost a full year on campus, and this is the first time she and many others have been able to experience all the benefits of attending Oregon State.
"Actually having to go to classes and study and do my homework is very different and a little challenging, but I'm getting through it," Krieske said. "[School] feels more important now than it did on Zoom, even though the work mattered the same."
She brings up an excellent point. Being on campus and back in classes, there is more pressure to do the necessary work and go to class. This could be because now students actually have to face their professors and peers and cannot simply ignore them through a screen. Though the importance of her work mattered the same, Krieske, and probably many others like her, feel as though it is more important now.
"I think the hardest thing is holding yourself accountable to actually go to your classes now," said Noah Hyatt, a fourth-year OSU student who has not been on campus since his sophomore year.
He continued on to say, "In virtual [class], all you had to do was roll out of bed, turn your laptop on and you're there. But in in-person classes, not everyone has the privilege of having a car or a bike to get to campus if you live off campus. Making that walk, you have to get up a bit earlier and walk a bit farther which has been the hardest adjustment for me and probably some other students."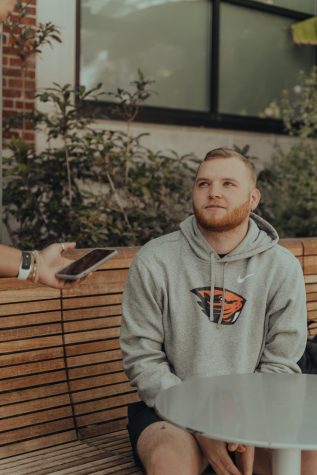 Waking up earlier, organizing a schedule better and keeping yourself accountable seem to be the main concerns for students. The pandemic changed everything around them in such a profound way and extremely quickly. The transition to Zoom was all within three weeks. It was on a learn-as-you-go basis, and some people never fully adjusted to that, while for others, that was the only way they knew college.
For professors too, there have been hardships. The uncertainty of whether or not we will stay in person, getting accustomed to new technologies and trying to figure out the best method of teaching, whether that be in person, on Zoom, recording lectures or all three.
Finn John, a professor in the new media communications major, is going through the difficulties of adjusting as well.
"I know how my home studio setup works," John said. "I'm less familiar with the equipment in these rooms and things, so figuring how to get the stuff on Zoom for people who can't come to class in person, and recording [can be difficult]. There's just lots of opportunities for things to go sideways, and when stuff goes sideways, I'm wasting everyone's time. It's my job to deliver something."
John is one of many professors who has given students the option this term to come to class or still attend class remotely via Zoom.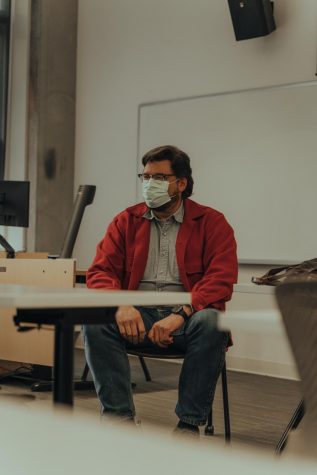 Now, not everything is bad. People have been wanting to get back on campus and back to classes since the pandemic started. Now that they are back, there are more opportunities for student work positions, in-person sporting events and overall more in-person campus activities. 
"I think the best thing about being back on campus from a school perspective is getting to create those one-on-one interactions with your professors and building a relationship with them instead of being virtual and not really getting a chance to know your professor and getting them to recognize your face—or half of it," Hyatt said.
There is no denying that in-person interactions are a lot more natural and organic than those on Zoom. Students were able to see people's faces on Zoom—sometimes—but never got to feel their energy or talk with them one-on-one or in a normal group setting. It is important to see people in person to make meaningful connections.
"The best thing about being on campus for the first time is being able to see how lively the campus is," Krieske said. "I can actually talk to people around campus or in my classes and have better discussions with them."
The opportunities to simply talk with peers is something many students and professors alike have yearned for and gained a new appreciation for. People will no longer take for granted the value of human interaction.
"The opportunities to work with people, seeing people in the halls and things like that, I mean, these are experiences that are hard to get not being on campus," John said.  "Yeah, I'm really glad we were able to come back."
Was this article helpful?