Veterans Day: A holiday about 'history, conflict, tragedy and celebration'
Jessica Li, Beaver's Digest Contributor
November 11, 2021
Editor's Note: The views and opinions expressed by the service members in this article are their own and do not necessarily represent those of the U.S. Government nor any of its departments.
Think twice before you use today as a regular day off to sleep in or catch up on schoolwork. Even though Oregon State University is closed in observance of Veterans Day, this holiday is meant to honor America's veterans, their patriotism and service for our country.
According to the U.S. Department of Veterans Affairs, the significance of Veterans Day comes from World War I; on Nov. 11, 1918, an armistice went into effect on the eleventh hour of the eleventh day of the eleventh month. Years later, legislation passed on May 13, 1938, officially making Nov. 11 of each year a federal holiday originally called "Armistice Day" until the holiday name was changed to Veterans Day in 1954. The reason for this name change was to honor American veterans of all wars rather than only World War I veterans.
Given this background, one way to celebrate Veterans Day is by taking a moment of silence at 11 a.m. and reflecting on the bravery and sacrifice of all veterans. 
Andrew Rumments is a lieutenant, surface warfare officer, freshman advisor and navigation and naval operations instructor, and he sees Veterans Day as an opportunity for discussion and remembrance. 
"It's a holiday that's very much about history, conflict, tragedy and celebration," Rumments said. "Being ready for conflict and tragedy demands more than just being 'correct'—it takes understanding of context, understanding of one another and preparation. Veterans Day is a good opportunity to reflect on the origins of conflict and how to respond when tragedy looms."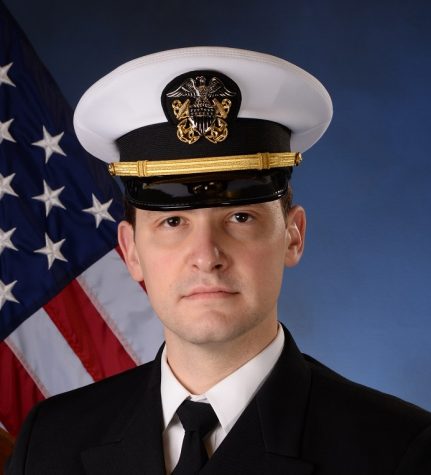 Similarly, Willie Elfering, the military and veteran resources advisor at OSU, celebrates Veterans Day by spending time with family and friends (who are mostly veterans) and possibly attending a parade.
Having come from a military family and being an Army veteran himself, Elfering works in his role to support the military-connected community at OSU, such as improving their access to benefits and services for academic success.
"I really enjoy being able to connect our community members to the benefits and services that they have earned and need to be successful here at Oregon State," Elfering said. "It is such a great feeling when I can help put the benefits to work to help a student's academic dreams come true."
Likewise, Rumments also finds it rewarding to work with students, especially the dynamism and diverse perspectives that they bring.
"We're showing [students] a lot of concepts that, while incredibly interesting, can become old hat when you've been working with them in the Fleet every day," Rumments said. "Fresh looks at naval practices from students are warming, and because in teaching I must reexamine the principles at the roots of my training, I end up learning from the students each day."
On the other hand, Elfering said the most challenging aspect of his position is working to help overcome the stigma and stereotypes around the military-connected community so that others can "see them as the great people they are."
To address the problem of stereotypes, one of Elfering's students Jared Hedges, who is an Air Force veteran and a senior studying fisheries, wildlife and conservation sciences, emphasizes the individuality of veterans and suggests an open-minded and compassionate approach when having heart-to-heart conversations with veterans.
"I would like people to know that veterans, like our military members, are a very diverse group with different backgrounds, stories and sets of experiences," Hedges said. "Keeping an open mind when talking to veterans and understanding that their experiences while serving are unique to them could help curb some of the stereotypes and lead to more open conversations about what it means to be a veteran."
Along with the adventure, travel and camaraderie that come with serving in the military, Hedges primarily joined out of gratitude for the freedoms that we are gifted with.
"I felt an obligation to serve in the military as a method of repayment for the freedoms we are afforded in the United States," Hedges said. "My favorite part about being in the military was the sense of camaraderie I found with my coworkers and the sense of meaning I felt contributing to something much bigger than myself. The most challenging aspect for me was being away from family."
Like many others on this national holiday, Hedges simply likes to reflect on his time in service and the veterans that came before him. Hedges' vision for our country is echoed by the core values of the Air Force, which states "Integrity first, service before self, and excellence in all we do." To realize his dream, he believes in a collective effort that applies these core values in our personal lives and at the national level.
It is time that we carry the momentum of Rumments, Elfering and Hedges' sentiments forward and sincerely pay tribute to all veterans—keeping them in our hearts each and every day. As Rumments and Elfering train current students, the legacy that our veterans have left behind will continue to inspire Hedges and other future heroes of America.
Was this article helpful?