Uncovering hidden gems: A glimpse into mushroom hunting
Under the towering Douglas firs and among the feathery ferns huddle a cluster of spongy little creatures, some with teeth and others with gills, awaiting their capture. 
Tucked at the base of trees and in the company of mossy vegetation, the avid mushroom hunter can encounter a variety of edible fungi, like the prized Pacific Golden Chanterelle, Oregon's official state mushroom.

The Corvallis, Ore. community is nestled in an ideal spot for easy access to abundant mushroom hunting grounds. According to local forager Eric Badeau, "Living in Corvallis is great for mushroom hunting being right between the coastal mountain range and the Cascades. Mary's Peak is also a valuable area and offers a lot of diversity and exploration. The coast is another treasure for mushroom hunting and provides a whole other ecosystem and host of mushroom species."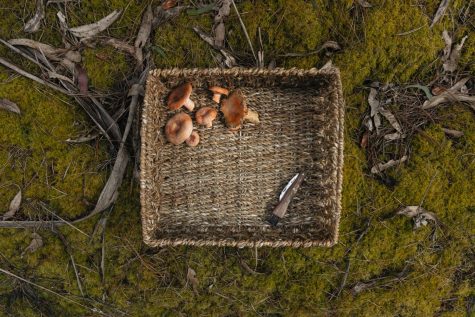 Badeau got into mushroom hunting 12 years ago when a friend showed him how to identify a Turkey Tail mushroom in the wild. Following this newfound knowledge was a sparked interest in photography, leading Badeau to document and learn about even more types of mushrooms.
"This skill seemed superhuman, yet fundamental to me and I yearned to quickly learn as much as I could about how to identify mushrooms on my own," Badeau said.
According to Badeau, he felt most at home while foraging with people who also shared this interest. His love for sharing fungi facts with a growing interested following of people led him to creating the "Corvallis Mushroom Hunting and Identification" Facebook group in 2017 to help create a local resource for proper mushroom IDs. 
His photography is just one of the ways Badeau appreciates mushrooms—helping spread awareness of them through art displays. Bedeau said, "there's something fascinating about enlarging the macro photos of these tiny worlds and bringing people closer to the forest floor." When he's not snapping photos, Badeau enjoys preserving a large haul by drying the mushrooms to cook with later. 
Some common species sought after in the fall and early winter months include the Pacific Golden Chanterelle, White Chanterelle and Hedgehog mushrooms. Pacific Golden Chanterelles are characterized by their long stems and yellowish caps while the White Chanterelles are creamy white with orange bruising. Hedgehog mushrooms, also known as Sweet Tooth mushrooms for their easily recognizable tooth-like spines, are good for beginners. They have no poisonous counterparts and are abundant in the coastal range. They all can be found in similar areas—at the mossy, shaded bases of coniferous trees and among ferns and vine maples. 
Jillian St. Jacques, senior instructor of Writing for Media at Oregon State University, particularly enjoys hunting for chanterelles and Hedgehog mushrooms. 
St. Jacques' mushrooming adventures began 20 years ago in Finland alongside his wife. Having just moved there with kayaks in tow, they began paddling across the country's miles of lakes and connecting channels. Resupplying in small villages and sustaining themselves on a diet of potatoes, rice, berries and fish, St. Jacques' wife began supplementing their diet with chanterelle mushrooms as well.
"When we moved to the Northwest, I heard that there were chanterelles here," St. Jacques said. "So we started picking those and, of course, the ones here in the NW are bigger and more fabulous than anything anywhere else—that led to learning about other mushrooms." They also took workshops with the Forest Service when they went camping with their two kids and purchased some books. 
St. Jacques suggests for those looking to get into mushroom hunting that they equip themselves with a trusty mushroom knife, map and a good field identification book such as Edible Wild Mushrooms of North America: A Field-To-Kitchen Guide by David Fischer or All that the Rain Promises and More: A Hip Pocket Guide to Western mushrooms by David Arora. St. Jacques warns to either pick ones that clearly have no toxic counterpart or be able to do a spore print, which is the only definitive way to avoid toxic mushrooms.
It's important to be aware of what permits are needed, depending on where you're hunting. Lands managed by the Bureau of Land Management and the Oregon Department of Forestry allow you to collect up to a gallon of mushrooms for personal consumption without a permit.
While mushroom hunters can be secretive about their foraging grounds, St. Jacques offers Alsea Falls as one place to start.
"That area is heavily trafficked and everyone knows about them, but there's still so many mushrooms that there's still plenty for everybody," St. Jacques said. "Those woods back there are just thick with them, and of course when you go off trail, you find more. Although sometimes, there'll be a billion of them growing right on the trail, but if you go bushwhacking with a GPS and go over a ridge or two you can find places no one has ever been before."
Time spent in the woods is about more than just hunting mushrooms. For St. Jacques and his wife, the experience is part of spending time with their children, watching their growing excitement coupled with laughter as they stumble on pockets of mushrooms. Not to mention, it's a way to connect with living off the land. St. Jacques describes the experience of eating food that you found and picked yourself as a more magical and rooted experience—a rewarding experience for something just about anyone can do. 
"Mushroom hunting is so special," St. Jacques said. "It takes you off trail and leads you to magical places that you would definitely not see otherwise, places only the elk and the deer see."
Was this article helpful?