Stargazing: "the night sky unites us, transcending space and time"
Jessica Li, Beaver's Digest Contributor
February 3, 2022
This article was written and published for Beaver's Digest's fall 2021 nightlife issue "After Hours"
You're laying on the ground where the cool grass gently caresses your skin, and you glance up at the clear night sky scattered with countless shimmering stars. The vastness of space invites you in. You suddenly feel weightless in the depths of infinity, and no matter what's beyond, you are a piece of this puzzle that contributes to a larger natural force of setting the universe in balance and in motion.
Perhaps you've experienced these sensations from stargazing before. Magnus L'Argent, a third-year student studying physics and mechanical engineering at Oregon State University who is also an officer for the Astronomy Club, describes serenity and reflection as reasons for enjoying stargazing.
"[Stargazing] can be very peaceful and calming, just sitting outside under the stars," L'Argent said. "It also lends some perspective to how small but precious humanity is."
The Astronomy Club is an inclusive social and educational organization that offers such stargazing opportunities, including on the roof of Weniger Hall.
"The OSU Astronomy Club is a place for anyone and everyone who has a love of astronomy and space to meet up and explore the cosmos," L'Argent said. "No previous knowledge is required to join the Astronomy Club, just some curiosity about the cosmos surrounding us!"
There are biweekly Astronomy Club meetings on Thursdays at 7 p.m., weather permitting. Telescopes are provided for members to observe planets, the moon, stars, galaxies, constellations and nebulae. Activities in addition to stargazing include astrophotography, field trips to observatories, space-themed movie nights and trivia nights.
As for educational and career development, the Astronomy Club hosts lectures by professors and researchers in fields of astronomy, astrophysics and astrobiology; connects students with astronomy and astrophysics-based career and internship opportunities; and holds workshops on applying for and increasing one's chances of acceptance into a National Aeronautics and Space Administration internship or job.
Phia Morton is a second-year student studying physics and nuclear engineering and another officer of the Astronomy Club. According to Morton, stargazing is one of the oldest activities that translates across cultures around the world, and most of the 88 scientifically-recognized constellations originate from Greek mythology. But with advancements such as the invention of the telescope, humans can come to better view and accurately define their observations. Nevertheless, some links still exist between ancient myths and current science. Morton references Agol to illustrate this idea.
"For example, Agol (a star in the constellation of Perseus) noticeably dims and brightens over a period of about three days, which was explained as being the eye of Medusa by the Greeks, [and it] is now known to be one star blocking the light from another star in what we call an eclipsing binary system," Morton said.
Fortunately, there are locally-accessible areas in Corvallis, Ore. for stargazing. Rosalyn Fey, a Ph.D. student studying biochemistry and biophysics who also serves on the Astronomy Club officer board, recommends finding a dark sky area such as the Irish Bend Covered Bridge on campus. Morton suggests driving 20 minutes away from any city lights for stargazing; although most constellations will be visible within the city of Corvallis, deep space objects such as the Andromeda Galaxy will be harder to see.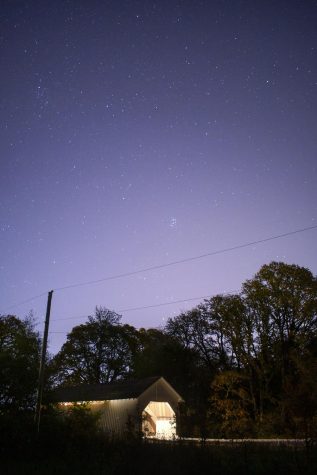 In terms of timing, Morton says it is ideal to view stars when there is little to no moon, but the moon itself can be seen through binoculars. Furthermore, Morton's other tip is that once you find a dark spot, let your eyes adjust for about 20 minutes before scanning the central band of the Milky Way with binoculars, in which you may stumble across star clusters and nebulae. Free stargazing apps including StarWalk2 and Planets can be helpful resources as well.
While stargazing, Fey also reminds us to be mindful of safety.
"Stay safe by going with a friend or letting someone know where you're going and when you plan to be back," Fey said. "This is good practice anytime you're stargazing in a remote spot alone."
Moreover, L'Argent advises bringing warm clothing like gloves and a hat to prepare for colder weather.
As you venture on your stargazing journey, don't forget about the opportunities and resources available to you in the Astronomy Club. Whether your stargazing intent is for physical admiration or spiritual connection, it's extraordinary that the night sky unites us, transcending space and time.
"Stargazing allows us to look into the past and see the universe as it once was," Morton said. "It also allows everyone to look up at the same sky and see something different but beautiful at the same time."