Signed to a record label, Bluphoria spreads its influence beyond Eugene, Ore.
Sam Misa, Beaver's Digest Contributor
March 9, 2022
Despite Eugene, Ore.-based band Bluphoria recording its first studio album with EDGEOUT Records in January 2022, they made time this past November to perform for KBVR-TV's Locals Live at Oregon State University.
Consisting of lead singer and guitarist, Reign LaFreniere; guitarist Dakota North; bassist Rex Wolf; drummer Dani Robinette. The band has been through a lot of changes including a shifting lineup in its early years to having been signed to EDGEOUT records. 
"I met Dakota at a house show," LaFreniere said. "We met because we were the only two Black guys there. I found out he played guitar as well. So, we started jamming and he joined—I already had Bluphoria going. Rex followed our Instagram and we were looking for a bassist, so that just worked out."
With the guitars and bass covered, all that was left to complete the ensemble was someone to man the drums. Luckily for the group, one of the members already knew the one for the job—Robinette.
"Dakota and I became good buddies through my partner—they're really good friends," Robinette said. "Then we started talking about music and then… all four of us met up for an audition, and then went from there."
When it came to music, the group was heavily influenced by classic rock as well as finding inspiration from more modern music.
"I feel like it's a mix; a lot of classic rock like The Beatles, Pink Floyd and Hendrix," LaFreniere said. "And with a little contemporary flair, like Kings of Leon [and] The Strokes. So, I picked up a guitar one day and was really bad at it. I would write really crappy songs, to the point where my parents would be like, 'You should stick to something else.' But, I just kept doing it. I started listening to Hendrix, the Beatles and James Brown and all that."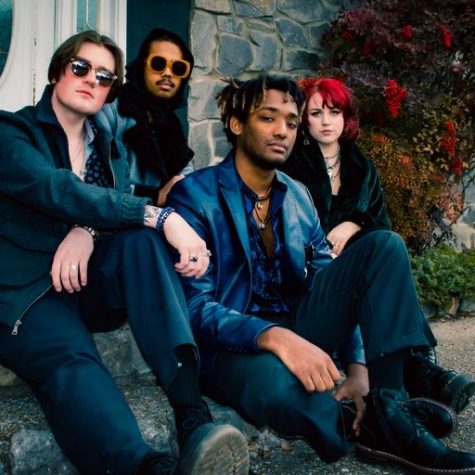 For all of Bluphoria, music was a part of their lives from the very start. 
"I was put into music classes when I was really young," North said. "That didn't really stick. I only lasted from, like, third to fourth grade. But we went to church every Sunday, so I kind of understood how important music was, because, in that setting, it's like this whole spiritual experience."
For Wolf, music was part of his blood.
"Some of my grandparents are actually music professors, so my family's been pretty musical," Wolf said. "I think probably my parents, especially my mom, exposed me pretty young to a lot of classic rock. You know, classic metal to a lot of harder stuff. And yeah, I kind of just fell in love with it. I actually started out on drums before I picked up the bass."
Robinette, like Wolf, also had musical talent within her family to learn and be inspired by.
"I was lucky," Robinette said. "I grew up in a city or close to a city that had lots of venues. My sister was in a pretty locally-successful band there. So that's kind of how I got my name around and was able to, like, play a lot of punk shows. I had a really fantastic program in high school that helped with honing my skills as a musician. But my parents were also pretty musical. Mainly my dad. My mom's side of the family was very into blues and very into country—a lot of Johnny Cash on around the house—but I kind of had a little bit of everything growing up. Music was definitely just always around."
As aforementioned, the band recorded their first album this past January, and the switch from being free agents to having been signed to a record label was something major for all members.
"I wouldn't say that you feel more free," said LaFreniere. "It just feels like there's a lot more opportunity. There's a lot of sacrifices that come with it. The opportunity being that we can get past this playing-in-garage phase and tour the country and really get our music out there. As for sacrifices, we have to study what's on the radio and learn how to structure songs, which at first seems jarring and feels as though it's changing the music but in the grand scheme of things it, at the end of the day, makes the music better. We had to turn our passion into a business which I've been learning to respect a lot more."
When it comes to their other short-term goals as a band, Bluphoria plans to go on tour and are hoping to play a festival. 
"Our short-term goal definitely is trying to break out of the Eugene area and, you know, get our name out there," Wolf said.
For more information about what Bluphoria is up to, you can find them on Instagram and listen to their music on Spotify. Bluphoria also has a website where you can find their current merchandise with more on the way. And, of course, you can find their performance for Locals Live on the KBVR-TV Youtube channel.
Was this article helpful?