Six Stores to Save on Furniture
Sam Misa, Beaver's Digest Contributor
March 10, 2022
This article was written and published for the 2022 "Renter's Guide" in collaboration with The Daily Barometer.
Rather than spending all your money on new goods, why not buy your furniture used? 
These six options provide a way to both save money and reduce your carbon footprint through reusing and recycling goods.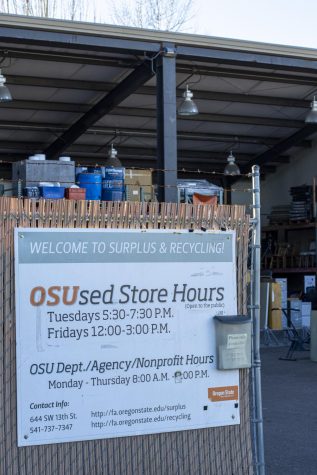 OSUsed Store 
What's good about it?
The OSUsed Store is located on campus, and features all used goods for purchase through Oregon State University's Surplus Property department that are significantly cheaper than store-bought goods. The store's inventory includes things such as computers/computer accessories, furniture, office supplies and many other items. 
For 2022, the OSUsed Store also has a reward card program to save additional money for each visit. The store takes cash, checks up to $1,000, as well as Visa and MasterCards. 
Location: The Property Services Building on campus at 644 SW 13th Street
Hours: Tuesdays 5:30-7:30 p.m. and Fridays noon-3 p.m. 
Social Media: Surplus Property – Oregon State University on Facebook 
Current Inventory: Not too long ago, OSUsed Store sold seats right out of Reser Stadium, as well as outdoor benches from OSU's campus for only $35. For more information on their current inventory, you can find it on their Facebook page listed above.
Benton Habitat For Humanity ReStore
What's good about it?
The ReStore with Benton Habitat for Humanity is similar to that of the OSUsed Store in that both of them get their inventories from donations. The main difference between the two is that the ReStore has the added benefit of having all of its proceeds going directly to support Habitat for Humanity's programs in Benton County.
"We receive new donations and shipments every day, offering products at 50-75% off retail prices," states the ReStore's webpage on Habitat for Humanity's website. "Visit often to see what new values are available for your home, yard, office or whatever project you are working on!"
Location: 4840 Philomath Blvd, Corvallis, OR 97333
Hours: Varies seasonally
Social Media: @bhfh_restore on Instagram
Current Inventory: Just recently, BHFH ReStore was selling a matching sofa and chair for $179. For more information on their current inventory, you can find it on their Instagram page listed above. "Inventory is constantly changing but always includes some staple products," ReStore's webpage states.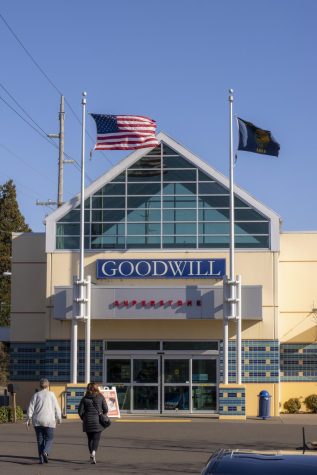 Goodwill 
What's good about it?
Goodwill is a tried and trusted way of both donating and finding used goods that may otherwise be thrown away. This particular location in Corvallis, Ore. has 3.9 stars out of 5 on Google Reviews, and isn't too far from campus to bike or drive to.
Its inventory contains clothing in addition to furniture and other household items, as well as a limited number of sporting equipment as well.
Location: 1325 NW 9th St, Corvallis, OR 97330
Hours: 10 a.m.-8 p.m. daily
Corvallis Furniture 
What's good about it?
Corvallis Furniture focuses entirely on furniture for your house, apartment or dorm. This includes bed frames, shelves, dining tables and entire couch setups. It also has two locations, both not far from OSU's campus. With a 4.4 out of 5 stars on Google, Corvallis Furniture is a safe bet for getting good quality furniture for reasonable prices.
"Corvallis Furniture has new and pre-loved furniture," states the Corvallis Furniture Facebook page. "Come check out our great selection or bring in your quality pre-loved furniture for consignment."
Location: 1810 SW 3rd St. and 700 NE Circle Blvd.
Hours: Varies
Social Media: Corvallis Furniture on Facebook
Current Inventory: Just recently, Corvallis Furniture was selling a queen platform bed with drawers for $100. For more information on their current inventory, you can find it on their Facebook page listed above.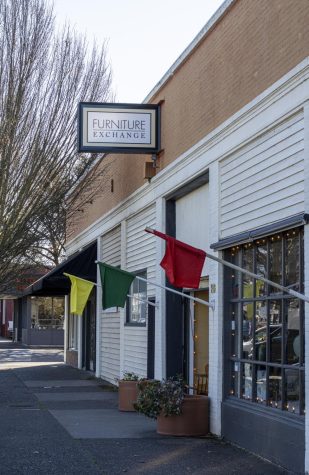 Furniture Exchange 
What's good about it?
At just over a decade old, Furniture Exchange offers home decor of all kinds. Furniture Exchange also offers consignments for order so that your furniture can be delivered to your home.
"Quality pre-owned furniture at affordable prices," states the Furniture Exchange Facebook page.
Location: 210 NW 2nd St
Hours: 11 a.m. to 5 p.m. Tuesdays through Thursdays
Social Media: Furniture Exchange on Facebook
Current Inventory: "An ever-changing variety of furniture and home decor!" states the Facebook page. For information on their current inventory, you can find it on their Facebook page listed above. 
Facebook Marketplace 
What's good about it?
Logging into Facebook's Marketplace to acquire furniture is one of those high-risk, high-reward situations where you can get some steals or some duds. Some nice things about FB Marketplace is that you can shop locally and can arrange to pick up or have something delivered, and prices are negotiable to the point where some people may just be giving away their own goods for free.
Current Inventory: At the time of publication, someone in Corvallis is giving away a free queen mattress and bedframe, and another community member is selling a dining table for $50.
Was this article helpful?