The community bands together to support Ukraine
Ways you can contribute to the cause
From local businesses, to the Corvallis Sister Cities Association, the Corvallis, Ore. community is coming together to raise funds for the people of Ukraine. 
The Corvallis Sister Cities Association has been working with our sister city of Uzhhorod in the Ukraine, a city surrounded by the Carpathian Mountains in the far west corner of the country. The mountains stand between Uzhhorod and Kyiv, making the city itself safe, but they are receiving many refugees, according to Carol Trueba, the President of the Uzhhorod Council with Corvallis Sister Cities Association.
Trueba said there is no official count, but they're estimating about two to three hundred thousand refugees may be in the city or have gone through the city at this time. 
"Our help has been to support them with their shelters and humanitarian needs for those refugees," Trueba said.
Uzhhorod and Corvallis have had a 30-year relationship with the sister city program, the relations starting before the fall of the Berlin Wall.
"We've seen them progress into a wonderful democratic country and reach out to us and all over the world for ideas on how to become democratic citizens," Trueba said, adding,  "So we have many relationships in Uzhhorod that are helping the refugees and we're helping them help the refugees."
According to Trueba, members of the Corvallis Sister Cities Association have been in Uzhhorod assessing refugee humanitarian needs in order for the association to help purchase the items. 
Many people have taken over suitcases and boxes of supplies. 
"There's so many people in town, some of the things you just can't get there," Trueba said. 
"So what they're doing is running across the border into Hungary and Slovakia and buying mattresses, refrigerators, microwaves, all kinds of things that these shelters need so that people can have food and prepare food and kind of take care of themselves."
Many businesses in Corvallis have also been raising funds in support of the Refugee Fund and the Ukrainian people.
An artist from Summit Oregon, Earl Newman, made 200 original screen prints that are designed, printed, signed and numbered by him. They are selling for $100 each at the Corvallis Museum and the Arts Center.
Trueba talked about how two teenage girls in town have made "beautiful, vibrant colored pictures" of sunflowers to raise money, which are also on sale at the Corvallis and Philomath Museums.
There is also a quilt auction happening on Facebook put on by The Sandpiper Project group that is raising money for Ukrainian Refugees. 
Additionally, the Old World Deli restaurant in downtown Corvallis will be hosting the Celtic band Loose Flagstone on May 13th as a benefit for the refugee fund. 
Another business in town that is raising money for the fund is Coffee Culture, which has been selling stickers and posters for the fundraiser.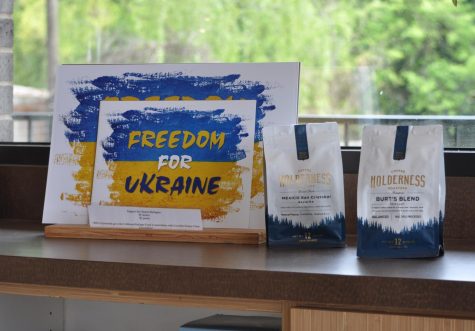 Finally, GnomeNuts, the hot donuts food truck that usually is stationed at the Melon Shack on Highway 20—Melon Shack on Highway 20 and Garden Ave., in Corvallis—for the October season,  has put up shop there this month to raise money for Ukraine. The business has previously held various fundraisers for the senior classes in COVID-19, Veterans Homes in Lebanon, Ore. and The Dalles, Ore. as well as for nurses at the hospital throughout the pandemic. 
"We've been taking donations for the last two weeks and we have a goal of $10,000," said Tom Kobold, the owner/operator of GnomeNuts hot donuts. "We're about $3,200 right now and we're taking donations for the donuts, which are free." Kobold added, "And what we'll do is we'll give customers an idea of what the donuts cost, and then they can make a donation based off that cost."
Kobold said people can donate "a buck, fifty dollars, a hundred dollars."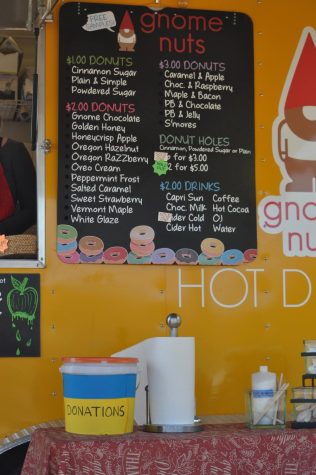 GnomeNuts is coordinating with the Corvallis Sister Cities Association and Citizens Bank to donate all the funds from the event to the people of Ukraine. 
Kobold gave some insight into why he began this fundraiser. He said, "Well, when the war started and we were watching TV, I was just saddened by the horror and the tragedy of the war to these poor Ukrainian people. And I just thought I can't sit here and have my cup of coffee in my warm chair without having to help out somehow." 
Kobold continued saying, "the donut trailer was in my driveway, and so I'm like, 'I'm going to set this thing up.'"
Kobold said that they've had a good outreach with many businesses donating the products in order to make the donut's funds go entirely to Ukraine.
Kobold added, "it just warms my heart when people come out to the donut trailer and donate so much."
According to Kobold, the truck is lacking in volunteers and anyone willing to help take orders or decorate donuts would be appreciated.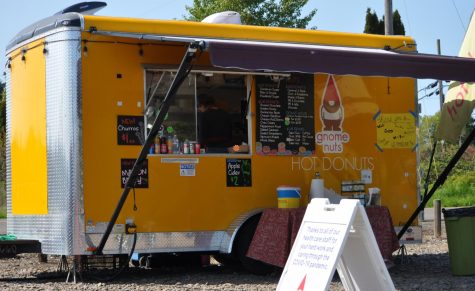 "They can just go ahead and give me a call or a text would be better at (541) 602-0484," Kobold said, adding that you should give your name in the text, to avoid him thinking it's a spam call. 
More information on fundraisers can be found on the Corvallis Sister Cities website Uzhhorod Refugee Fund page. To give a donation or to find out more information can be found on the Corvallis Sister Cities homepage. 
Direct donations can be made to Corvallis Sister Cities Association's GoFundMe or going to a Citizens Bank and donating to the Uzhhorod Refugee Fund at 978 NW Circle Blvd. Corvallis, OR 97330. 
"Money is basically what we need for our fund," Trueba said. "Five, ten dollars all adds up when everybody gives a little." 
Kobold said, "I just felt in my heart I had to do something."
Was this article helpful?