The Dizzy Hen: A home cooked breakfast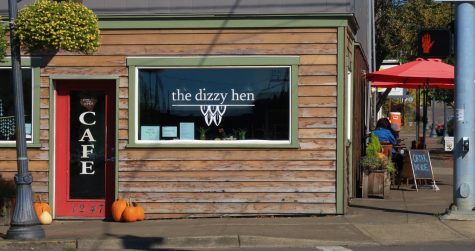 On the corner of 13th and Main in downtown Philomath, Oregon sits The Dizzy Hen. Its wood-paneled exterior, wood burnt overhanging sign and the warm smell of breakfast draws the unsuspecting passerby in. Well, that and their empty stomach.
As the door swings open they are greeted with a radiant display case filled to the brim with fresh, made from scratch pastries and a friendly-faced waitress behind the bar. Natural light fills the room from the front windows and reveals the homey, rustic interior. Pendant lights hang down over each table like a little spotlight for each plate. When those plates come out of the kitchen, it is clear what those spotlights are highlighting, and that this is no typical diner.

While The Dizzy Hen serves a traditional breakfast menu, it is treated with the same care and expertise any five-star restaurant would boast about.
JC Mersmann, part owner and head chef, describes the food as a "pretty simple, pretty clean take on traditional breakfast foods." That take he refers to comes from his culinary training in Germany.
After breaking into the food industry by working as a baker, Mersmann traveled to Munich, Germany to work as a breakfast cook for two years. When he arrived back in the states, he scored a job at a hotel as a prep cook. That simply wouldn't do. Mersmann had a taste of German cuisine and returned after only a year for a second serving.
"That's where my education really began," Mersmann said.
The thing about Germany is that it is very common for restaurants of all levels to create new menus of eight or nine dishes every day based on what ingredients are available. For a young cook trying to learn, what better environment could they ask for?
When Mersmann returned to America in 2000, he moved to the Bay Area in California to work in the fine dining scene. He interned at restaurants with very French names like Chez Panisse before agreeing to a job at Citron, a critically acclaimed restaurant in Oakland, which is now closed. After cooking there for five years, he and his wife Hattie Muir moved to Philomath for Gathering Together Farm where Mersmann served as head chef for 10 years.
Taking all his knowledge and experience with food, Mersmann, Muir and the sous chef from Gathering Together Farm, Ricky Carlson, decided to open their own restaurant now known as The Dizzy Hen.
Muir described the process of opening the restaurant as, "a fun adventure to go into together."
One of the main things Mersmann has held onto through all the years and has brought to The Dizzy Hen lies in the preparation of the food. When talking about the menu Mersmann said, "we do a lot of things ourselves that other places don't."
Dishes like their French toast showcase where they put in the effort of doing it themselves rather than taking the easy route. The bread is baked on-site fresh every morning and is served bread pudding style alongside sausage that they grind and stuff themselves. That extra effort and work can definitely be seen in the final product.
Another signature item is called "the dizzy." It is their take on the classic dish eggs benedict and features poached eggs on top of house-baked buttermilk biscuits. The dizzy is topped with organically grown chard from Gathering Together Farm, ham and gravy substituted for the traditional hollandaise sauce.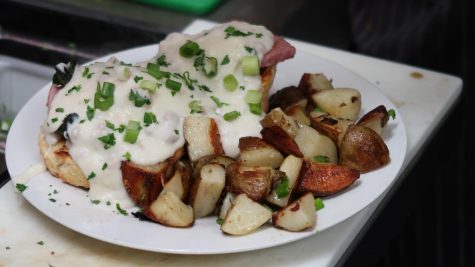 Another thing to look out for is their pastries. Delicious and beautiful sweets like chocolate croissants and bear claws populate their pastry case and are baked fresh every morning.
While a dinner menu for The Dizzy Hen is being hinted at, the timing does not feel right yet for Mersmann.
"We are waiting for the downside of the pandemic wave. I don't really feel ok with trying to get as many people as I can in here but it shouldn't be too far away," Mersmann said.
Despite the high demand for more of their food to be available, the safety of their customers and staff is still the highest priority as with the relapse of COVID-19.
Barbara Bessey, Philomath local and Dizzy Hen regular, said it better than anyone.
"Both the people and the food at The Dizzy Hen are really the best. It is just like family," Bessey said.
You can find The Dizzy Hen in Philomath on the corner of 13th and Main, at their website: thedizzyhen.com, on Instagram @the_dizzyhen and follow them on Facebook for the most recent updates on hours and menu options.
Was this article helpful?