Tasty ciders to tingle your taste buds
An untrained palate explores the complexities of cider
The complexities of craft beverages can be overbearing for the untrained palate. I have secretly always wanted to chug a beer, but the thought of it makes me gag.
So, what do you do when you want to grab a drink with the crew, but cannot stand the taste of alcohol?
With the arrival of fall, my mind instantly went to cider, so I contacted 2 Towns Ciderhouse, a local Oregon-based cidery located in Corvallis, Ore., for recommendations from a professional. 2 Towns Ciderhouse is the third largest cider producer in the United States. 
Aaron Sarnoff-Wood is the vice president of sales and co-founder of 2 Towns Ciderhouse with his partner Lee Larson. Sarnoff-Wood believes innovation sets his business apart from other cideries.
"We're constantly looking for new fruit, styles and techniques from other categories to see how we can apply them to cider," Sarnoff-Wood said. "We've been proud to be a part in shaping the perception of cider for a new generation."
Cider provides natural fruity flavors that are approachable by the everyday person. 
"I think hard apple cider is a great place to explore," Sarnoff-Wood said.
Sarnoff-Wood recommended a cider on tap called Cosmic Crisp that I just had to try. 
Cosmic Crisp is a new cosmic crisp apple variety that was bred in Washington to replace the honeycrisp apple. Its sugar content is higher, allowing for a higher alcohol content to be produced.
"I love the light color of the cider; the apple is bred to not brown like regular apples do and the distinctive snappy flavor from this fantastic apple," Sarnoff-Wood said.
The first sip I had of Cosmic Crisp was powerful. Although the drink was smooth, it definitely left a sharp crisp flavor on my tongue.
The great thing about cider is it is more than a casual drink. Connoisseurs spend time comparing tastes and aromatic notes of different ciders. Then, they explore food pairing, similar to wine culture.
"Cider, like wine, has a huge breadth of styles and apple varieties and producing regions that each produce their own distinct flavors, giving the more experienced drinker plenty to keep the category interesting," Sarnoff-Wood said.
Tap Room Associate Wyett Hennesey helped with the tasting journey. I requested a tasting of Cidre Bouche, recommended by Sarnoff-Wood. 
"It is aged in French oak barrels," Hennesey said.
Intrigued, I took a sip. I quickly swallowed and questioned what I had just drank. 
To the untrained palate the initial flavor was overwhelming. For a second, I thought I was taking a shot of Bourbon, that was right before the smoothness of the cider masked my initial experience.
The Cidre Bouche is sweet, bold and pairs well with cheese. However, this unique beverage ought to be savored in sips so as to not overwhelm a new cider explorer.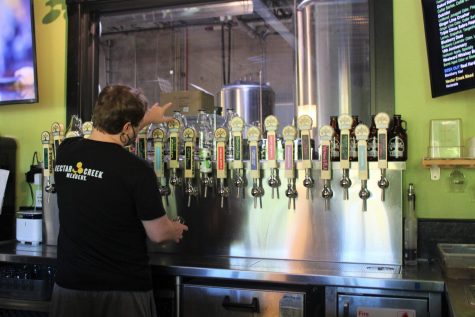 "Before pasteurization existed, the French invented a way to preserve a cider with residual sweetness," Sarnoff-Wood said. "The French method is very time consuming, but the flavor produced is a fantastic, overripe, fruit leather apple flavor with just a touch of wild yeast character."
After tasting six different ciders I decided to purchase a glass of the OutCider and Made Marion. 
By the end of the tasting, my taste buds were so overwhelmed with the new flavors that I had to settle for a more mild drink.
The OutCider is sweet and unfiltered, while Made Marion is both sweet and sour.
Dave Seidel, owner of Treebeerd's Taphouse, is also a craft beverage professional with advice for new cider enthusiasts. Treebeerd's Taphouse is a family-owned business and Seidel's wife Betsy and son Luke are also owners.
"I would recommend trying a "flight" which is up to six 4-ounce pours. This would offer someone the chance to try different styles of the various beers and ciders," Seidel said.
Comparing cider notes with friends is a great way to bond and gain knowledge of the craft brewing trade.
Treebeerd's Taphouse enjoys having OSU students come and hangout in their taphouse.
"We also have specials from time to time for the OSU students and faculty, and always provide a discount for students and faculty all day on Thursdays," Seidel said.
Cider has the capability of fitting anyone's needs. From social drinking to fancy tasting sessions, you are bound to be entranced by the aromatic wonders that ciders provide.
"I'm glad to have found cider early in my life as we've been able to build a business and a great apple family around this amazing beverage. Find a friend, raise a glass and cheers!" Sarnoff-Wood said.