Get to know Bite Me Foods with owner Esther Saunders
Local business owner creates diet friendly treats for those with a sweet tooth.
Esther Saunders, owner of Bite Me Foods crafts many of their treats with organic, and locally sourced ingredients.
Bite Me Foods was established in 2013 in Corvallis, Ore. They offer products such as truffles, caramel apples, fudge bars and more. Saunders delivers to the Corvallis area at least three times a week.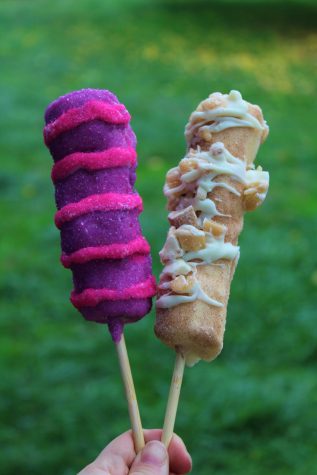 "I started off selling desserts to friends who had tried my products and asked if I would make them a cake, pie, or truffles," Saunders said. "My business has grown and evolved over the years."
Saunders had previously owned Purple Moon Organic Espresso and Juice with her brother Daniel T. Bain. After she sold the business to her brother, she began pursuing her master's in clinical health counseling.
In addition to creating artisan desserts, Saunders is a mental health civil commitment investigator.
Bite Me Foods donates five percent of all proceeds to suicide prevention efforts. Specifically, the proceeds go to a Daniel T. Bain "Embrace Life" Memorial Scholarship Endowment set up in the name of her brother who died by suicide at age 20.
"The last two years we have partnered with Corvallis Daytime Drop-in Center which provides services to the homeless in Corvallis," Saunders said. "We also donate 10% of sales to Corvallis Daytime Drop in Center and 10% to Corvallis Fall Festival."
Bite Me Foods ships its product nationwide. They are only available online for ordering on their website, and through their Facebook and Etsy page. .
"I started off selling my gourmet chocolate truffles. My truffles are made with the finest ingredients," Saunders said. "I don't add sugar or filler. They are rich and decadent. They are twice the size of most truffles. I started making these as a hobby and had multiple people asking me if they could buy some."
Saunders initially developed the website to sell truffles, and expanded her product to include Disney inspired treats after her business took off.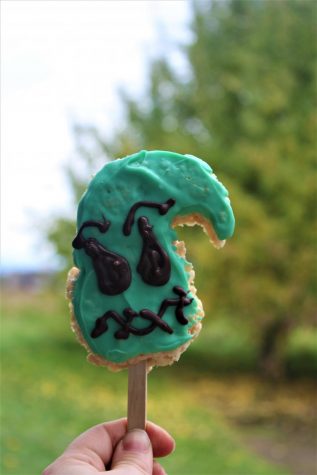 "I started this as a hobby and to satisfy my Disney 'depression' which occurs when you are  not at Disneyland!" Saunders said.
Saunders was unable to visit Disneyland during COVID-19 which sparked the idea to create Disney inspired treats. Victoria Heiken has lived in Corvallis for 20 years and has been a customer at Bite Me Foods for the last two years.
"I usually buy her Disneyland themed boxes a few times a year," Heiken said.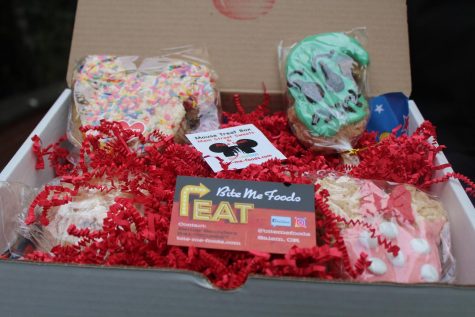 Heiken's favorite treat sold by Bite Me Foods is their Disney inspired caramel apples.
"I actually went to Disneyland and saw the caramel apples they were selling," Heiken said. "I actually did not purchase one because they did not look like they would be up to the same standards as the ones Bite Me Foods sells."
"I am a Disneyland fanatic! Making Disneyland inspired treat boxes helps me keep that Disneyland magic alive when I am away from Disneyland," Saunders said. "I try and make it to Disneyland twice a year! Gives me an excuse to try all their new treats to see which ones I want to recreate!"
Bite Me Foods has a long-term goal to get its products inside stores. All of its products are made from scratch, and it takes hours to make.
"Our caramel apples are a three day process," Saunders said.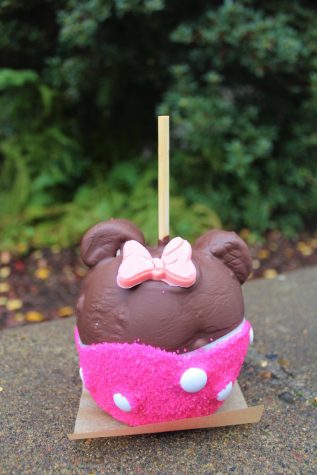 Saunders also offers treats that are both gluten-free and vegan.
"My personal favorite items are my Chocolate Cream Pie, Coconut Mousse Pie and Triple Chocolate Cookie that is gluten-free and vegan," Saunders said.
Melissa O'brien has been a friend of Saunders for years and has watched the growth of Bite Me Foods.
"Esther has always loved to bake and cook for everyone. It's one of the many ways she shows her care and love for people," O'brien said. "She had a health issue years ago that changed her diet and she wasn't able to find good quality gluten-free options. So she created them!"
O'brien's favorite treat is the giant peanut butter cups at Bite Me Foods.
"They're huge and delicious!" O'brien said. "My favorite thing about Bite Me Foods is that she bakes out of passion, she helps others in the community."
O'brien loves that Saunders is a local business owner who gives back to the local community.
"She supports and purchases all the ingredients she can locally," O'brien said. "Her website was created by someone local, the signs that were made for her business supported another local business owner, everything she does is from the heart."
In Saunders free time, she makes treats for Bite Me Foods to support her dreams. All treats are made in a licensed commercial kitchen that also processes gluten, dairy, eggs and nuts. Bite Me Foods does its best to avoid cross contamination but some cross contamination is possible.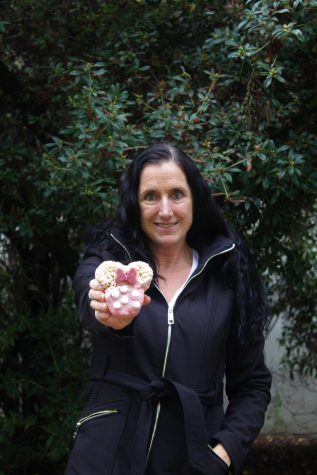 "We want our customers to know every time you choose a Bite Me Food's product you are supporting our local business, supporting our local economy, saving a life (with our donations to suicide prevention) and keeping my dream alive," Saunders said. "I want to give you all a huge thank you! I love what I do and I love bringing a smile to your face and making your day a whole lot sweeter!"
Was this article helpful?