OSU's hidden gem: The Beaver Bus
Here is everything you need to know about using campus transit
As far as Oregon State University goes, the Beaver Bus is one of its hidden gems in terms of transportation offered.
The Beaver bus started as two simple plain white campus shuttles in 2001. In 2014, OSU Transportation Services reintroduced the shuttles with a new bright orange look and beaver graphics.
Last year, while campus was closed due to the pandemic, was the first time since 2001 that the Beaver Bus did not run. As of September 2021, the Beaver Bus is back in full operation.
Walking around campus and its outskirts, you may have noticed the big orange busses labeled with different directions on their roofs. The Beaver Bus currently offers four routes for students and staff, all of which are based on the direction they go. The four routes include the Northwest route, the West route, the East route and the Northeast route. 
Northwest route
Reeser Stadium

Oak Creek Building

Traux Northwest

West Hall

Radiation Center

Forage Seed Research Center

Crop and Soil Science

Buxton Hall

Weatherford Hall

Gill Coliseum

Ralph Miller Lane
West route
Reeser Stadium

LaSells Stewart Center

Beaver Store

Dixon Recreation

Austin Hall

Sackett Hall

Radiation Center

35th Street

President Street
East route
Reeser Stadium

Hilton Garden Inn

University Plaza

15th and A Avenue

Callahan Hall

Valley Library

Student Experience Center

Gill Coliseum

Ralph Miller Lane
Northeast route
LaSells Stewart Center

Beaver Store

Dixon Recreation

Memorial Union

Milam Hall

CEOAS

Wenigar Hall

Graff Hall

Kerr Admin

Adams Hall

ILLC

Western
Under normal circumstances, there are five routes which include the the 26th express route, however, due to nationwide bus driver shortages, this route has not run this year and OSU Transportation Services also plans to temporarily cut the Northwest route around Thanksgiving or winter break.
These routes won't be gone forever. Transportation Services Director Meredith Williams is hopeful that all five routes will soon be running again.
"We'll bring them back as soon as we can," Williams said. "The company we contract with for drivers and maintenance is really trying hard to hire people—it's just really difficult right now, unfortunately."
While some routes are being cut, the Northeast route expanded this year in hopes of somewhat combatting the loss of a route.
"The big change was to have the Northeast route go all the way up to Monroe [avenue]," Williams said. "We're pretty excited about the connection that provides to the Corvallis, [Ore.] Transit buses that are coming to campus."
This newly-expanded Northeast route allows for students who are commuting further via the Corvallis transit to hop right on at Monroe avenue, or students who live on that side of campus to easily hop on.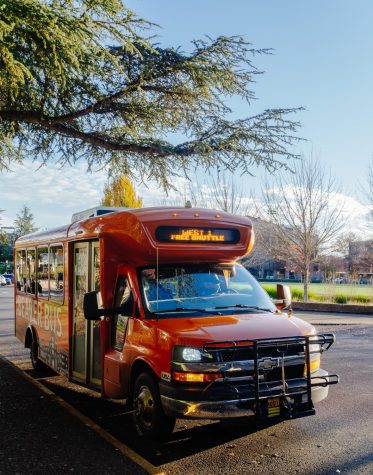 Recent new funding has also allowed for OSU Transportation Services to purchase shelters which are being placed at various Beaver Bus stops. These are especially nice as the rainy season in Oregon is picking up.
The Beaver Bus is free to all students and staff and runs Monday through Friday from 7 a.m. to 7 p.m with the bus hitting every stop between every 8 to 15 minutes.
The buses are all equipped with lift ramps, two securement positions for mobility devices and two bike racks on the front of the bus. Service animals are also permitted to ride.
"We just want people to understand that it's available for their use, it's for everyone," Williams said.
The bus can be tracked on the OSU Mobile App or on here at the live shuttle tracker.
Was this article helpful?