Fulbright program celebrates 75th anniversary, offers 'new horizons' for students
Sam Misa, Beaver's Digest Contributor
January 25, 2022
Started just over 75 years ago, Fulbright has been sending people on research/study trips and English teaching assistant trips to countries across the world while covering all costs.
The Fulbright U.S Program is available to people from all different walks of life, including students, recent graduates and those with up to seven years of professional experience in their given fields. The program is active in 160 countries and offers over 8,000 grants yearly.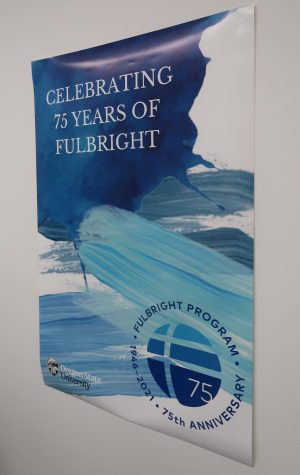 One important thing that makes Fulbright unique from other study abroad programs is that Fulbright participants don't necessarily have to have proficiency in the languages native to the country.
"My reason for joining the Fulbright is because I wanted to see how far my ancestry went westward," said Fulbright alumni Dang Duong. "It landed in Central Asia. I also wanted to explore a location I've never been to in my entire life."
For Duong, the chance to explore new horizons was something that he wanted to inspire others to do as well. He did that while with Fulbright as an English teaching assistant in Kazakhstan.
"I wanted to impact students not only [with] practicing English, but to see if I could push them beyond the comfort zone of their existing mindset," Duong said. "When I was still there teaching English, they weren't motivated to see opportunities beyond their village. When they were going into graduate school, I told them to go out there and apply to U.S. based universities or even European based universities and see if they can get those opportunities beyond what they thought they could do."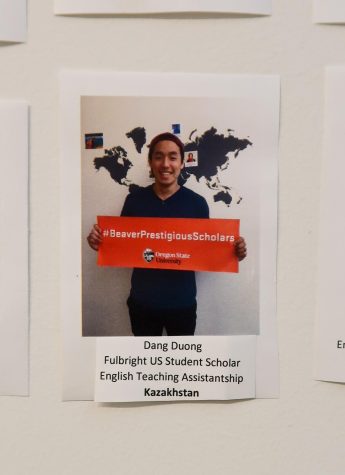 While Duong's story may be a very specific case, the program also helped to bring people here to Oregon State University's campus to continue their studies long past what may be considered normal. One of those people who took advantage of Fulbright to explore past their native country with research was Usman Siddiqi.
"I was already teaching political science in a university in Pakistan," Siddiqi said. "I was interested in policy studies in general. When I came here, I was initially looking at crime and politics. You know, developing policies that can reduce the vulnerabilities of the youth to get into crime, and the politics behind criminal law making. When I came here, due to some problems in data collection, I had to go back, which was not possible due to Covid. So I just shifted to energy, which was my second priority before coming here."
While not specifically choosing OSU, Siddiqi was happy to have been placed here in Corvallis.
"After coming here, I've realized that this was perhaps the best decision," Siddiqi said. "In terms of choosing the location within the U.S. because of the beauty of the city and the acceptability of international students in the community. I came with my three kids. So I feel it was a good choice on their behalf, as well."
While this year's cycle ended at the end of this January, the next cycle is only three months away in April. More information is available on Fulbright's website.
Was this article helpful?