Student on the Street: What's your living situation like?
This article was written and published for the 2022 "Renter's Guide" in collaboration with The Daily Barometer.
HEY YOU! WHERE DO YOU LIVE?
This is a creepy question to ask someone you have never spoken to before, but we went around campus and asked students anyway.
Invasions of privacy and personal space aside, the question brings up an important dialogue that needs to be had amongst students. Where we live is one of the first decisions we have to make independently as students, and it can have a huge impact on our college experience.
The City of Corvallis, Ore. reported that the fair market rent in town ranges from $1,065 for a studio to $2,177 for a four-bedroom, which would be about $544 per person if each bedroom was being used.
This report is not far off from national averages either. A survey was done by Realtor.com that reported the average rent in college towns nationwide is $1,575, which would be on par with a two or three-bedroom house here in Corvallis.
Surveys and statistics can be used to make pretty graphs or turn heads, but what are our fellow students really paying each month? Are they getting their money's worth? Are they even happy with their living situation? Here's what we found out.
Natalie Spathas – Senior
"I live in a duplex with four other roommates. I have lived there for two years now. I know all of them pretty well and we have had some issues this year but it hasn't been too bad."
"We pay about $675 per month, so it is not horrible, but last year we paid like $25 less. Our landlord increased it this year because for some reason we were paying a different amount than his other properties, so I think he was trying to make it fair."
"I love the space, I love where it's located and everything."
Brian Lubinsky – Sophomore
"I started at Callahan last year, then I went over to Hawley-Buxton. They actually didn't give me much of an option when switching dorms. I put Callahan, Finley and Halsell as my options and they didn't give me any of my choices. I think they had a huge influx of students and just didn't have any rooms. So, I got put in a triple in Hawley-Buxton which wasn't in any of my suggestions."
"Hawley is alright, but it's not quite as nice as Callahan. It only has one kitchen on the first floor and people don't really take care of the bathrooms as much and the communal areas kind of get trashed. It's kind of hard sharing it with people, especially people who aren't used to sharing an area or taking care of themselves."
"I didn't really have a choice of where I went and it worked out in the end, but I want to move because I am as far as I could possibly be from my classes and the housing is really expensive. I think it is upwards of $3,000 per term."
Annika Galvin – Freshman
"I live on campus in Callahan. I love it there, but I am also close with all the [resident assistants] and made our entire floor do secret Santa. I think we are also going to do a field day for spring term and possibly a bonfire on the beach."
"I have one roommate and she is absolutely phenomenal. Shout out to Ashley Fedderson! I did not know her at all and we figured out we were roommates 24 hours before the deadline. Grace goes a long way and it ended up working out perfectly."
"Callahan has gender-neutral bathrooms on every other floor, which is nice because we have some non-binary people and it makes them feel welcomed. Everything is pretty updated and it's close to McNary which is arguably one of the better dining halls on campus. It's close to off campus, I like being able to walk downtown and there is a park across the street where I like to hammock. It's great, there's sunshine, and the only annoying thing is the train but you can hear the train if you are anywhere within five miles of the tracks."
Mckenzie Kephart – Freshman
"I live in McNary on campus. It's the worst of them all but I try to make the best out of it. It's not the best living situation but it works."
"I try to make the best out of it with friends, making it a good community in there, making sure it stays clean and what-not. I met my roommate on MyCollegeRoomie, so we were already friends before we moved in. When we first got there, nobody was talking to each other on the floor. Then, all of sudden this guy, his name is Brandon, asked everyone on our floor for their Snapchats and made a huge group chat for all of us. Then we all just became friends over time through that."
"One thing I would change about McNary is to renovate it. In our kitchens, there is literally only a microwave and a sink in there, and it's always trashed. And I would definitely change the wall colors. They are so disgusting."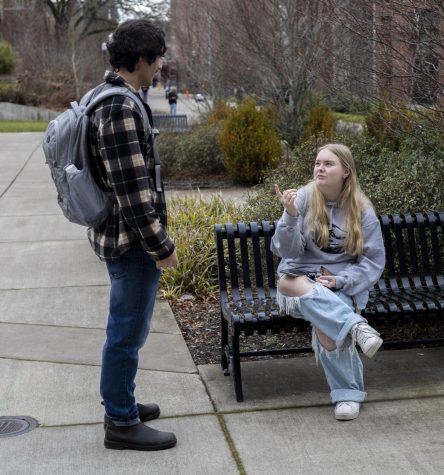 Leif Borngasser – Sophomore
"I live in a duplex with four of my friends right on 15th Street and it's a five-minute walk, at most, from campus."
"We went pretty late before we actually started looking for houses, so we got a discounted price on it because it was not selling and because of COVID-19. The rent is $600 per person right now, but I think it is being raised to $720 per person at the end of the lease."
"We are quite lucky because our landlord is pretty good. Whenever we have difficulties, we just let them know. Previously, we had an issue with our microwave where it kept sparking out of the top. It was honestly scary. I would jump away from the microwave every time I started it, but they replaced it pretty fast."
Yunce Wakur – Sophomore
"I live in the dorms, in Tebeau. So far it's good; the kitchen is really good and the people are really friendly too. Last year I lived in the [International Living-Learning Center] building but I prefer Tebeau—the view is a lot better from there."
"I have a roommate and she is really nice. She is from Japan and I am from Indonesia, and since we are both Asian we come from similar backgrounds. I didn't know her before we moved in, but I sent her an email like 'Hey, you will be my roommate and we are gonna stay together,' before we met."
"Tebeau is very expensive, I think $10,000 per year, and I think that is very expensive compared to if you stay off campus, [which is] probably cheaper. Maybe next year I will probably move out because I have been staying in the dorms for two years."
"Being an international student, the process of coming to [Oregon State University] and being set up in a place to live is kind of difficult. But I think the people in OSU are really open toward people like me so they set us up well and were very helpful."
Will Steigler – Senior
"I rent someone's garage; it's not an apartment or anything, it's just someone's garage. It's kind of a neat situation I guess. I live by myself so it's kind of like a studio. It was just on Craigslist. I just saw it and was like 'sure,' contacted the owner and it seemed to work out."
"I pay $750 a month for rent, which is more expensive than renting with others but it seems like a pretty good deal as far as other studio apartments go. I'm pretty happy with it, and utilities are included. It actually kind of has a built-in kitchen. It has a little mini-fridge, a sink to do dishes and portable camping stuff. I don't have a full-on oven or stove but for one person, it works."
"There are two rooms plus a little tiny bathroom with a little shower and a bedroom. I guess my situation is a little unique. I got pretty lucky. The biggest thing is just that I wish I had a larger fridge."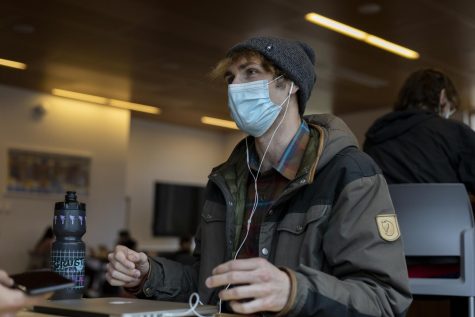 Jada Dickerson – Sophomore
"I live in an apartment at Domain Corvallis. It's sort of off Harrison Street and it's more geared toward student living, but you don't have to be a student to live there. I really like the apartment itself, but I mean it's pretty typical of any apartment in a college town with noise complaints and stuff like that."
"I live with one roommate, my friend Emily, and my fiancé. The Domain has a pool, gym, study rooms, a clubhouse that has pool tables, free coffee and an Amazon hub. Personally, I don't use the amenities a lot because I'm really busy."
"Rent is $955 per month and the electricity bill usually ranges from $20 to $50. I think they are kind of faulty in the way they charge for electricity. Electricity is for like, for the whole apartment right? But they charge both me and Emily the same amount. So technically, they are getting double the pay. Our electricity bill was $37 last month, but they charged both of us $37. There is no way together we used $70-worth of electricity, so they aren't splitting it."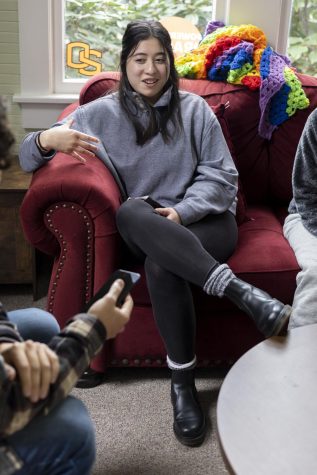 Maija Pham – Senior
"I live in Tyler Townhomes. Including me, there are five of us. I would say we all get along. We were all friends and knew each other beforehand. Any time there is anything wrong, we just call our property manager or submit a form online. We recently had a little inspection so they checked the carpet, made sure no one is living in the garage, stuff like that. Nothing too invasive."
"At Tyler, it is $600 per month and there are five bedrooms, two garages and everyone gets their own bathroom connected to their bedroom. At my last house, it was still $600 with three bedrooms, one tiny bathroom, a main floor, a basement and shared parking. First-come-first-serve parking where we had to fight for spots."
"The townhomes are a pretty good living situation individually. The walls are sometimes kind of thin, so while I'm sleeping I hear someone walking up the stairs in a different unit."