Whiteside Theatre celebrates a century of haven and creativity
From vaudeville to silent films, through renovations and ghosts, fires and the COVID-19 pandemic, the Whiteside Theatre remains a Corvallis gem and now celebrates a full century of unique entertainment. To thank its patrons and the community, the non-profit now offers some new weekly deals for everyone to enjoy. 
Over the past 100 years, the Whiteside Theatre has been host to thousands of different types of performances, which has played an intimate role in the Corvallis community and continues to prove itself to be a vital part of the town today. 
According to their website, Whiteside opened the curtains for its first performance on Nov. 9, 1922: a showing of  "The Old Homestead" accompanied with music by organist Lillian McElroy, who is rumored to still haunt the building to this day. 
Named after the initial owners of the business, the Whiteside Theatre originally started out as a vaudeville theater, a type of comedic performance interwoven with poetry and song, with seating for up to 1200 showgoers. This performance era, however, grinded to a halt after the theater burned down in 1927, forcing the Whiteside brothers to temporarily close their doors for repairs and reopen as silent film rose into public favor. 
Through the decades, the business fell to different owners and movie companies, most recently Regal Cinemas, until it was almost forced to close due to the poor condition of the building. In 2009, however, a group of local historic preservationists got Whiteside a spot on the National Register of Historic Places.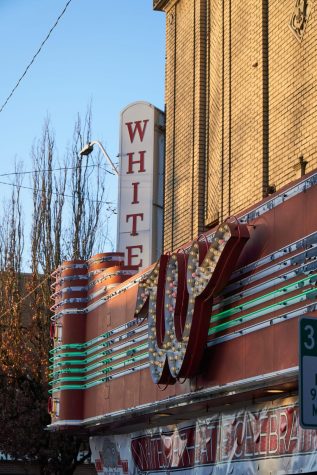 Almost five years ago, Jennifer Waters, Oregon State University graduate in communications, was hired to transform Whiteside Theatre from a volunteer run organization to a running, multifunctioning entertainment theater. 
"What I like most about [this job] is working with local programming and artists," said Waters. "I lived in Portland for a short time and it's been nice bringing [friends] down to perform and show them my beautiful theater." 
Waters also explained her experience keeping Whiteside open during the COVID-19 pandemic, expressing how quarantine was actually a "blessing in disguise" for the non-profit as this "forced pause" allowed her and her staff to refocus their goals. 
"We depended on people coming through from Salem and Eugene," Waters explained. "So since people weren't traveling we had to find ways to bring in the local community."
One particular way Whiteside's meaningful community ties show is through a collaboration with the Daytime Drop-in Center, a community-based resource center dedicated to meeting the basic needs of locals, by offering free movies and concessions every Tuesday. This initiative began in 2021 as a way to offer those without homes an escape from the boiling summer heat and frigid winter cold. Some restaurants based in downtown Corvallis, like Squirrel's Tavern, have occasionally joined in to offer meals for all to take advantage of this act of kindness. 
"We're hoping to get some funding this year from the Benton Community Foundation to expand the scope of the program and have more food available," said Waters. "It's nice being able to give back to the community."
Additionally, during the pandemic, Whiteside Theatre offered a $6 movie deal, before fees, every Wednesday. 
To celebrate their hundredth year open they've chosen to play the highest grossing movie of each decade every month. Next month, they will be focusing on the 1960s. If successful, the programming will be expanded to weekend showings as well. They will also be playing the three original Star Wars films next month too.
This theme of nostalgia proves to be key for the success of this long-standing Corvallis staple and has brought together a flourishing community over many, ever-evolving decades. 
"Entertainment is different now. It's more accessible and (people) can watch something on (their) phones. So, we have to try and figure out how to bring people in here, how to stay relevant," said Waters. "What we have found is that link to the community and its nostalgia is what brings people back in here."
Attracting college students is also an ongoing challenge for Whiteside. The solution lies in the theater's free-reign authority over what goes on the stage and under the spotlight. 
"We try to do fun, irreverent (performances), like Drag and Burlesque, and cater to letting people have that experience in a big college town that provides crazy entertainment" Walters said. "We play it pretty loose and free over here." 
It's this very openness and creative control that allows for Whiteside to support artists of color and queer artists, Waters mentioned, as a way to make members of those communities within Corvallis feel welcomed and accepted.
"It's kind of a no holds bar kind of thing, which is good," Waters adds. "I wouldn't want it any other way." 
With some having their first jobs, first kisses, first dates and even meeting their now significant others, the theater holds century-old memories for an entire town and continues to offer safety and entertainment for everyone willing to take a seat and enjoy the show. 
Was this article helpful?