'It has its ups and downs:' Students on why they use cannabis
Editor's note: This article reflects the personal opinions of the sources. Cannabis research is ongoing and has not yet produced conclusive results regarding the drug's impact on mental and physical health.
From social and creative effects to treatment of common ailments, some Oregon State University students have said smoking cannabis has positive effects on them in both their daily lives as well as academic studies. 
Fourth-year student Will Cooper, who is 21, said there are many reasons why he smokes cannabis. 
"As a graphic design major, I definitely feel that it has a major impact on the art I create because it feels like I have opened my mind to possibilities I wouldn't normally think of," Cooper said. "It also helps me hone in and focus on the task at hand."
Another fourth-year student, also 21, is majoring in public health and kinesiology and preferred to remain anonymous. The source said cannabis has helped both anxiety and social life.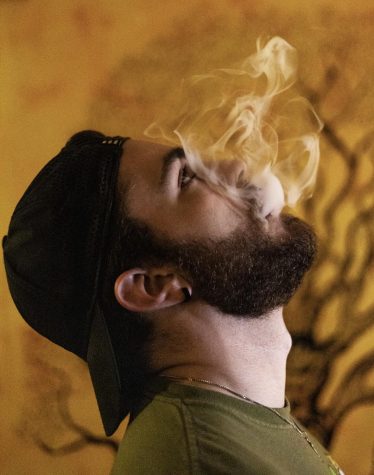 "My experience with cannabis has allowed me to shed a lot of my social anxiety from the past and can help bring about the coolest connections with people," the source said."There is something about sharing a joint with someone that opens them up. I smoke almost in place of drinking most of the time. I enjoy the happy, relaxed feeling and it doesn't leave me hung over the next day."
There is a place for cannabis in the social area of Cooper's life as well. 
"It is a positive part of my life and has opened up social possibilities in ways I never would have thought of before," he said. "If I am hiking with friends or just hanging out, I like to smoke joints because it is easy and there's a fun social aspect of 'passing it.'"
According to a 2019 article by the National Center for Complementary and Integrative Health, which is a part of the U.S. Department of Health and Human Services, people use cannabis as a sleep aid, but also to treat a number of health concerns, such as anxiety, pain, nausea, epilepsy, eating disorders and other health conditions. 
However, the article notes that it's uncertain whether the cannabis products affected sleep directly or whether people slept better because the symptoms of their illnesses had improved. In addition, the article states that the effects of cannabis on sleep problems in people who don't have other illnesses are uncertain.
"It does help me with sleep and sometimes," said Cooper. "And if I feel a little sick or nauseous a joint or quick bowl does just the thing to help me out."
The anonymous source, who has struggled with chronic sleep issues since she was a kid, said cannabis has been an immense help. 
"I have a hard time sleeping most nights and weed is the only thing I've found that has consistently worked," she said.
As for other ways cannabis has become beneficial, Cooper said that he uses cannabis as a part of his workout routine.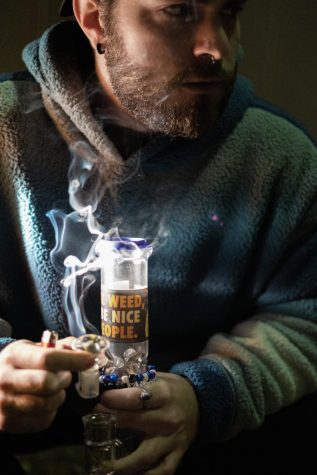 A 2019 article by Nature, an international journal that publishes peer-reviewed science and technology research, cited a survey done with 600 cannabis users living in states where cannabis use was legalized, that found 80% of participants use marijuana right before or after exercising.  
Though a few studies were conducted decades ago, the Nature article noted that since then, laboratories in the United States have found it difficult to run controlled cannabis studies because of federal restrictions. Instead, researchers have turned to surveys and anecdotal reports to understand how cannabis might affect physical activity.
"I am an avid gym goer," said Cooper. "My body oftentimes is recovering from a hard lift and the relaxation I get from smoking eases my joint and muscle pain."
Cooper said he enjoys smoking with his bong, named Stacy. The anonymous source said she enjoys joints. 
"I definitely prefer sativa or sativa dominant hybrids because they don't leave me feeling couch-locked, which is where indica often leads me," said Cooper. 
"I enjoy all strains for different moments," said the anonymous source. "Sativa is fun when you are also drinking and are trying to be social. Hybrids are great if the whole goal of the night is to just smoke because it is the best in both head and body highs. And indicas are the strain that helps relieve aches in the body or gives you the best night's sleep of your life."
No matter the strain or the method, for both students, who each smoke at least once a day or every other day, one thing is certain: Cannabis is a daily part of their lives.
"It has its ups and downs," said Cooper. "But with the right amount of self-discipline and self-regulation, it's okay to work hard and play hard too.
Was this article helpful?
Leave a Comment