Pizza for the people: American Dream's won a piece of Corvallis' heart
"I think it's a great testament to the product we put out and the vibe we produce; I hope we continue to do that."
That's what Brian Bovee, the general manager for both the campus and downtown locations of American Dream Pizza, said when asked about how he felt about them winning best pizza for Beaver's Digest's "Best of Beaver Nation" competition for a second year in a row.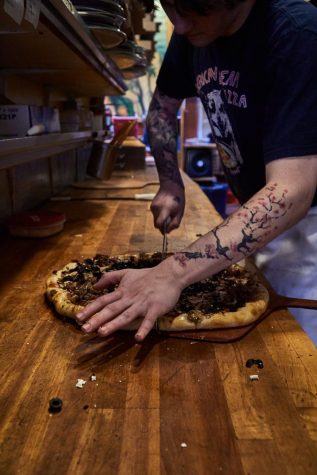 American Dream Pizza is a local pizza joint here in Corvallis, Ore. that has been on Monroe Avenue since 1989 and will be celebrating 35 years in 2024. The downtown location, on
SW Second Street, has been up and running since 2004.
Although the current locations are here in Corvallis, the first location, brought to life by owners Scott McFarland and Sebastian Malinow, was in Northeast Portland.
In 2004, the downtown location was established, and in 2012, Bovee joined McFarland's team.
Bovee recently became the general manager of both stores, but has been working at American Dream for years before. He started as a delivery driver and has worked hard since getting to where he is now.
Being in Corvallis for so long has allowed American Dream Pizza to land a customer base that has stuck with them. Although there aren't any current plans for change or updates at American Dream, Bovee states that American Dream is looking to "introduce ourselves more, be more present in texting and promo stuff and be more relevant with social media."
The two different locations cater to two different crowds, for the most part. The older location — dubbed the "college location" — set on Monroe Avenue, tends to cater to more college students with its location just off the north side of campus.
The downtown location, although still catering to college students, attracts more of the general population and downtown community at large. Both create a warm and cozy atmosphere.
The environment of American Dream also contributes to its popularity. Katy Clark, the morning manager at the Monroe location, said "honestly, the energy is different from other places I've worked at before, it's a really good crew here."
Clark also gave testament to the communication throughout the establishment, explaining that there is a ton of communication between her and other managers, as well as her and the general staff throughout the shift.
"It's a positive work environment overall," Clark said.
The shop is set up in a way that produces a very homey and familiar atmosphere. The walls are filled with local news flyers, posters and art. There's soft light and cozy booths surrounding the dining room, creating an at-ease feeling
for customers. They are described as a "beer, art and music place" which gives them the ultimate open-door feeling.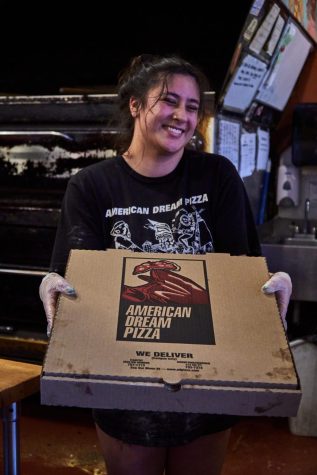 Over the last year, as people have become more comfortable going out with COVID-19 restrictions lifting, Bovee said what has set them apart from other places is not only their vibe and product, but that they "try not to settle, we push for our service to do better for customers and we try to welcome everyone back after COVID-19."
What seems to bring people back over and over again, besides the welcoming environment, is the crust of the pizza.
"The crust is unique to other places' pizza crusts," Bovee
said. "We put eggs in it, and that's what gives it the flakey crust."
The crust recipe comes from a third-generation family recipe and continues to be a fan favorite.
American Dream Pizza is open to suggestions and comments from their customers, working to keep up their reputation and customer basis.
Was this article helpful?
Leave a Comment