Fueled by nostalgia and ice cream, Sugar J's sweetens Corvallis' downtown
Noticing the lack of specialty dessert options in town, owners Jason Biga and John Sobolewski, opened Sugar J's Ice Cream Workshop in order to offer the Corvallis community a place to celebrate at or simply spend time with their family and friends. 
It was also fueled by nostalgia, as Sovolewski grew up on the East Coast, where ice cream shops are big and going out for a sweet treat is considered an event.
"Ice cream is happy and nostalgic food and everywhere I've lived there's always been a mom and pop dessert spot or a mom and pop ice cream shop," Sobolewski said. "I didn't think there was a spot where anyone was making ice cream and ice cream is universal. It makes people happy."
Sugar J's Ice Cream Workshop is certainly a testament to that, with its brightly colored muraled walls and welcoming atmosphere — all accompanied by the sugary sweet scent of the frozen creamy dessert and warm fresh-made waffle cones.
The shop boasts a wide array of ever-changing flavors with fun and interesting names served up with waffle cones or in a cup — your choice. And the flavors are all made in-house by Jason Burns, their ice cream maker, who comes up with the mixes and their names, such as Brunch with the Mayor and London Fog.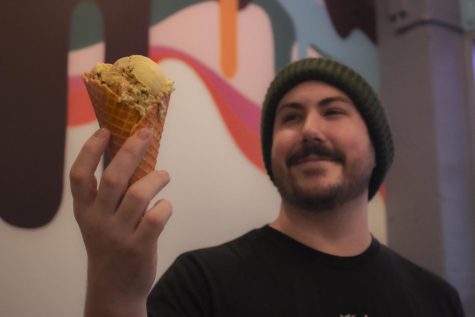 "We do a lot of weird and fun flavors," Burns said. "I think it's super fun coming up with the stupid names. I really like making silly names for things."
While Sugar J's opened up in July of 2021, Biga and Sobolewski actually intended for that to happen much earlier. They signed the lease in January of 2020 with a goal of opening in May or June of that year but the pandemic brought their plans to a halt. This isn't the first business venture for Biga and Sobolewski—the two also own TacoVino, a taco shop located in downtown Corvallis.
"The delay was significant," Sobolewski said of Sugar J's opening. "Our landlord was awesome though and gave us a break on the rent. Without it we wouldn't have been able to open."
It wasn't until the following July, during what Sobolewski calls "peak season" for dessert spots, that they were able to open.
"You would probably want to get your wheels under you before you really open a business, but we opened in peak season so not everyone knew about us and so we missed that peak season," Sobolewski said. "And then the fall of 2021 was super wet and rainy and so then that weather delayed us and pushed us back even more." 
Even with all the struggles experienced at first, a year and a half later after opening they're doing much better. The Corvallis community has been receptive and the feedback has been positive, according to Sobolewski. 
"Being a part of Corvallis downtown is very special," Sobolewski said. "It's kind of a cool, unique downtown. And we get to see regulars so, I think especially with ice cream shops, we see all spectrums of the community, young kids, families, adults, seniors, college students."
Sugar J's Ice Cream Workshop, located at 134 SW First St. in downtown Corvallis, is open noon until 9:30 p.m. Tuesday through Sunday.
Was this article helpful?