Burritos, burgers, music and more: The legacy of Bombs Away Cafe
Jeff Sawyer, owner-bartender-manager extraordinaire, frequented Bombs Away back when he was in college and eventually bought the place four years ago to keep the great vibes alive.
"This is where I came to party and hang out when I was a student, so I've been coming here for almost 20 years," Sawyer explained. "We've been doing live music the whole time, it's always been kinda the same general vibe."
Sawyer said Bombs Away offers a slightly different experience than some other bars, focusing more on live music, entertainment, art and conversation rather than the typical sports-bar environment with TVs blaring in the background. 
He said it's also great for non-drinkers; they serve kombucha and want to be welcoming to everyone, including students who may be drawn to the "laid-back nature" of the place.
"Just come as you are, you always should be welcome and respected here," Sawyer said. "We like to think there's something for everyone here."
According to Sawyer, Bombs Away often hosts entertainment six nights per week, including trivia, open-mics and theme-nights organized by bartender and social media manager Taylor Sistek. 
Some recent theme-nights include Taylor Swift Night and Tumblr Night, where they featured indie rock music.
Sawyer said the building was a meat market over a century ago and, when he purchased the place as Bombs Away's fourth owner, Sawyer elected to remodel. 
He redid the back-end of the bar to elevate the space, covering up plaster walls and adding the second bar in the front while still keeping it true to the original concept. And, of course, he kept the same iconic name from the 1990s, the origin of which is a little hazy.
"Apparently the original owner used to work with a dishwasher back in the '80s in a bigger kitchen where (the dishwasher) would finish cleaning a pan and he'd toss it across the kitchen over everyone's heads (and yell) 'bombs away!'" Sawyer explained.
According to Sawyer, the bar opened shortly after the end of the Cold War, so it's possible the name is an anti-war reference. 
Sawyer said his favorite drink and food items on the menu are the negroni and the wet burrito, respectively.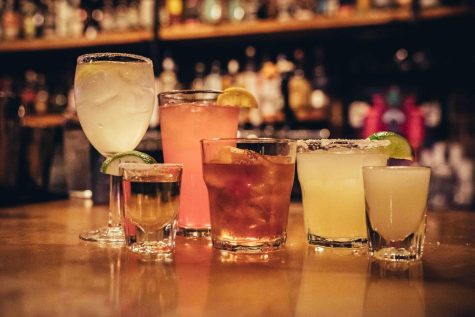 "(The negroni) is a simple cocktail but it's classic and super good," Sawyer said. "The wet burrito is like an enchilada and burrito all in one, melted cheese and enchilada sauce over a burrito… it's pretty awesome."
Self-described regulars Sahalie Ellickson and Casey Messman said they've been coming to Bombs Away for around three years now.
"(I like that) they have live music almost every single night," Ellickson said. "And it's a very welcoming environment."
Ellickson said their favorite drink is the tweedle-dee & tweedle-rum, but switching out the rum for tequila, while Messman said they go for any IPA. Ellickson also recommended the grilled burrito with pork, and Messman said the tacos al pastor are great.
"They have a tequila club and you can get your name on the wall," Ellickson added. "So that's very cool."
Bombs Away's menu is available on their website, bombsawaycafe.com, and more info about upcoming events can be found on their Instagram, @bombs_away_cafe.
Was this article helpful?