PERMIAS recreates Indonesian high school nostalgia with cultural night
Have you ever wondered what life would be like as an Indonesian high schooler? Well, the Indonesian Student Association, PERMIAS, took a shot at creating a typical Indonesian high school experience for its members, students and staff at Oregon State University on Saturday, Feb. 11. 
Farhanah Muhammad, the president of the Indonesian Student Association, said the theme for this year's Indonight was all about high school nostalgia. PERMIAS aimed to recreate an authentic Indonesian high school experience but craft it in a way that everyone can enjoy the event. For Indonesian students here at OSU, Indonight served as a reminiscence of the past, making sure that even miles away from their culture and country, club members felt as if they were back at home. 
"We are already studying abroad, we wanted to bring in the vibes [from] back home, so you don't forget your home," said Yessyca Poetri, another member of PERMIAS who helped organize Saturday's event. 
Poetri added that she and most of her friends graduated high school in the middle of the COVID-19 pandemic, so, they weren't able to say goodbye to that chapter of their lives, but with Indonight, they got a second chance.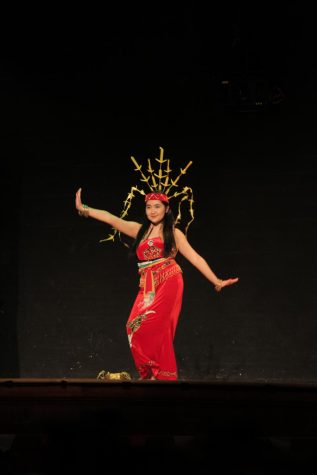 On Saturday, PERMIAS members attended the event wearing school uniforms worn in most Indonesian high schools. They wrote and prepared sketches that displayed a typical Indonesian high school atmosphere. In addition to that, PERMIAS included dances, music and food from their culture in a beautifully crafted event that made students from all backgrounds feel right at home. 
Student organizers wanted to make the event as interactive as possible by including audience members in the musical and dance performances. Club members senior Natasia Siagian and junior Rinus Andries both participated in the performances and said that for them, the enthusiastic reaction from the audience was one of the highlights of the night. Siagian added that watching the performances felt like deja vu, as if she was back home in Indonesia. 
Members of the Indonesian Student Association praised their club president, Muhammad, for her outstanding leadership skills and efforts in bringing all Indonesian-American students together. "She is always open [to] advice," added Poetri, applauding Muhammed's dedication to organizing the event.
Indonight at OSU was full of laughter, music, and dancing. But it wasn't just the community at OSU that enjoyed the event. PERMIAS made sure that there was an Instagram live stream of the event so the students' parents and family in Indonesia could watch and be included. 
"My dad screen shot me dancing!" said Poetri, whose family live back in Indonesia. 
In collaboration with event organizers at OSU and getting help from volunteers and club members, Indonight 2023 was a phenomenal success. 
"I'm really thankful for all the people involved in the event," said Muhammad. "People [were] really enthusiastic for this event and that's just why the event came to be a success."