Layer up: Breaking down clothes for Oregon climate
Olyvia Neal, Beaver's Digest Contributor
February 25, 2023
It's February in Oregon, and that means we've still got a few more months of cold yet! To some of us, this is the same icy nightmare that comes every year, but for others, particularly those of us with a liking for fashion, we have the opportunity to dress up. Cute, comfy, layered fashion is the look of the season, so let's explore what's trending. 
Base Layers
This seems like an obvious choice, but a simple base layer beneath the rest of your clothing really does make all the difference — a full-sleeved shirt or simple camisole will do. Whether you choose to let it show or cover up with a nice, cozy sweater, it will have you started on the road to comfy, classy fashion. 
Sweaters
Speaking of sweaters, this is another piece of clothing that is trending this season. Worn over your base layer, a simple, stylish sweater can go with almost any outfit, especially our next suggestion. 
Skirts and Leggings
This winter's trends include midi and maxi skirts, which are perfect for cool weather, whilst still maintaining that chic look that many of us like with skirts. Pairing these with a pair of fleece-lined leggings and some comfy boots will have you walking around campus looking toasty and fabulous.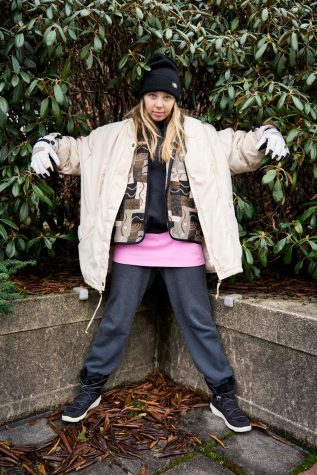 Long Coats
This year's trend for outerwear is long coats, whether these are elegant double breasted trench coats, or, for a ski-hill-chic sort of look and greater protection from Oregon's notoriously relentless wind and rain, shell puffer jackets. 
Blazers
Blazers are very popular this year, especially for those warmer winter days where a thick coat might be a little too much coverage for your comfort. Most styles currently are blue or black blazers, although there is a plaid trend going on with these pieces as well. 
Scarves
A classic piece for any wardrobe and the perfect way to protect your neck, nose and mouth from Corvallis's nasty winds, a scarf is an excellent choice to complete your look. Warm, comfy scarves are a perfect combination of style and substance for anyone who wants to look stylish and comfortable. 
Stylists heavily recommend anyone to play around with the lengths and textures of the fabrics you are wearing. If you're going for a long coat, try a shorter skirt, or vice versa if you're considering a blazer. Personally, I think a wool trench with a mid-thigh length pencil skirt and boots is an excellent combination. Add a pair of leggings and a scarf on top for extra warmth and extra style, and they can really pull your outfit together.
Was this article helpful?