Goat yoga: A unique, animal-assisted therapy experience, 24 minutes from OSU's campus
It became a quick sensation. Rewarding poses, the stretching of tired muscles in the sun, breathing in and out, all while some playful goats come up to your mat to snuggle or jump on your back during the downward dog position. 

Yoga but with goats.

Goat yoga.

Goat yoga was initially started in Monroe, Oregon about 24 minutes from Oregon State University's campus. One random day in 2016, Lainey Morse and her team decided to hold a yoga class incorporating goats at No Regrets Farm & Sanctuary. It became an instant hit. Since then, 500 locations worldwide have catered to the goat yoga phenomenon. Morse opened 11 other locations of her own to spread the joy of goat yoga everywhere.

Kate Zinke, OMN Photographer

Goat yoga is a unique experience in which participants can follow a yoga class in the company of friendly goats. A general session is $35, but students can use a discount code of $5 off if they show their student ID at check-in. 

Kate Zinke, OMN Photographer

The yoga portion is 30 minutes, followed by another additional hour called Goat Happy Hour, where participants are free to just interact and hang out with the goats. Each session includes beverages, a yoga mat and professional pictures taken to document the event. Three Great Pyrenees dogs are also invited to join in on the fun, as Morse explained they are her goat-guardian dogs.

Goat yoga is a form of animal-assisted therapy, as it's shown that spending time with animals, such as goats decreases feelings of depression, anxiety and PTSD.

Studies have shown that animals increase one's oxytocin levels, or the "bonding hormone" and also increase levels of dopamine. Cortisol levels, or stress hormones and blood pressure, also decrease when one is around animals. Before goat yoga, dogs and cats have been recognized as ideal therapy animals.

"I feel like I've been put on this earth to make sure that goats are used as therapy," she said.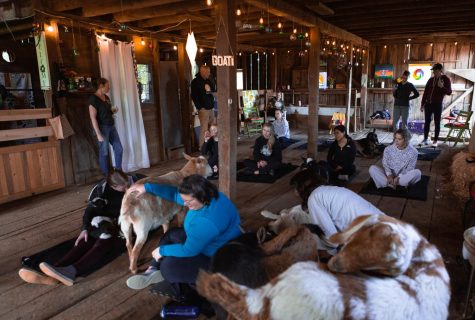 At first, Morse didn't expect the huge public interest that flooded her farm.
After COVID-19 hit, the growing interest took a toll as everyone hid from the virus. Morse temporarily stopped classes as she didn't want people or her goats to get sick.
After restrictions lifted, Morse felt comfortable bringing the goats back out and the classes have been booming ever since.
"Goat yoga is less about the yoga and more about the goats, because they are really calm animals, yet they're really funny," Morse said. "People are smiling ear to ear through the whole class and laughing; the goats are jumping on them or nibbling at their shoelaces. Sometimes it's chaos, but it's just hilarious chaos and it just makes people so happy."
Morse has since expanded her program for goat lovers to engage with the cuddly animals in other ways.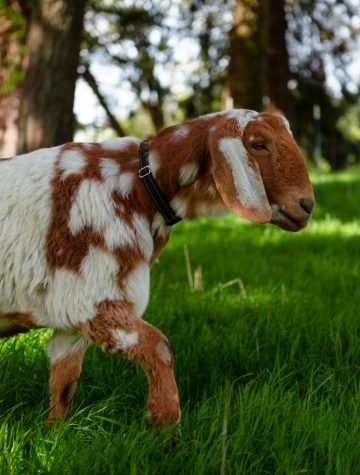 There are longer programs that incorporate other activities besides yoga like Goats and Glass, which is a three-hour long workshop where participants are taught to make their own hanging stained glass piece to take home. But of course, the goats are still the main form of entertainment. 
Not only does goat yoga entertain participants, but the goats genuinely love it too. Morse said her goats aren't trained to jump on people's backs or snuggle up on yoga mats, but they do it because they just love being around human interaction. 
"Goats (are) herd animals, and so they just accept humans into their herd," Morse said. "They love companionship; they love to be pet, and so they're naturally drawn to humans. They get love, affection and companionship (out of goat yoga), and then in return, the people that come to our farm get the same thing. Then on top of that, I get to watch that and that's what gives me joy, is watching these goats make all these humans happy. So it's a win-win-win." 
As goats help with stress, Morse explained how beneficial goat yoga can be for hard-working college students.
Not only does the farm offer a student discount, but Morse has also traveled to numerous college campuses, like Harvard University, University of California in Berkeley, Michigan State University and other campuses across the country. They have also visited technological companies, such as Google and Facebook. 
Morse says she hopes to visit OSU in the future, and the University of Oregon as well. She says she already gets a lot of attention from OSU and UO students because No Regrets Farm & Sanctuary is conveniently located between both colleges.
Was this article helpful?
Leave a Comment