'Keep it local': CARB Alliance establishes collective advocacy for local eateries
Correction: Michele Collomb's last name was misspelled in the photo caption. This article has been updated with the correct spelling. Beaver's Digest regrets this error.
The Corvallis Area Restaurant and Bars Alliance unites local restaurant and bar owners to provide a collective voice in town. 
Due to the dissolving of the Downtown Corvallis Association last year and a need for more focused support on the restaurant businesses in the area, Michele Collomb and co-founder Rachel Hoffman launched the CARB Alliance with preliminary monthly meetings in March. 
"Restaurants are completely different, different mindset, completely different business style," Collomb said, referring to the other organizations that exist to unite local businesses. "…Doesn't mean those organizations didn't care, but maybe they just weren't as engaged."
Collomb said the main idea for CARB Alliance is to market, event plan and encourage culinary tourism as she believes that Corvallis can be a bigger destination than it is.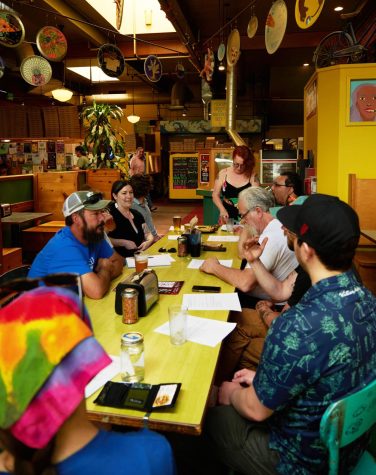 CARB currently has 75 members on their email list but a key group of roughly 15 owners and representatives have consistently met to share resources. In these meetings and going forward, Collomb said they are prioritizing  sustainability, inclusion and diversity in all of their work. 
While not a current business owner herself, Collomb has a history in marketing and worked as a freelance travel food writer before moving towards policy and community engagement since the pandemic. 
"During the pandemic, I couldn't travel, so I decided to focus my concern on the struggles the restaurants were going through," Collomb said. "We come fast forward and now the struggles are different, but they're still there. Like the restaurants are still dealing with (staffing issues), supply issues, finding inventory [and] finding product."
CARB alliance meetings so far have focused on these issues and sharing resources or strategies to combat them amongst each other. 
According to Alan Pastre, owner of KingFish lounge located in downtown Corvallis, and Janel Lajoie, owner of Mud Oven Pizza and organizer of the Philomath Farmers' Market, Benton County used to have a local wholesaler for restaurant and bar needs, but ever since the wholesaler closed, businesses have been forced to drive to Eugune, Portland or even Newport for their needs.  
Lajoie suggested businesses pool their resources to avoid smaller restaurants from becoming overwhelmed when a large order is placed there.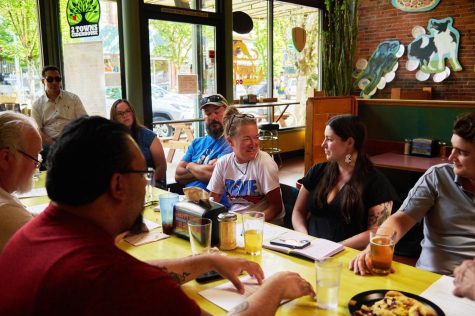 According to Lajoie, one of the goals of the CARB Alliance is to include those who are on the outskirts of town as opposed to just downtown restaurants and bars in conversations that affect the entire area, such as supplies and other issues. 
"[I] think part of the idea was to give us a voice too, right? Because these decisions get made without including the people who are way far north or the people who are way far south or west," Lajoie said. 
Pastre also notes that building a larger community amongst local eateries has been ongoing since Collomb started the Facebook group – "Corvallis Culinary Connections" – during the pandemic. 
The group acts as an online resource for sharing what is being offered and has reached nearly 5,700 followers to date. 
"It has evolved into just people sharing their dining experiences in a positive way," Collomb said referring to the Facebook group's development since the pandemic as restaurants returned to more normal service styles. 
Collomb hopes that with the CARB alliance, local restaurants can get back into reviving past events such as culinary month or week and finding ways to engage students more in the full culinary scene in Corvallis.
Was this article helpful?
Leave a Comment