Five Valentine's Day Date Ideas
Make your sweetheart feel extra special this Valentine's Day
Take your partner's hand and explore the magic Corvallis, Ore. has to offer this Valentine's Day. Everyone's expression of love is unique, which makes every valentine date a one-of-a-kind experience.
Here are five Valentine's Day date ideas to consider when making plans on the day where love is celebrated.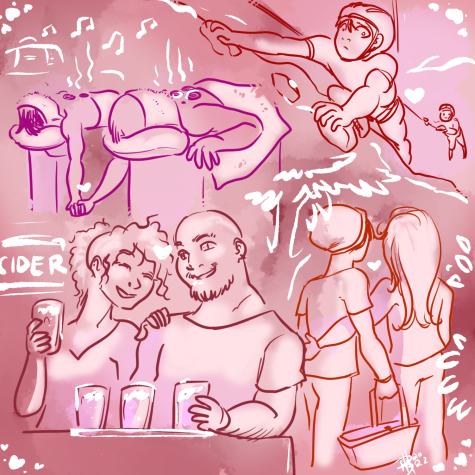 Fancy Dinner
Nothing brings comfort to the soul like food! Treat your special person to a fulfilling meal and some quality time. There is one hot spot that is prime for Valentine's Day. Del Alma, an upscale riverfront restaurant serves aesthetically pleasing dishes that are full of Latin American flavors. Enter an elegant and warm atmosphere near the riverfront in downtown Corvallis. The business is located at 136 SW Washington Ave. 
Read about five more dinner-date locations here.
Hike and a picnic
For those seeking a more outdoorsy date, take your loved one on a beautiful hike and treat them to a picnic. A pre-planned date shows the extra thought and effort taken into consideration when attempting to make this Valentine's Day exceptional. Make sure to accompany your picnic with a nice bottle of wine.
Read about five local hiking trails here.
Couples Massage
Relax the day away with your sweetie. This Valentine's Day, show yourself and your partner some love through physical relaxation. A couples massage is a great way to spend time together while reducing stress and promoting happiness. Getting a massage with your partner allows for a bonding experience that leaves you both feeling refreshed.
Rock Climbing
Think outside the box this Valentine's Day and test your abilities with rock climbing. This activity encourages cooperation, connection, and strength. Valley Rock Gym, located at 401 SW Jefferson Avenue, offers different activities to its customers. A day pass gets you access to the climbing and training areas, in addition to their yoga and exercise classes. Have a fun day and experience something new together!
Read more about The Valley Rock Gym here.
Cider Tasting 
Excite your palate with a different kind of tasting journey. Cider tasting provides an experience that is unique to everyone. 2 Towns Ciderhouse creates locally-made ciders that are sure to leave you feeling good at the end of each glass. Compare tasting notes, eat appetizers, and focus on each other this Valentine's Day.
Read about 'Tasty ciders to tingle your taste buds' here.
Was this article helpful?