J Night: A night of Matsuri and fun
What to look for at Oregon State Japanese Student Associations' culture show event
When Erika Iizuka, president of the Oregon State Japanese Student Association, first came to the Corvallis Ore. campus in 2019 she immediately joined the JSA because she wanted to do something with her culture. As she grew up in Japan, typical cultural activities were hard to come by in our little town. Instead, she brought her culture here in the form of J Night, with the help of other members of the JSA.
"Holding a J Night was the dream that I wanted to come true," Iizuka said. "Finally, this year I am the president and I get to lead the team and organize the event so I am very excited to make this happen."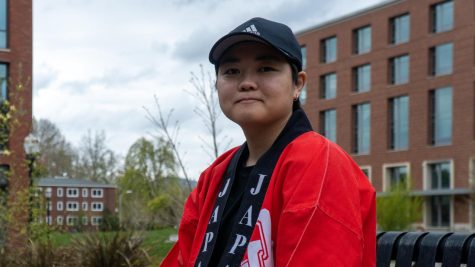 J Night is the JSA's annual culture show and it is on April 30th from 6 p.m. to 9 p.m. at the Memorial Union Ballroom. Tickets are required for entry and are free of charge. A total of 225 tickets are available and they are claimable right now, online. Everyone is invited and masks are not required, but are welcome.
This year's J Night is in the theme of Matsuri, which are common Japanese festivals that take place throughout the year and sometimes celebrate shrines of the Shinto religion—an indigenous belief system practiced in Japan from before written history.
The event will include traditional Japanese performances, carnival-like games and street food prepared by members of the JSA.
"One of our biggest challenges was figuring out what performances to have because we aren't in a big city and we don't have a huge network," Hana Nakamura-Daya, JSA treasurer, said. "Finding people who have those niche hobbies, who play specific Japanese instruments or engage in more cultural Japanese elements was a little more challenging, so we had to use our imagination."
One of those works of imagination was recruiting an OSU-based club, Next-Gen K-Pop dance group, to perform. K-Pop is usually associated with Korean culture but the club put together a choreographed dance to a Japanese song specifically for J Night.
"I went to watch their practice and they were really good," said Iizuka. "They had banging music on the stage with lights."
Two members of the JSA will also be putting on performances. Luke Zheng will be singing and Iizuka put together a video to project behind her while she sings along to her favorite song, "115 Million Kilometer Film" by Official Hige Dandism—the original song title and band name have been translated from Japanese to English here.
"[The song] is about memory," Iizuka said. "I will be tying it together with my memory of the JSA and creating a music video with footage and photos put together with translated lyrics on it so people can read through them."
Finally, the JSA is bringing in Eugene Taiko, a community-based Japanese drumming ensemble that has been performing for audiences throughout Oregon since 1989. Taiko literally means drum in Japanese.
"That's like our main event is having them come down and that's probably the most traditional Japanese element we are having that also resembles what you could see at a Matsuri," Nakamura-Daya said.
The performances are just one part of the event, Iizuka, Nakamura-Daya and other event organizers have been working on cultivating an environment rather than just a show.
"The goal of our culture show is more on the experience instead of the performances and to create a Matsuri environment," Nakamura-Daya said. "We hope that people will engage a lot in the environment and just have the performances as a small piece of that."
One thing that will add to that environment will be the games. They are all typical games that could be found at any Matsuri in Japan and are similar to the carnival games here in the United States.
Yo-yo fishing, coin drop, bouncy ball fishing, a target shooting game and paper sumo will all be available.
"Basically, [paper sumo] has like two pieces of origami sumo wrestlers with one person on one side of the table and another on the other side," Nakamura-Daya said. "They hit the table trying to knock the opposing sumo wrestler off. There is a ring and everything."
The other thing that will help build the Matsuri environment is the food. The JSA will be preparing four dishes in total and it is all free to attendees.
"We wanted to bring foods that people have never had before," Nakamura-Daya said. "Japanese food is pretty popular in the U.S.; people know what sushi is, people know what ramen is and people know what udon is. We were just trying to figure out what best represents Matsuri and what are easy street foods, hand foods that you would eat that most people haven't tried yet."
The first two to look out for are yakisoba, a stir fry noodle dish and yakitori, skewered Japanese-style grilled chicken. Then, inari sushi, or sushi with tofu instead of fish, will also be served.
"We wanted to incorporate sushi, but we can't serve raw fish," Iizuka said.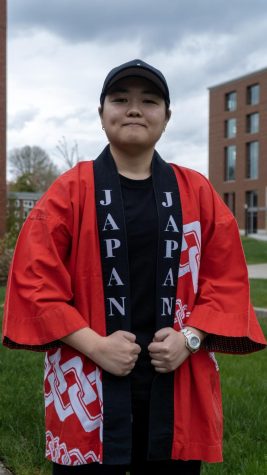 The JSA is preparing all the food themselves and because of this, an OSU policy stipulates that they can't serve or handle raw fish. Well, they could, but they would have to make all attendees sign a waiver beforehand. Acquiring the supplies to make authentic sushi would be way out of budget anyway, according to Nakamura-Daya.
When asked what she is looking forward to the most at J Night, Iizuka replied:
"Everything, I guess," Iizuka said. "I know all the officers put so much effort into it; planning, purchasing, organizing, managing and everything. So I am really looking forward to seeing the actual things in front of me in the room, and I would like to see everyone having fun at the event experiencing Matsuri."
J Night is on April 30th from 6 p.m. to 9 p.m. at the Memorial Union Ballroom. Tickets are limited and are available online.
Was this article helpful?