Oregon State University students strolling down NW Monroe Avenue  recently likely noticed a new storefront turning on its lights and opening its doors between Jersey Mike's and Yoghurt Extreme.
The Frosty Fox, a new boba shop, opened last week and aims to bring a traditional Asian ambiance to Corvallis.
The new shop is run by Cheng Han Yeh, the manager and brand owner for five other locations in Florida, with other locations opening soon in Nevada and Texas. 
"I love the environment here," said Cheng, talking about the new Corvallis location. "I love the people. It's pretty friendly"
As most Oregon State University students know, Monroe street is already home to two other boba shops; Bobahead and April's Tea House – and now Frosty Fox. All within a block of each other, what makes the Frosty Fox unique?
According to Cheng, there are a number of things.
The original black tapioca pearls most commonly associated with boba are on the menu, alongside a number of other more traditional options – like the Black Sesame latte, Taro Milk tea, or Cheng's favorite.
 "I really like the Lychee Green tea," Cheng said. "Because that's pretty refreshing and not too sweet."
They also have slush drinks available and mocktails– a combination of sparkling water, fruit, and syrup.
 "There's no big tea culture in the United States," Cheng said. "So we try to combine two different cultures."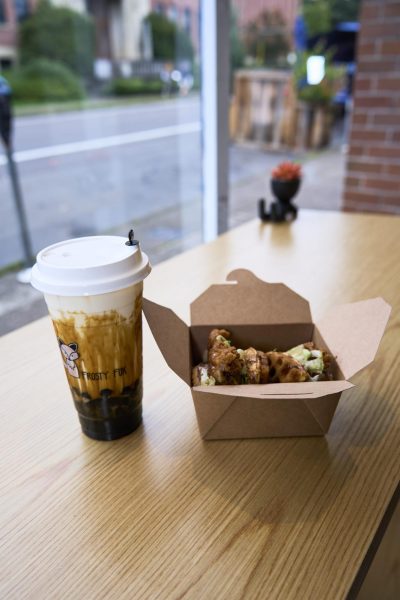 The atmosphere of the storefront also seeks to emulate a more traditional style, while still catering to different tastes. Looking around, larger tables and smaller booths welcome study groups and one-on-one conversations alike.
"And the second thing is our food diversity," Cheng said.
While the Frosty Fox primarily serves boba, they also have a number of traditional Asian foods like the 'puffle'. Inspired by the traditional Hong Kong street snack, a puffle is similar to a waffle but with a softer inside and lighter texture.
Gelato is also available on their menu, and Cheng even says the two can be combined, waffles with ice cream or even ice cream in boba.  
Based on the steady line at the register and people sipping on boba with open computers, this menu has been successful in the days since Frosty Fox opened. Cheng said business has been going, "really good."
But regardless of their menu options and ambiance, Cheng said, "we try to provide the best to the customer."
Was this article helpful?